Gold Bond Diabetics' Dry Skin Relief Ultimate Hydrating Lotion, 13 Oz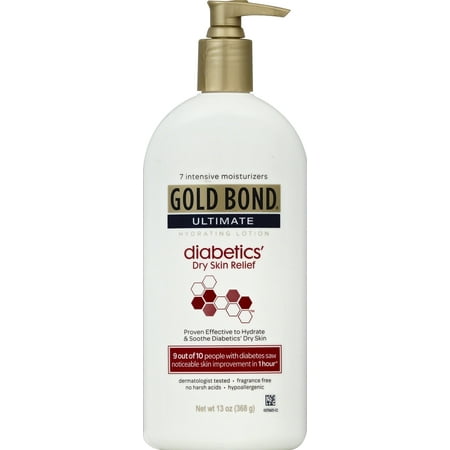 MSRP :

$14.8





Sale :

$7.97

Sold & shipped by Walmart
Product Description

Additional Information

Reviews
Product Description
Gold Bond Ultimate Diabetic Lotion contains seven intensive moisturizers to give you significant skin improvement in one hour. Designed specifically for skin relief, Gold Bond Ultimate Lotion reduces discomfort, irritation and dryness. With a non-greasy formula, Gold Bond Skin Lotion (13 oz size) is also fragrance free and Dermatologist tested.
Additional Information
This lotion is even hypoallergenic, making it ideal for use by the whole family. It has a handy pump dispenser. The Gold Bond Ultimate Diabetics' Dry Skin Relief Hydrating Lotion comes in a convenient 13 oz size, offering you plenty to last for a long time.

Gold Bond Ultimate Diabetics' Dry Skin Relief Hydrating Lotion, 13 oz:
9 out of 10 people with diabetes saw noticeable skin improvement in 1 hour
To hydrate and nourish dry problem skin
Contains seven intensive moisturizers
Fragrance free
No harsh acids
Hypoallergenic
Gold Bond diabetic dry skin relief is non-greasy
Reviews
BIGbarb70
AWESOME AND LONG LASTING
im not much on lotion so when my best friend bought me a bottle of this last year i had used it once, on my shins, and since i don't apply lotion every day i noticed the effects of this lotion lasted 2 weeks on my shins without reapplying. well a year later i am ordering a bottle of this for myself as ive learned where on my body and when to use this lotion and am now out and regretting not getting another before i ran out. i have diabetes so my shins tend to dry out and i also get diabetical skin sores. i started rubbing this lotion on my skin sores and noticed a dramatic difference, a faster healing process when i rubbed this lotion on them sores. and you don't need a big amount of lotion either. this lotion is thick and very spreadable and oh so worth the price! like i said, im NOT big on using lotion but this will forever remain a product in my life as it lasts awhile since i only use it on certain parts of my body for certain reasons.
Housewifemommy
absolutely amazing
I have poor circulation in my hands and feet so the skin gets very dry, cracks and bleeds. I figured the diabetic formula would be good due to their poor circulation issues. The cracks and cuts in my hands haven't gone away yet but every time I apply it to my hands I can feel my skin saying "thank you". I used the diabetic foot cream over the summer and it was amazing but there isn't enough in the tube for continuous use so I've been using this lotion on my feet also and I think it's just as good and there's more in the bottle.
WitmarcWoman
Gold Bond never fails!
I stopped buying other lotions and creams because none of them could catch up with the ability of Gold Bond for Diabetic dry skin. In less than an hour I have relief and comfort of touchable soft skin again. None of the greasy feel with the tightness underneath as I would get from others. I only used Gold Bond once to find out how much money I had wasted and how much discomfort I had had just because I thought the they were all alike! Now I am sold on Gold Bond for everything that I need. I don't hove to put it on six times a day to get the relief like I had to with other brands!! Great Price, better results all in one bottle!!
DiamondBBW
The best lotion EVER made!
I am not a diabetic, but I had the most terrible dry cracked skin on the bottoms of my feet from years of not wearing shoes because, well I hate shoes! My feet were so bad that I actually had a thumb tack in my foot and didn't feel it, I just heard it clicking against the floor. My feet looked like they had dragon scales that you could actually peel up. I've used all sorts of foot care products, from creams, lotions, files, and soaks, but none of them did anything that useful. Gold Bond's diabetic dry skin lotion, worked like true magic! The very 1st night I put it on I could feel the floor! Places on my feet were baby soft the 1st night! I'm on the 5th day of using it and I know now I will never go without it! You can't tell my feet were even so terrible less than a week ago, because they are soft, smooth, and actually look clean!
Giapani
The best lotion EVER made!
This is by far he best lotion I have ever purchased!. Best in that neither the bed covers, panty hose or pajamas , like in the past, can destroy it's moisturizing properties. Usually I moisturize my skin at night, particularly my legs, and wake up in the morning dry and ashy. Not so with Gold Bond Ultimate Diabetic Skin Relief Lotion. The fact that it has no fragrance is a plus...It does nor clash with my perfumes. Gold Bond you've made a friend for life.