Gold Bond Ultimate Rough & Bumpy Skin Daily Therapy Cream, 8 Oz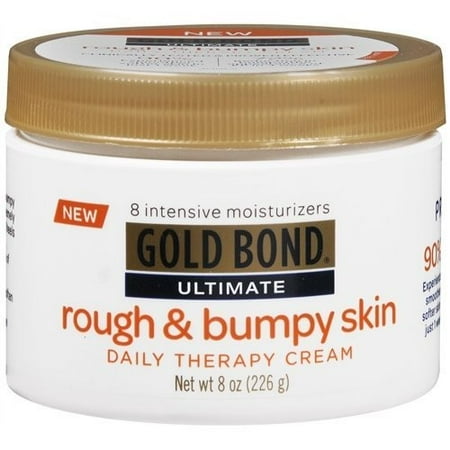 MSRP :

$9.97





Sale :

$9.48

Sold & shipped by Walmart
Product Description

Additional Information

Reviews
Product Description
The Gold Bond Ultimate Rough & Bumpy Skin Daily Therapy Cream is clinically proven to be effective. About 90 percent of those tested experienced significantly smoother and softer skin in only one week, while 72 percent had a visible reduction in bumps and the appearance of keratosis pilaris (KP) in four weeks. This Rough & Bumpy skin cream is formulated with eight intensive moisturizers that condition and soften skin for beautiful, healthy-looking results that you can be proud of.

Additional Information

Gold Bond Ultimate Rough and Bumpy Skin Daily Therapy Skin Cream, 8 oz:
90% experienced smoother, softer skin in just 1 week
72% reduction in bumps/the appearance of KP in 4 weeks
Effective for combating rough and bumpy skin on arms and legs as well as extremely rough, dry skin on elbows, knees and heels
Gentle, yet effective formula
8 intensive moisturizers condition and soften
Dermatologist-tested
Fragrance-free
Non-greasy
Jar contains 8 oz of skin therapy cream
Reviews
Nikki
No difference
I noticed no noticeable difference in my kp. Also it's very thick and leaves your arms with a greasy shine. If you scratch or rub your arms after it dries, it peels white reside like you peel from as if you had a sunburn peeling. I don't see how my skin could breathe at all with this.
corkmiester
Best there is out there!
Got this for my daughter, who suffers from kp. I wanted to try it out myself so I rubbed some on my elbows and knees. This stuff is FABULOUS! There are many lotions and creams out there that claim to do one thing or another and the reality is that they do very little or absolutely nothing at all. Gold Bond Ultimate Rough and Bumpy skin does exactly what is says it will do; moisturizes, hydrates and softens your skin. I can use a small dollop on my knees and elbows and 3-4 days later, after one application, my knees and elbows are STILL soft and fabulous. I imagine if you used it daily, you'd never have to worry about rough/bumpy/dry skin ever again. I've never used anything that even comes close to what this stuff can do and this 8 oz. jar lasts forever and a day. Well worth the price. I'd recommend it to anyone who suffers from kp, rough skin patches, dry skin patches, those who suffer from cracked hands and feet during cold weather............it really is an excellent product.
LolaLavender
Let Me Clarify...
So I am currently using this product and have been for a little over a week and let me just say this product has made a pretty big difference in my KP. I was reading the reviews on this to see if anyone else with KP has also had luck using this product, when I read some users were not happy with this product because of the "peeling" and clumping that it does. Let me Clarify this is NOT to be used as a lotion. This is a medicated treatment for people that suffer from rough and bumpy skin and KP. It is and will slough off all the dead skin to reveal the new layers of skin underneath. That it is SUPPOSED to do!!!! peel off the dead and bumpy skin! Then you moisturize afterwards. The only reason I didn't give this 5 stars is because ive only used it for a week. will be sure to update in a couple months :)
Hartful
Wow! Miracle Cream!
I really didn't expect this to be good but I wanted to try it to see if it would really get rid of the bumps on my arms. Well, it did and it made my arms feel silky soft. So I tried it on my legs, not for bumps but to see if it would make them feel just as soft and it did. I'm talking baby soft. I started out by using it every day, sometimes twice a day. After a couple of weeks, I only needed to use it twice a week. Now, only once a week and I really can't believe this stuff is so good. What it seems to do is slough off the skin a bit to reveal a lower level. The jar lasts, too. It's a very thin cream. After the many applications that I've used, the jar is still 3/4 full, and I didn't use it sparingly. This jar will easily last me a year but I bought a second jar just in case Gold Bond stops making it for some reason, but I hope they don't.
QueenB
Awesome for extreme dry skin
I bought this because in had an allergic reaction to something at my work that caused my hands to burn and dry out faster then anything I've ever seen, to the point they bleed almost instantly. So after A 2 weeks of letting it heal the dryness still hasn't went away. So I bought this and used it twice in 24hrs and it was and immediate difference. The holes in my skin that as cracked just disappeared, was truly amazing. I had already bought 2 other types of lotion before this to no prevail. So I would highly recommend this product to anyone with extremely dry skin. I of course used on the rest of my body and never felt so smooth. 10 outta 10 for me!!