Gold Bond Therapeutic Foot Cream, 4 oz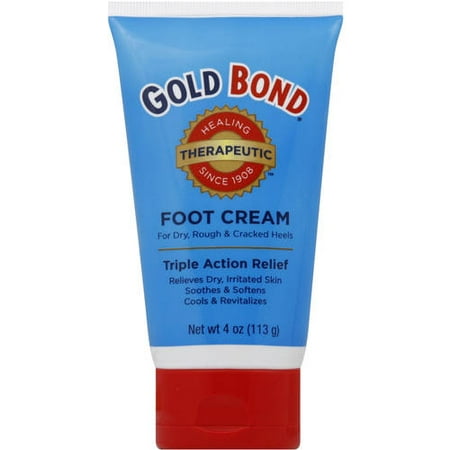 MSRP :

$6.46





Sale :

$5.36

Sold & shipped by Walmart
Product Description

Additional Information

Reviews
Product Description
Helps heal dry, rough and cracked feet and heels. The unique formula delivers 7 intensive moisturizers plus the healing power of essential skin nurturing vitamins A, C and E. Used daily, it works to condition and repair even the toughest skin to keep feet from becoming dry, rough and cracked.
Additional Information
Gold Bond Foot Cream Triple Action Relief 4oz
Reviews
CMW48
OMG I just had to add my review of this!!!!
Ok, let me first start by saying in terms of foot treatments, I've used it all and tried it all. The cotton socks at night. .everything. I don't have terribly cracked heels but I use a foot file when I do my feet and my heels look fine, but they're just never really soft. This is where all the various foot creams come in-- nothing made them soft or kept them feeling moisturized. I tried this and instantly my heels not only felt really moisturized, but OMG. . they were soft! This is day two, I used it before I went to the movies last night and I'm doing housework this morning with my Adias flip flops on and I rubbed my heels and they're not dry and STILL soft. I love this foot cream, seriously if you are looking for a great foot cream, this will be a breath of fresh air for you. I HIGHLY recommend!
Mylovelyone
Amazing! You will not be disappointed!
Ok so first off I have been dealing with not only cracked heels but for some reason since my pregnancy begun, my whole feet started drying and cracking. Sucks to say but my foot would literally leave my sandals white from all the dry skin shredding off. It was always worse getting out of the shower because it would start to peel and it was just getting worse everyday. Now I love sandals and having cute feet but there was no way I would ever show my feet like this again and it was so embarrassing with my husband(he had always loved my soft feet). I was so tired of it and while shopping I came across this lotion & looked up the reviews.. I started using it 3 days ago every night after my shower. Since it is cold I use socks over night right after applying and to my surprise 3 days later no more cracked heels! My whole foot as clearing up too! It is like magic! I am so ecstatic since I can wear my cute flip flops again and not be embarrassed by the crusty dry skin. And when I say soft, I mean BABY SOFT! Gosh I cannot express how happy I am. And at such a great price, I will forever continue to buy!
mrblueu
If anyone would know, it would be me
Unfortunately I have this weird psoriasis that I apparently inherited from my mother. It affects the feet. Some times my feet get so bad, I can barely walk and that happens if I don't take special care. It gets tiring, at least to me, day in and day out, year in and year out, consistently rubbing products into my feet hoping for an over the counter miracle cream. Thus Gold Bond foot cream does is NOT a miracle cream but it does help very significantly and without the tar grease that psoriasis suffers are accustomed to. What I have especially found to be good for me, in using this cream, is help in preventing and the quick healing of cracks in my heals. I have tried various Gold Bond products and to be completely honest, never cared much for any of them. However, I have found this foot cream to be an excellent product. Not a cure all, but a very good product.
ScubaJerry
A foot cream that works!
For years I have had very badly crack feet. To the point where I have on occasion been unable to walk. I have spent hundreds of $ on perscription and designer creams, to no effect. Last December I ran out of my usual useless foot cream and tried this product. Within a week of twice daily applications, my feet had gone from regular cracked and painfull state, to completely smooth! It has been years since my feet have been this way. I can wear sandals again!
journeyone
THE BEST FOR CRACKED FEET
When I went to the podiatrist for planters' fasciitis my heels were cracked. He wrote down GOLD BOND FOOT CREAM. I had explained that I have had this problem since childhood and have done all the products including the 'real udder cream' from the farm supply store. He was right and as the lady at the checkout said, you only need a small amount. Excellent! I use a pedegg, this and white socks at night! Healed!!!! The magic ingredient according my Doctor is the UREA which is listed second ingredient. Don't waste your money like I did on all the other products.