Unisom SleepGels Diphenhydramine HCl SoftGels, 60ct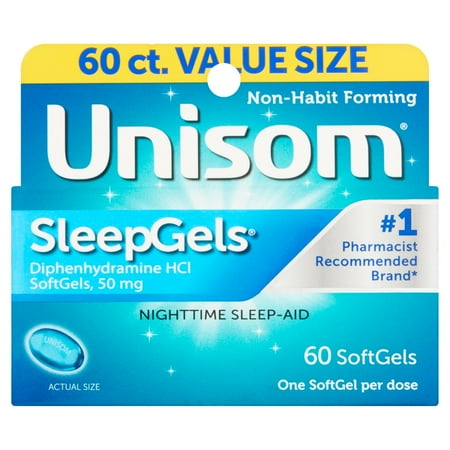 MSRP :

$10.98





Sale :

$10.69

Sold & shipped by Walmart
Product Description

Additional Information

Reviews
Product Description
Get a better night's rest with Unisom SleepGels, the #1 pharmacist-recommended over the counter brand of sleep aids. These powerful, non-habit forming capsules reduce your natural urge to stay awake. With the active ingredient diphenhydramine HCL 25 mg, the soft gels help you fall asleep faster, for longer, uninterrupted rest. The soft gel formula is easy to swallow, disperses throughout the bloodstream quickly and doesn't leave any chalky after taste. The formula is so powerful, all it takes is one soft gel capsule to promote restful sleep.
Additional Information

Unisom SleepGels, 60-Count:
Nighttime sleep aid
Contains 25 mg diphenhydramine HCl
60 softgels
Non-habit forming
No chalky aftertaste
Reduces the natural urge to stay awake
Fall asleep faster and wake up more energized
#1 pharmacist recommended brand
For adults and children 12 years and up
1 soft gel capsule per dose
Reviews
amberose269
Sleep Gels
I've tried many sleeping aids before but would wake up droggy and sluggish. After many times I vowed to not do that again to myself. I got a free sample of the Unisom sleepgels and gave it a try because enough time had went by and I figured I'd try it again. I was a little skeptical but to my surprise I slept good and didn't have any side effects. I still have a few samples left that I'm saving for the next sleepless night .I would recommend this product since it's natural and helps you fall asleep and stay asleep. Also I like the soft gels as they were easy to take.
avva
Unisom sleep gels
Got these unisom sleep gels from PinchMe, just tried a couple of days due to lack of sleep and it works fast, got renewed my strength again after having sleepless night.... these product is amazing
lmtur
Very Effective and Safe too!
My husband struggles with sleep issues and to go to a doctor for a diagnosis would be an expense he'd rather avoid. He normally uses nighttime pain relievers, but they're not fully effective. He has used Unisom before, and they seem to be the most effective, but still the regular capsules lack sufficient "strength". This new liquid softgel (I don't know how long it's been on store shelves, but) it's not only twice as potent, but the fact that it's liquid gives it greater effectiveness. My husband no longer tosses and turns through the night. He sleeps soundly, and what's so great about that? When he sleeps soundly, I'm able to sleep soundly too. And Walmart's price is the most economical I've found, so I did the only thing I could do.... I bought a six months supply for my husband. Thank you Unisom and thank you Walmart. You not only made my day, but you made my night too.
Flozzy
Unisom Sleep Gels
I've always had trouble sleeping and I don't want to depend on Sleeping pills from a doctor, so I actually received a free sample of Unisom Sleep Gel Caps from # PINCHme. com and I'm really sorry that nobody has ever told me about this product before, because I honestly have to say that for the first time in quite some time now i got a good night's sleep and I didn't feel groggy the next day, you know how some other products can still effect you the morning after, not Unisom. It's all natural which is what I liked most of all, and I'm grateful to #Pinchme.com for the good night's sleep and I have bought it a couple of times now so I have it just in case I can't fall asleep again. I recommended this to my brother n law also and now he's been sleeping good as well. Thank You Unisom and #Pinchme for the Free Sample.
Caroline
Good night!
First of all, yes, you will sleep wonderfully with these Unisom sleep gels! However, taking a larger dose (2 sleep gels or 50 mg) may make you drowsy the next morning, so I would recommend trying these out on a weekend if it is the first time taking you are taking diphenhydramine. There are some other side effects in taking this long term, however, this may be worth it to get a wonderful night's sleep! Considering the fact that other options are available, I would recommend price shopping, especially giving the generic (Equate brand) a try. They all contain the same active ingredients, but come in different formulations such as tablets, capsules, and softgels. So it is up to you in terms of weighting the benefits and price options, but overall, I would recommend taking this to guarantee yourself some good sleep! I received a free sample from PINCHme in exchange for my unbiased review. I hope that this helps you make a decision!