Duraflame 4-Hour 6LB Firelogs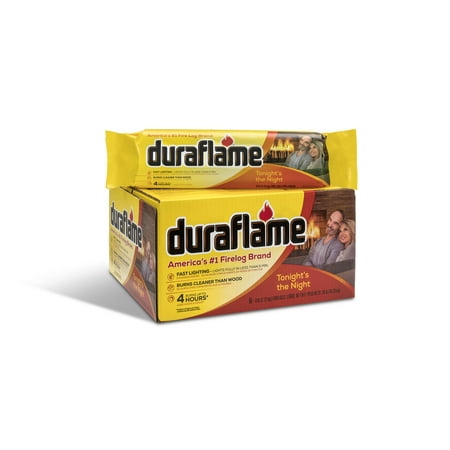 Sale :

$17.88

Sold & shipped by Walmart
Product Description

Additional Information

Reviews
Product Description
Keep the fire going for hours with these Duraflame Firelogs, 6 lbs. They are constructed with 100 percent renewable resources that are capable of burning 80 percent cleaner than traditional wood. The Duraflame logs 6 piece is designed to provide you with more robust flames for longer periods of time. They are suitable for use in all types of traditional open-hearth fireplaces and they are designed to eliminate the need for adding more fuel and tending a fire. Keep them handy for when you need to start your next warm and cozy fire. They produce a modest bright flame, there is no chemical smell and they also have very little ash, which makes clean up easy and quick.
Additional Information
Robust flames that last up to four hours
Lights quickly – full flames in less than 5 minutes
Use in an indoor, open hearth fireplace or outdoor fireplace or fire pit
America's number 1 selling firelog
Burns 80% cleaner than wood
UL approved safety classification for use in UL-listed factory built fireplaces
Chimney Safety Institute of America Accepted Product
Reviews
Lauren
Stuck with 4 Boxes of logs
I buy logs in bulk before the season, and I have now gotten stuck a BUNCH of TERRIBLE performance logs. The burn, -but just barely....and for about 2-3 hours. I don't know what has happened to Duraflame, but they just BARELY BURN!! What a COMPLETE WASTE OF MONEY. Save your money and buy a different brand!
Not impressed
Reviews are way off
6 lb log lasted for exactly 3 hrs. The last hour was very weak. Like huddling around a candle. So really a 2 hr log. Very weak heat as well.
rosebud14
instant fire
Makes a beautiful fire for several hours.
WetGeek
What can I say?
They're fireplace logs. Not a lot to get excited about, but they do their job well. We've used these for years, buying from our local store, but Walmart does it better, Lower price, and free delivery to our door.
Howie
easy but not as good a wood fire
The firelogs are easy to use and nice for the ambience they may add but they are not the same if one expecting they could equal what one expects from a wood fire. The product worked fine, lit easily and burned for over 3 hours with the flame being very low by the last hour. The instructions say to only use one log at a time but I have seen others who say they add real seasoned wood logs to burn with them even though that is not recommended by manufacturer. I like the concept of these logs as they are very easy to use and will provide the feeling of a fire in a way and one really does not have to attend to it as they would using firewood. It does produce a real fireplace like fire but does at times seem like one of those fake plastic fireplaces one plugs into the wall and just glows and is obviously not a real fireplace.