Coppertone Ultra Guard Sunscreen Lotion SPF 50, 8 fl oz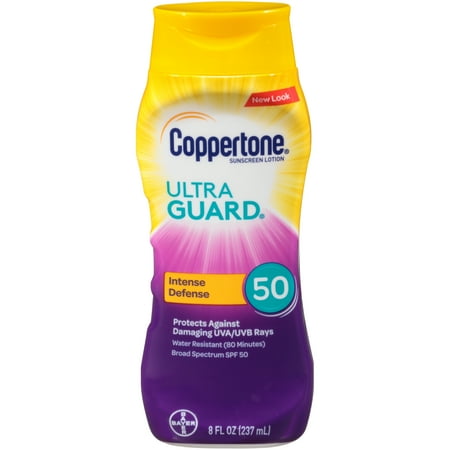 Sale :

$7.97

Sold & shipped by Walmart
Product Description

Additional Information

Reviews
Product Description
Coppertone Ultra Guard Sunscreen Lotion SPF 50 helps prevent premature skin aging from the sun.
Additional Information
Coppertone Ultra Guard Sunscreen Lotion SPF 50, 8 fl oz:
• Stops up to 98% of damaging UV rays. Protect your skin while in the sun with this broad-spectrum formula.
• Delivering water-resistant (80 minutes) UVA/UVB protection, this sunscreen doesn't feel greasy on your skin.
• Nourish and hydrate your skin with moisturizers and Vitamin E.
• Apply whenever your day takes you outside, whether it's a picnic at the park, catching the big game, or working out in the yard.
• This pack includes one 8-fluid-ounce SPF 50 sunscreen lotion bottle.
Reviews
USCGRetired
Great protection for those prone to sunburn
I'm very prone to sunburn. 15 minutes in the sun is all it takes for me to get as red as a lobster, which in the daily Deep South sunshine isn't a good thing. Fortunately, this sunscreen does a fantastic job of protecting me from that, which is why I always wear this one. I spent two hours in our pool yesterday and the only sunburn I received was from where I forgot to apply this, on my back. Other than that, I had no sunburn. I can't praise this sunscreen more than I can here. It does on smoothly, not too thick like other brands in SPF 50. It doesn't leave my skin feeling sticky or greasy and it works. How can you get better sunscreen than that? Because of that, I have no hesitation in recommending this to others.
Krislynn68
Wow!!
We got the coppertone 70SPF and it's anazing. There was a group of us. Angela used the Coppertone 70 spf spray and put it on. We took a group pic Jessuca, who decided not to put sunscreen on...bad idea! Upon returning from being in a boat 1 & 15 minutes later from dolphin looking, we noticed that Jessica was severely sunburned EXCEPT one spot where Angela had rubbed against in our pic...amazing results!! Would love to some how send it post pic!!!! Angels of course was AWESOME, after using Coooertone 70 spf!!!!
Alann
Sold!
Perfect, used very little and not a speck of redness in the Atlantic Florida sun. Coppertone owns me!
Lala626
Great Sunscreen!
My husband uses this Coppertone Ultra Guard Sunscreen SPF 50 and it works great. He burns very easily but when he uses this or the SPF 70 version of this sunscreen, he never gets burned. Just re apply every few hours and he is good to go. Would recommend to any fare skinned people. :)
meetganges
Great Product
I used this product during our weekly hikes and found this to be very effective. never got burnt. I am thinking of buying this for my relatives who are in a tropical country. This will definitely be useful to them.