Lipton Diet Raspberry Iced Tea Mix, 10 qt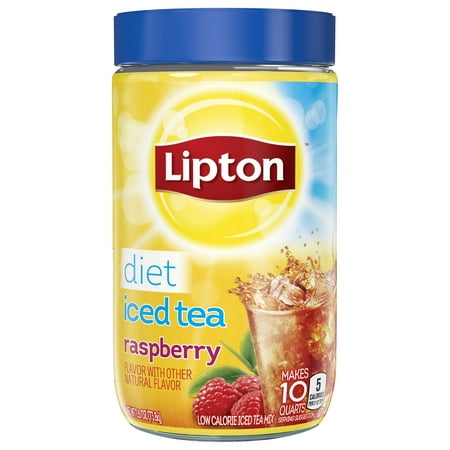 Sale :

$3.58

Sold & shipped by Walmart
Product Description

Additional Information

Reviews
Product Description
Enjoy all the delicious taste of fresh raspberries in Lipton Diet Raspberry Iced Tea mix, without the sugar or the calories. Lipton's expert mixologists have crafted a delicious diet raspberry Iced Tea with no sugar and natural raspberry flavor to make the best iced tea for you and your family. Our Iced Tea Mixes are made from real tea leaves so the taste is delicious and satisfying. Lipton iced tea is the perfect addition for any of your meals because it is tasty and refreshing. So don't just default to the usual, enjoy the tangy & sweet raspberry filled flavor taste of Lipton Diet Raspberry Iced Tea Mix. A brilliant taste for a brighter dayLipton Iced Tea Mixes are the easiest way to prepare delicious and refreshing iced tea in just seconds. Just pour 4 tbsp of Lipton Iced Tea Mix in a glass, add 1 cup of cold water and enjoy a perfect glass of iced tea! This mix makes 10 quarts or 2.5 gallons of iced tea.At Lipton we never compromise on quality. Only the best tea leaves go into our iced tea mixes. All our tea leaves are sourced from around the world and expertly blended so you can enjoy a premium quality experience. You will reward yourself with the fresh, delicious taste that makes iced tea the best choice.
Additional Information
Lipton Diet Raspberry Iced Tea Mix, 10 qtLipton Diet Iced Tea Mix Raspberry is has only 5 calories per servingEnjoy all the delicious taste of fresh raspberries in this Lipton Iced Tea mix, without the sugar or the caloriesMade from real tea leaves, this iced tea mix features natural raspberry flavorsRefreshing iced tea that is easy and quick to prepareEach jar of iced tea mix makes 10 qt of tasty and refreshing diet raspberry iced teaDiet iced tea powder mix that is delicious and brimming with the taste of fresh raspberries
Reviews
WatashOne
UPC : 041000119194 - Lipton Diet Raspberry Iced Tea Mix, 10 qt - PickPanda.com
I have tried and tried to make a Raspberry tea like the one I got in Colorado one time. This tea is beyond what I could ever mix on my own. To think it is an instant and diet is great for a diabetic like me. There is no need for sugar or anything other than water and ice. Lipton has truly out done theirselves in this product.
Princess
Product great-shipping to be desired
They must have new packing people that need training. Last 2 orders there was a broken jar and everything needed to be washed coming out of the box. They use to wrap them in bubble wrap or at least paper and air pillows. Now they toss all the jars in a bag and into a box loose with other items ordered. Can we work on that?
Squirrel
Great!
Much better pricing when you order it online from WalMart. This item is not accessible in all grocery stores and supermarkets. Limited accessibility.
mb136
Great!
We love the Diet Raspberry Tea and are disappointed when we can never find it on the shelves. We were very happy to find we could order it by the case and always have it on hand. My daughter and her family like the tea as well and when one of us would actually find it on the shelves, we would buy all we could get and share with each other. It's great to know we have an alternate plan.
hulabird61
This is good!!!!! Restaurant quality!!!
The taste is awesome, like restaurant quality raspberry iced tea. Does not have that diet-y sugar substitute kind of taste. It is sweet, and I used 3 tablespoons, not heaping, in 24 oz of water and with ice and it was perfect. Nice change from diet pop and a way to drink more water.