Lipton 100% Natural Tea Black Tea Bags, 100 ct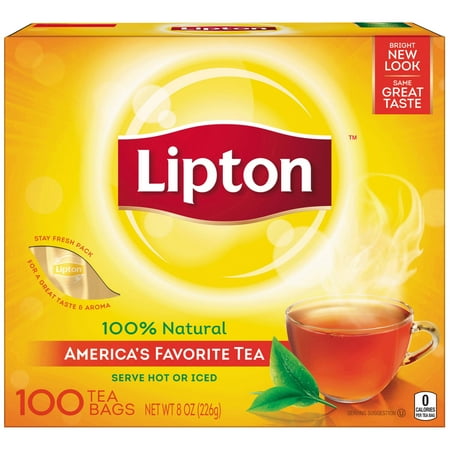 MSRP :

$7.23





Sale :

$3.48

Sold & shipped by Walmart
Product Description

Additional Information

Reviews
Product Description
Savor the original, delicious taste enjoyed by discriminating tea connoisseurs for more than a century. Lipton Orange Pekoe and Pekoe cut black tea is the ideal blend for the perfect cup of tea. Crafted by our master blenders, the blend includes carefully selected, fresh pressed tea leaves, capturing as much as the natural tea taste and aroma as possible. Lipton's America's Favorite tea is 100% natural, Rainforest Alliance-certified, and can be served hot or iced. Enjoy a brilliant taste for a brighter day.
Additional Information
Lipton Black Tea Bags, 100% Natural Tea, 100 ct
Lipton Black Tea Bags with a rich & delicious taste, bold color and invigorating aroma
Carefully selected and fresh-pressed tea leaves, capturing as much natural tea taste as possible
Sturdy, secure lock-box for easy storage, and wrapped Stay Fresh tea trays to help preserve great tea taste and aroma
100% natural tea
Lipton Black Tea is made with sustainably sourced tea, all our black teas are 100% Rainforest Alliance certified tea bags
Caffeine - 55 mg per 8 fl. oz. serving; Theanine - 10 mg per 8 fl. oz. serving
Reviews
Ctt1955
Paper label falls apart
Lipton tea goes way back in my southern roots, but what's up with the "new look" paper tags? After making my 4th pitcher of tea out of this box, all the paper labels have fallen apart, after only 2 minutes of boiling. I'm having to strain every pitcher I've made. Pictures are attached showing particles of paper after straining, and what is left on the bottom of the pot! Come on Lipton you can do better...
Daily Tea Lover
Good fresh taste but unconvinced for carrying
I love the tasted of tea, it deliveries the freshness taste as I drink a fresh tea leaves tea. Also a aroma bring a really fresh smell as you smell the fresh stea leaves. I am tea drinker. I drink fresh leaves tea boil with water since I am a little girl lived with my parents in Asia . I drink tea all day , my husband just drink for breastfast . But the pack are unconvinced for carrying around during the day at work or any where I go to. I have to put the tea bags in the zip lock bag instead of just grab some and put in my purse or my handbag. I have an ideas , it might cost a little more for wrapping but it will works to keep the fresh taste , aroma and CONVINIENCE for tea drinkers carry every where. If each single tea bag could wrap with the Stay Fresh Pack instead of 25 single bags in one Stay Fresh Pack( golden foil) attached pictures to show what I think will keep the fresh taste and aroma and easy to travel any where.
Maxi
Lipton Tea is my go to Tea!
I grew up drinking Lipton tea, in my house there was no other choice. I have been in the Navy 24 years and one of the items that comes on my deployments with me is Lipton Tea. I have tried tea all over the world, had tea in London, at a tea house in Victoria, Canada, I am a tea person, but I always have a Lipton when given the choice. I like the new packaging, the old ones would sometimes tear when taking them out of the individual paper packs. The little square at the end of the string would often come off also. The new packaging prevents this. I think people don't like change. When on the go, I grab a few bags, throw them in a zip lock bag and I am good. I think the new box looks nice, and for me it works.
Patchnthyme
So, I grew up on this wonderful blend
Out on the farm as a small child I would brew this tea in the sun for my father who was busily getting the chores done and bring it to him over ice. What a magical moment when the sun had been beating on his back for hours when that ice cold Lipton tea would touch his lips and he'd gulp a few gulps and smack his lips and exclaim 'Ahhh!"! I knew that this drink had quenched his thirst like scratching an itch you couldn't reach for days... Now as an adult I brew that same Lipton tea in the sun in my suburban oasis for the same wonderful taste and refreshing pick me up when it's just too hot for coffee. Thanks for a million memories and a lifetime of quality drinks!
mumjba
Must Have Individually Wrapped Bags
Love Lipton Tea! My husband and I drink 2-3 gallons of iced tea each week (more for summer in the south) plus hot tea at night. As a graphic designer, I was pleased with the pretty new lockbox package because it works great at keeping the bags in when I put it back into my overstuffed cabinet. However, other changes in the packaging were very displeasing and will cause me to rethink my purchase: 1. Individually paper-wrapped teabags were replaced by polyethylene foil wrapped 25-ct. "tea trays". – Foil multi-packs makes sense only for the larger "iced tea sized" bags, but not the individual size. When hot beverage consumer products are leaning toward individual serving packs like k-cups, open tea trays makes no sense for on-the-go convenience sake. Why change a good thing? 2. Two-ink printed tea tags (part of the convenient wrapper) were replaced with 4-ink/double-sided/with aqueous coating/die cut tags. – Although the coating is non-toxic, I really don't want it in my tea (which inevitably ends up in my cup to soak into the hot liquid). This extra shiny coating also adds strength to the tag so the pointy edges poke your skin– ouch! Simple is best; no need for all the extra printing steps. Heck, I'd even prefer an unbleached paper wrapper/tag with 1-ink printing for health sake. 3. I can't attest to any change in quality since I just opened the new box, but I think the air exposure to the remaining bags in the open tray would cause some loss in quality. PLEASE, PLEASE go back to the individually paper wrapped tea bags!!!