Men's Regular Fit Jean with Comfort Flex waistband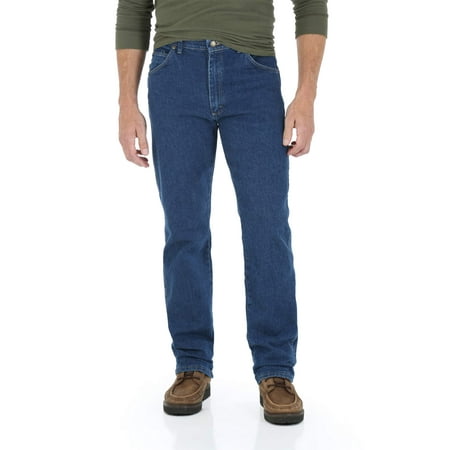 Sale :

$22.92

Sold & shipped by Walmart
Product Description

Additional Information

Reviews
Product Description
The Wrangler Men's Regular-Fit Jean with Comfort Flex Waistband is made of 100 percent cotton fabric. Designed with relaxation in mind, the waistband expands so you feel comfortable whether you're sitting, standing or moving about. They feature a traditional five-pocket jean styling and regular fit that looks good on just about anyone. With their look and comfort, you can wear them almost anywhere. Pair them with a blazer and wear them on a date or put them on when doing errands on the weekends. Whether you're landscaping, working on construction projects or performing other outdoor work, these are the pants to be in. Wrangler jeans are constructed from heavyweight flex denim. They're durable, fit well and are made to last. These Wrangler Regular-Fit jeans are your go-to clothing item for casual times.
Additional Information
Wrangler Men's Regular Fit Jeans with Comfort Flex Waistband:100% cottonHeavyweight flex denimRegular-fit Wrangler jeanFlex-fit waistband expands up to 2"Traditional 5-pocket stylingBelt loopsSingle-button closure with zipper flyMachine wash coldAvailable colors: black, Dark Indigo, Dark Stonewash Blue, Light Stonewash BlueAvailable sizes: 29x30, 29x32, 29x34, 30x30, 30x34, 31x30, 31x32, 31x34, 32x32, 32x34, 32x36, 33x30, 33x32, 33x34, 33x36, 34x29, 34x30, 34x32, 34x34, 34x36, 35x30, 35x32, 36x29, 36x30, 36x32, 36x34, 36x36, 36x38, 38x29, 38x30, 38x32, 38x34, 38x36, 38x38, 40x29, 40x30, 40x32, 40x34, 40x36, 40x38, 42x29, 42x30, 42x32, 42x34, 42x36 and 42x38Style 855WAQD
Reviews
Personable85
Good Jeans despite the Drama.
When I first wore these jeans they fit me nicely. After wearing them a few weeks, being 100% cotton, they stretched considerably. They stretched so much I felt like I was swimming in them. It was like I was wearing a tent. The comfort level was so bad that I was seriously considering buying a new pair of jeans. Then I washed the jeans and dried them in the drier and (being cotton) they shrank considerably. Once again they fit me nicely. I'm telling you my story so you know what you're getting into when you buy these jeans. Despite the drama, the jeans are nicely made and a good value compared to Levis. I would recommend them.
BikerRichard
Great Pants For Beer Guts!
If you're like me, with your beer gut dun-lopped over your belt, you need these pants. This is the ultimate...you got this skinny rear & spindly legs thing going on too, right? These pants fit like the regular Wrangler jeans I usually buy, but instead of having to suck in my gut, the pants stretch to fit. Do what I do. Buy a pair of these jeans, a 6 pack, and a pizza! Do it, old man...just buy 'em. Us slobs have to stick together!
ECB4848
Great Jeans
I have been wearing these jeans for many years now. Love them. I would never buy any other brand.
thesame
Better Fit
These jeans are good for anyone needing help with a better fit. I did not purchase them for the flex of 2 inches for someone heavier than the waist size but for someone elderly who is losing weight and needs the extra flex. They fit very well now. I wish I could have gotten a smaller waist size so the flex elastic would keep them tighter in the future. For someone with a 34 inch waist a size 32 or 33 waist would be much better to keep the jeans up comfortably.
texsun4u
great
I have worn many types of jeans in 40 years. I must say these are the best fitting and most comfortable jeans ever. these are my pick from now on. love, love ,love