Andis Professional Animal Detachable Blade Clipper Kit, 7 Pieces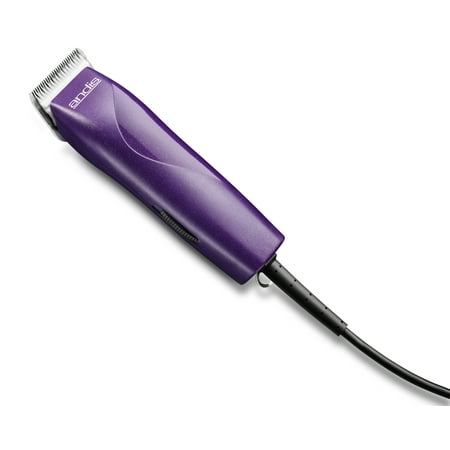 MSRP :

$98.98





Sale :

$84.94

Sold & shipped by Walmart
Product Description

Additional Information

Reviews
Product Description
Get professional results at home with an Andis Company 7-Piece Pro Pet Clipper And Professional Blade. All pets deserve to look their best, and this trimmer gives you pet salon-quality results in the convenience of your own home. The powerful yet gentle Andis pet clipper is effective on almost all breeds, be they large, small or somewhere in between. The blades move at an amazing 3700 spm, yet it is almost whisper-quiet. The rotary motor is also essentially maintenance free, making the device easy to own. The well-designed Andis pet groomer features a nearly unbreakable plastic housing, along with an ergonomically-designed handle that's curved to fit your hand. Together with the UltraEdge and CeramicEdge, which are available separately, the device features the largest selection of blades in the industry, so you can give your pets a customized look. The blades are also compatible with most other detachable-type clippers.
Additional Information
Andis Professional Animal Detachable Blade Clipper Kit, 7 Pieces:
Powerful rotary motor clipper
4 attachment combs: 1/2", 3/8", 1/4", and 1/8"
Blade oil
Hard case
Reviews
WendyM
Great product for the price
The day I received the Clippers I shaved 6 cats, one after another. Through the first few cats the clippers stayed cool enough. With the last three cats I had to stop a couple of times during each cat to cool the blade. I didn't purchase any cooling spray, so I used an ice pack covered with a thin cloth to cool it down and it worked great. The Clippers cut through the hair quickly and easily with only two nicks out of 6 cats. It was the first time I'd ever shaved any animal and the Clippers were very easy to use. I also used pheromone spray to calm the cats first. It won't put them to sleep but I believe it helped. I decided to shave my indoor cats because somehow we ended up with fleas in the house. It worked and the flea problem is contained. Since I shaved them I have been spraying them once a day with a 50/50 solution of apple cider vinegar and water. It works better than advantage and is natural. I will be continuing to shave them on a regular basis every few months because the reduction of hair in the house has been awesome. I would definitely recommend these slippers. Great product for the price.
SusieOpinion08
Paid for itself
Our Shitzu was a mess, matted hair, burs, foxtails, you name it it was in his fur. Grandson first got off the initial tangle of fur and then went back and gave him a more refined haircut. He looks and probably feels better. Grandson said best clippers ever.
banness
Paid for itself
Quiet and powerful! I have a rescue German Shepard/Border Collie mix. Her coat is so thick and coarse, it takes 15 minutes just to get her coat wet to bathe. Of course, in the summer, hair just falls off as she walks, although I use a furminator on her frequently. I hesitated trying to clip her because she is petrified of storms, hates big truck sounds, motorcycles, and lawn mowers, having lived her first year of life on the streets. However, after reading the reviews about this one, I decided to try. Not only does it give a great cut on such long hair, it is quiet enough that she stood still for me, walked away a couple of times to take a break, but came right back for more. She actually enjoyed it, not to mention the improvement of fallen hair on my floors. Now her coat is short and much more comfortable for her in the sun. The different sizes of attachments enable you to choose the length. The ceramic blade is wonderful. I wish I had done this years ago.
elp12848
Absolutely Fabulous
Purchased this pet groomer because since I have retired we cannot afford the $45 grooming cost for our Shih Tsu. Also, since I am at home thought this would be a good time to learn to groom him myself. He would fight me when I tried trimming him with scissors & I just knew I would wind up cutting him. Thought these were worth a try since most reviews were excellent. His fur had grown quite long & was becoming matted in places & as soon as we received our groomer it was definitely time for a trim. Low & behold this groomer was so quiet our little guy laid still for me & fell asleep. Trimmed his fur perfectly. We were amazed at the professional looking job I had done. Did not heat up at all so that made me feel very comfortable with it. Now I can keep him neat & trimmed whenever he needs it. Anyone hesitating this purchase have no fear. Love this groomer. So very happy I made this purchase. Thank you, thank you, thank you. And my husband thanks you too.
nonyon
Smooth cutting & quiet.
I have 2 German Shepards - one with normal hair & one with extremely thick hair with a heavy undercoat. We shave our shepards in the hot months cause she gets a rash from a grass allergy every yr & we need to see to apply the medicine every day. In shaving him we found it cuts down on his shedding & constant work of cleaning up dog hair. She takes usually takes 45 to 1 hour, with these clippers she took 20 minutes. They made a smooth cut & did not snag, making the careful shaving (cause of rash) easy & my female actually enjoyed the experience. Our male usually takes 2 to 3 days to cut, but with these he took 45 minutes. These clippers took the hair off like spreading peanut butter. They did not get hot like the other clippers we had, which would mean we had to stop for an hr or 2, making the job last 2-3 days. It was over so fast & they were so quiet that our male had no anxiety & stayed still the whole time. They do not run when we lay out these clippers.