Andis Clippers Professional Outliner II Personal Trimmer Kit 1 ea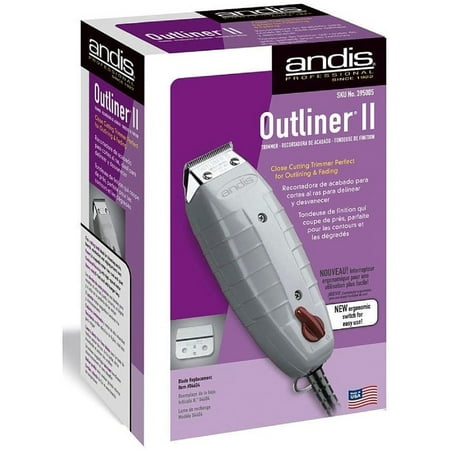 MSRP :

$53.2





Sale :

$48.95

Sold & shipped by Cyberteams Inc
Product Description

Additional Information

Reviews
Product Description
Andis Outliner II Trimmer is an all-around outlining, dry shaving and fading trimmer that is popular for today's barber. Magnetic motor trimmer is the the professional choice for powerful, high-speed close trimming. The motor runs quiet and cool. With the contour shape fitting comfortably in your hands makes flawless styles a breeze. The Andis Outliner II is the perfect trimmer for outlining, shaping and styling with its fully-tempered, super fine tooth blades for close trimming. High carbon steel blades are specially hardened for long cutting life to serve you well for years. Corded Square Blade Trimmer Close Cutting Blade High-Quality Carbon-Steel Blades Specially Hardened for Long Cutting Life Contoured Housing w/ High-Speed Motor Powerful Magnetic Motor Runs Cool & Quiet Excellent for Dry Shaving Ideal for Trimming Necks, Beards, Mustaches, & Edging Around Ears Perfect for All-Around Outlining & Fading Heavy Duty 8 Ft. Cord w/ Hanger Loop
Additional Information
Andis Outliner II Trimmer is an all-around outlining, dry shaving and fading trimmer that is popular for today's barber. Magnetic motor trimmer is the the professional choice for powerful, high-speed close trimming. The motor runs quiet and cool. With the contour shape fitting comfortably in your hands makes flawless styles a breeze. The Andis Outliner II is the perfect trimmer for outlining, shaping and styling with its fully-tempered, super fine tooth blades for close trimming. High carbon steel blades are specially hardened for long cutting life to serve you well for years.
Corded Square Blade Trimmer
Close Cutting Blade
High-Quality Carbon-Steel Blades Specially Hardened for Long Cutting Life
Contoured Housing w/ High-Speed Motor
Powerful Magnetic Motor Runs Cool & Quiet
Excellent for Dry Shaving
Ideal for Trimming Necks, Beards, Mustaches, & Edging Around Ears
Perfect for All-Around Outlining & Fading
Heavy Duty 8 Ft. Cord w/ Hanger Loop
Reviews
abishop
clippers for hubby
So I'll be completely honest. This item not for me but instead it is for my hubby. He was looking a little shaggy and I looked all over to get him the right quality clippers. Of. Course when I went into stores they didn't have any of the Andies. Frustrated I decided to look online. Wal-Mart fav place to shop I found the exact ones that he wanted so got them just in time for Valentine's day!!! Brownie points for me getting him a great Valentine's day gift!!! Thanks Wal-Mart for having just about everything but, the winning lotto ticket!!!!
Dirkdiggler2012
Heavy but cuts close
If you don't hurry up it will get hot. But it cuts close . yes it's close but it's a barber shop grade clipper.
hairstudents
too heavy
The trimmer is heavy to handle if you have small hands. Also it will cut and clean off excess hair but in the meanwhile it will get hot.
Chromosoul
Best trimmers
Been using Andis for years now. These trimmers never disappoint. Walmart has the best prices.
jackie
Best trimmers
The only trimmer my hubby will use