Hamilton Beach 12 Cup Programmable Coffee Maker | Model# 49465R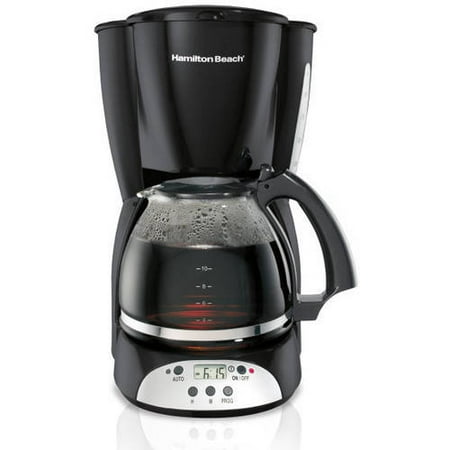 MSRP :

$29.96





Sale :

$15.88

Sold & shipped by Walmart
Product Description

Additional Information

Reviews
Product Description
Hamilton Beach CoffeemakerBrand NewIncludes One Year WarrantyThe Hamilton Beach 49465R is a 12 cup digital coffeemaker makes consistently fresh and flavourful coffee. This coffee maker takes up minimal space on the countertop.The auto pause and serve feature of this coffee maker lets you remove the carafe and pour a cup while the coffee's brewing. Programmable timer and auto-Off feature avoid accidents or equipment damage and prevents overheating. The clock display help in easy-reading and to keep track of time during busy mornings.49465R Features:12 Cup Digital CoffeemakerDishwasher Safe CarafeFilter BasketBrews 12 Cups of CoffeeProgrammable Clock/TimerAuto Pause ServeClock DisplayNon-Stick Warmer Plate2 Hour Auto ShutoffRemovable Filter Basket
Additional Information
Hamilton Beach® 12 Cup Programmable Coffee Maker Wake up to fresh coffee. Skip the alarm and wake up to the aroma of freshly brewed coffee every morning instead. The Hamilton Beach 12 Cup Programmable Coffee Maker can be programmed up to 24 hours in advance, so you can make sure you never miss your coffee wake-up call. Pour your first cup before the brewing process is done, without compromising taste or creating a mess, with the auto pause and serve feature. The 2-hour automatic shutoff gives you peace of mind. No hand washing is needed - both the carafe and filter basket are top-rack dishwasher safe. Key Features: • Programmable clock/timer lets you set morning coffee in advance • 2-hour auto shutoff • Water window • Auto pause & serve lets you pour a cup before the brew cycle is complete • Cone-shaped brew basket for great-tasting coffee • Nonstick keep-hot plate resists messy coffee buildup and wipes clean • Cord storage The Cone Filter Advantage Cone filters allow for better coffee extraction because the shape allows for water to travel more evenly through the coffee. Some basket shaped filters can have dry spots, which could compromise taste. Experience the enhanced taste of cone-filter extraction with the Hamilton Beach® Programmable Thermal Coffee Maker, which also includes a free pack of #4 cone filters. Programmable to Fit Your Schedule The digital clock is easy to program and you can set your brew time up to 24 hours in advance. And with 2-hour automatic shutoff, you won't have to wonder if you left the pot on. Low Maintenance Forget about messy buildups. The nonstick keep-hot plate resists residue and easily wipes clean. Both the carafe and brew basket are top-rack dishwasher safe. Auto Pause & Serve Auto pause & serve lets you grab a cup during the brewing process without any dripping.

Hamilton Beach 12-Cup Programmable Coffee Maker:

Programmable clock/timer lets you set morning coffee in advance
2-hour auto shutoff
Water window
Auto pause and serve lets you pour a cup before the brew cycle is complete
Cone-shaped brew basket for great-tasting coffee
Nonstick keep-hot plate resists messy coffee buildup and wipes clean
Cord storage
Hamilton Beach coffee maker 49465 with limited 1-year warranty
Compact for easy countertop or cabinet storage when not in use
Model# 49465R
Reviews
lorna444birds
Have Your Coffee Waiting for You
This is a wonderful coffee maker! It's the easiest to set the time, and to program the time you want it to start brewing. The little green light will let you know when the auto-program is on. All you need to do is add the right amount of water, a filter, and your favorite coffee. This unit uses #4 cone filters. Some might see this as a drawback. I see it as a plus. I've tried coffeemakers that use basket filters(which cost less than cone). Sometimes, the sides of the basket filter would tip over during brewing. This usually resulted in the grounds and water overflowing onto the coffee pot and the hot-plate. I don't have this happen with cone filters. I like the auto-pause feature. This allows you to pour a cup of coffee before the brewing cycle is finished. This pot will automatically shut off in two hours, which is another feature I really like. If you are not going to use all the coffee you brew within 30 minutes or so, it's best to pour the finished coffee into a thermal pot. I also recommend you let the pot cool before washing, and wash it using a sponge or cloth-nothing that could score the insides and cause it to crack later.
misscakes
Very sleek looking coffee maker
This Hamilton Beach programmable coffee pot has all the same features as coffee makers 2 or 3 times the price. The buttons are easy to head and to be able to set the coffee pot to be ready for you when you waken is a huge plus. The reservoir is very accessible with one finger so you can be holding the pot of water in the other hand. There is a swing arm you slide to the side to place the coffee in the basket. My only comment is this machine does not come with a sample package of #4 filter papers so you will have to go buy some of them before you can use it. It would be very helpful if a few were enclosed in the box for the consumer. I happen to have a bunch of them on hand so I was able to use it right away. It makes a very good up of coffee no matter what kind of coffee you use. The carafe is made of glass so you have to be careful not to bump it but it does keep the coffee hot for a long time and it doesn't taste burnt as it sometimes does in a metal carafe. I highly recommend this Hamilton Beach coffee put maker to all coffee drinkers
goswimmin
Great coffee maker
We really like the way the coffee comes out of our Hamilton Beach 12 cup programmable coffee maker. We had to adjust the amount of coffee grounds that we added. Both the package of the coffee and the pot directions said to put in quite a lot but we adjusted that to our taste and it is perfect. We bought the Community Coffee-medium roast Breakfast Blend at Walmart and found it to be delicious. The directions are very easy to understand. We programmed the machine to turn on at a certain time in the morning so that the coffee is ready when we are. We only make a small amount of coffee each day since there is just 2 of us, but it does a wonderful job of that. I fill it to the 4 cup mark and it makes 2 nice sized mugs. I bought the cone shaped coffee filters that they recommended. The only improvement that I can see for this coffee maker is getting the water for the coffee to come out a little hotter as we need to put our mug in the microwave for a few seconds , probably due to the amount of creamer that we put in. If you unplug the machine at some time you do need to reset the time and the timer again.
Conduit
No frills, just coffee
I received this product from the Spark reviewer program. Our other coffee maker would gain hours of time during the week and would require adjustment several times during the week. This coffee maker requires #4 cone filters, which were available at our local store. This is a tall and slender style coffee maker. The carafe has a large handle that my hand fit into easily when pouring coffee. The water reservoir has clearly marked lines that are easy visible. The clock and controls are on the base of the maker, the clock is angled slightly making it easy to read, I would like a backlight on it. The clock has keep accurate time for the last two weeks. Programming is very easy and straight forward. Five buttons and two indicators on the face plate. The coffee was not bitter, just smooth tasting for any of the roasts that we tried. The only complaint that we have on the coffee maker is that the carafe can be a little hard to get in and out of the maker. This may change over time with age and use. It's not a deal breaker for us, but could be aggravating to someone else. I can now enjoy coffee in the morning without having to get up earlier and make it. Overall a good coffee maker without a lot of bells and whistles.
89128NrthVxn
Good product
As of March 2, 2016 I received a black Hamilton Beach 12-cup coffeemaker. To my surprise the shipment was quite expeditious, kudos to the shipping department. It comes equipped with a bilingual manual. It does have a "burn" warning as a potential household threat, therefore I recommend reading the fine print before operating this product. The unit does not have a permanent filter like my previous coffeemaker, so you will need to purchase cone shaped filters, depending on the model, prior to purchase. Unfortunately I couldn't use it immediately out of the box for this very reason. It is programmable and consumers can pause the brewing process to pour a cup of coffee before it is completely brewed. It has a transparent water reservoir to make it easier to manage the water as you fill it. Above the filter basket is a lever used to secure the filter and filter basket in place, you slide it from the right to release it and to the left to secure it. This particular model is quaint, adorable, and it doesn't take up too much space, which is perfect for small apartments. So far, the only primary disadvantage is the lack of a permanent filter, other than that this product meets my expectation