Tsum Tsum Advent Calendar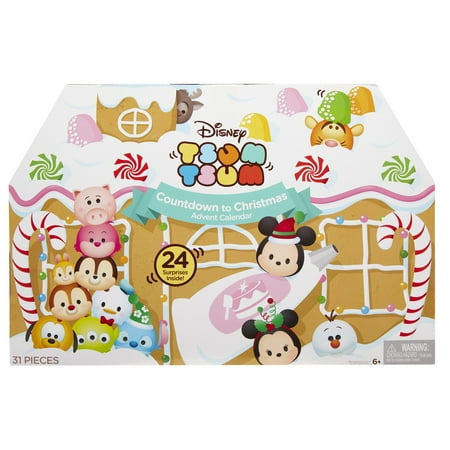 MSRP :

$39.99





Sale :

$37.83

Sold & shipped by Walmart
Product Description

Additional Information

Reviews
Product Description
Tsum Tsum Advent Calendar - Enjoy counting down the 24 days until Christmas with the Disney Tsum Tsum Advent Calendar. Open a new window each day to reveal a surprise Tsum Tsum figure or accessory and create a Gingerbread themed scene. There are 18 Tsum Tsum figures, 6 large, 6 medium in holiday attire, and 6 small, as well as 6 holiday themed accessories, and 6 seasonal head pieces in a Gingerbread House themed package. Each holiday accessory is stackable and can be used to stack a large, medium & small Tsum Tsum figure on its own or used to build out an even taller stack with other accessories! Head pieces fit on each large Tsum Tsum figure for the perfect holiday decoration. Collect, stack and display your favorite holiday themed Disney Tsum Tsum characters! Some assembly may be required. Ages 6+
Additional Information
Tsum Tsum Advent Calendar
Reviews
Elizabeth
So much adorable fun!
When I saw this in the store I absolutely had to have it. I have an 8 year old daughter. We both really love it. The first thing she says every morning is "can I open the tsum tsum now?" - and I'm just as excited as she is about it. We are on day 6 and no pieces have been missing or fallen out of place. There is not a tsum tsum in every door - some days are cute little holder stackable accessories, but some days have both a tsum tsum and a clip on accessory. For about a dollar a day I'd say it has been an awesome investment. Lots of cute things you probably can't get in other packs. I also bought her three of the stackable tsum tsum packs for Christmas so we will have a good collection going after Christmas. This is the first advent calendar we've done but I hope they make a different one next year.
Chantel
It's cute
I bought two of these hoping that there would be different characters in each but there's not. They were exactly the same. Plus, some of the characters on the box are not in there. I was looking forward to the toy story ones but there was none. Also, some days are just the extra decorations. I'm here complaining but my kids are still loving it so that's what matters. Just wish I would've known all this before buying so I thought I'd share. ☺ Oh and you have to open the box by carefully seperating the front of the box. I opened the bottom and they all fell out.
Nena824
I love tsum tsums
I had been loooking everywhere for this item, Target, Toys R Us and Walmart and they were all sold out. I checked online and Walmart had one left at the store near me so I ordered it. I picked it up a day after ordering it and the pick up process was really quick!
11HappyMom
Price does not match Quality
The paint is sloppy on most pieces. Day 10 was a huge disappointment. It's a snap together type chair with a sharp edge from the molding die that needs to be removed or sanded with a nail file. when put together it doesn't stay together as it comes apart very easily.
MomElf131
Adorable and fun calendar
So glad I scooped up this adorable Tsum Tsum calendar. My daughter absolutely loves it. She rushes downstairs so excited to open each door. Kiddos will need help opening the doors as they are rather difficult. (It's like opening a perforated box). Each day is a new toy. We will put them back at the end of the year and use again next year.