Energizer Rechargeable Compact Handheld LED Flashlight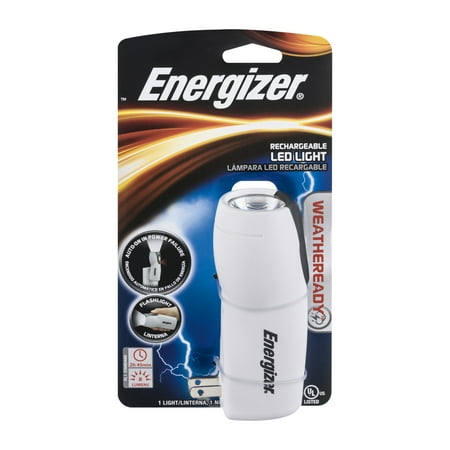 MSRP :

$9.99





Sale :

$9.97

Sold & shipped by Walmart
Product Description

Additional Information

Reviews
Product Description
This Energizer Weather Ready Rechargeable LED features a compact design, making it easy to carry along with you. It can also be packed into an emergency kit or car dash. This Energizer Weather Ready flashlight comes with a built-in white Nichia LED. It has a two-mode light switch for high or low power. This rechargeable emergency flashlight turns on automatically when the power goes off. This can make it an ideal choice for camps or bedside tables at home. Be prepared for the next storm or power outage with this bright white LED flashlight.
Additional Information
Stay prepared with this rechargeable handheld compact flashlight
Automatically turns on when plugged in when the power goes out
Built-in NiMH battery recharges overnight when plugged into a wall outlet, delivering a runtime of up to 3.5 hours
Retractable sliding plug system transforms the wall unit into a handheld emergency flashlight
4X brighter than standard LED technology with a beam distance up to 30 meters
Includes 1 built-in rechargeable AAA NiMH battery you'll never need to replace
Red LED indicator light lets you know when your flashlight is charging
Reviews
ABCM4
Different Design in 2016
Be aware: These lights do NOT offer a nightlight function when plugged and charging as they used to... We already had a few of these lights from more than 5 years ago and they were useful as both emergency lights and nightlights. The new design does not appear to function the same. It is completely different in design from the actual flashlight shown on walmart.com in 12-2016 (which resembles the ones we have already). The new lights we received are a different shape and do not have the ability to turn on unless the light is unplugged or the power goes out. That's fine if all you need is an emergency light, but we were actually looking for a light that would do double duty (like the old WeatherReady flashlights) as nightlights when plugged in and emergency lights in a power outage. Unfortunately, we unwrapped the 3 we purchased before noticing that the lights did not function any longer as nightlights. Disappointing as we now have to buy nightlights in addition to the rechargeable flashlights :(
Gimmetwoplease
Love this item
I love these little emergency lights. I have one in every room. I have peace of mind knowing that when the lights go out these little gems turn on right away which means no more stumbling in the darkness to find the flashlights. Best price too!!
dopedad
Love this item
A fantastic flashlight---have 4 of them----last for close to forever-----unless you drop them from 30 feet onto concrete
boundanya
perfect flashlight for every purpose!
i use this flashlight EVERYDAY!- so it helps that it is RECHARGEABLE! and for some reason my kids dont jack me for it! every flashlight i have ever had my kids would walk -off with! but this one looks so different, they cant say that it is thiers! they dont even know where i bought it at! this handy little flashlight fits right into my hand ,the contours are perfect! the lenght is perfect! the weight is perfect! the duration of the charge is a very long time! i charge it once every 4 days, just cause i use it so often> this is my second one and i want one for every room in the house! it has 2 settings low and high,low is perfect for doing crossword puzzles late at night,promoting sleep-i have cut back on my sleep meds cause of this gadget!
DeathRide
***PLEASE READ*** it DOES auto-on! Good product!
When I first bought this, I thought it the auto-on didn't work, as I tried to use a power-strip to test it. Well, I realized that you need to put it @ the ON position when you plug it in. The light will turn off while plugged-in @ the ON position. When power is out or when you unplug it, the light will turn on. The labeling on the switch is confusing as it says "On", "Off/Charge", "Nightlight/Charge." I think it would be less confusing if they instead labeled "On/Auto", "Off", and "Nightlight." I only just bought this, but I think this is a great invention. You'll wish you have one during blackouts. Well, tat's the main reason why I bought it.