Brink's 100W Metal Halide Dusk To Dawn Activated Security Light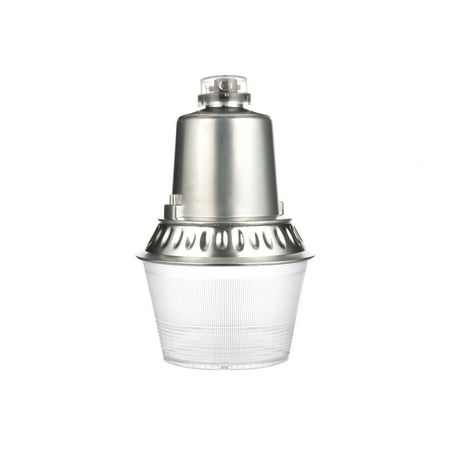 Sale :

$56.95

Sold & shipped by SPLENDID BOULDER LLC
Product Description

Additional Information

Reviews
Product Description
This 100W security light from Brink's is the perfect light for outdoor work and play and helps keep your property safe. It provides lighting coverage up to 16,000 square feet and 9,000 lumens of light output, perfect for illuminating anywhere a large amount of light is needed. This light has a durable metal construction that is weatherproof and corrosion-resistant for sustained quality. The light automatically activates at dusk and deactivates at dawn, and is easily mountable. One 100-watt metal halide bulb is included and lasts up to 10,000 hours. Brink's has been a trusted name in security since 1859.
Additional Information
Brink's 100W Metal Halide Dusk to Dawn Activated Security Light:100W16,000 sq. ft. light coverage9,000 lumensActivates automatically at dusk and deactivates at dawn Durable constructionBulb included, lasts up to 10,000 hours
Reviews
joe1234
UPC : 039208975476 - Brink's 100W Metal Halide Dusk To Dawn Activated Security Light - PickPanda.com
I like this light well made for the price and puts out good light
Sadie
Security Light
We live 35 miles from WalMart. We ordered this light online .We are seniors and didn't want the long drive. When we got the light the globe was broken in 3 places and it looked like it had been tampered with (torn wrapping paper around globe) ,before it left the store. We kept the light and used the globe from our old light ,so we wouldn,t have to take it back to the store. But we have learned, it is always better to go to the store and buy breakable items! We will continue to shop at WalMart. The light works real good, even with the old globe. Makes bright light! Looks real nice and shines for a good ways out. Comes on at Dusk and goes off at Dawn!!!
aggravated
Security Light
I have many on the property, great fixture, outstanding warranty
popokp
This product don't last long
I purchased this product model 7252 in Nov 2013, after 6 - 7 months it started turning on and off throughout the night. I replaced light bulb and photo cell sensor but it still turns on and off. Finally on 8/1/2016, it quit working due to bad ballast & capacitor. I will be getting a new replacement security light from Brinks in a few days under the warranty. My old 175 watt mercury vapor security light lasted a long time without any problems. I will not recommend this product at this time. I will be writing another review after installation of my replacement security light
JamieNoel
Very bright for 100 watts!
I was using a quartz halogen fixture, but got tired of replacing the bulbs and needed 300-500 watt bulbs in order to light the driveway well enough for my security cameras. The wide halogens used a lot of juice and were not cheap to replace and I've put these kind of fixtures up for other people over the years and knew they had good performance. I mounted the Brinks 100 watt model and waited for dusk. This light overwhelmingly exceeds my expectations and covers a larger area than the old wide (work light style) halogen and is actually brighter! I'm going to be purchasing another fixture for the opposite side of my house because the street lights around here just don't put out enough light. The last time car burglaries took place, my videos show them avoiding my side. This is proof that well lit areas are a good deterrent! You can get 15000 hour bulbs that should last around 3.5 years before replacement is needed. The stock bulb is good for about 1.8 years at 12 hours usage each day. I like that idea because it becomes maintenance free for some time! When replacing bulbs for this unit, make sure they are also 100 watt metal halide lamps or bad things could happen to it since that is what the ballasts of this model are designed for. You don't want burned up ballasts or exploding bulbs. It's also a good idea to not touch the new bulb with bare hands when putting it in or if you do, wipe it down good with rubbing alcohol and let dry before turning on. These bulbs don't seem to be as prone as the older style, but oil in your skin can create a superheated spot and crack or discolor the glass. I simply screw them in while still in their box. Just pull the threaded end out a little, screw it in and pull the box off the bulb and you're done!