Adams d-Limonene Flea and Tick Killing Shampoo and Coat Conditioner for Dogs and Cats, 12 Ounces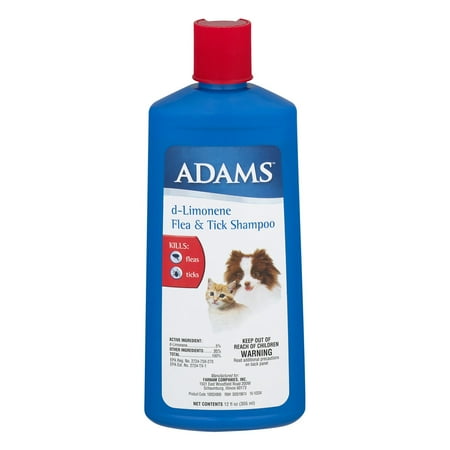 MSRP :

$11.94





Sale :

$10.68

Sold & shipped by Walmart
Product Description

Additional Information

Reviews
Product Description
This Adams d-Limonene Flea and Tick Shampoo is the grooming product your pet needs. The non-alkaline formula contains a botanically derived insecticide as well as cleansing agents, lanolin and special conditioners. This cat shampoo eliminates unwanted guests from the coat, deodorizes and leaves a pleasant scent.
Additional Information
Adams d-Limonene Flea and Tick Killing Shampoo and Coat Conditioner for Dogs and Cats, 12 Ounces:

Kills flea and ticks
For us on dogs and cats
Net contents 12 fl oz
Citrus scent
Healthier looking coat
Detangler
Reviews
brighthorizondogs
Very Effective
I was brushing my cream colored standard poodle and suddenly a flea scurries away into her very long top knot. She was treated only 2 weeks ago with a spot on product and of course this is discovered at 8pm. I check her over but find none. So I go get my springer and she has flea dirt and I found a few live fleas, now I know we're infested. So we have 5 big dogs, 4 sleep inside at night, and only $10. After reading the reviews and asking others what to use, I decided to try this product as it is all we can afford till pay day. It worked perfectly. We saw at least 5 dead fleas come off the springer while bathing. So far 2 dogs down and 2 more to go tonight. I'm very happy with this product already and it smells nice too. The dogs aren't very happy about getting a bath but are they ever? I will be checking the neighbors dog as it is a possible source and treating it too.
SCheez
Very happy! Dont buy from petsmart
I saw this at petsmart for $16, so when I found it cheaper here I decided to give it a go. It is VERY worth the money. A small squirt from the bottle on my 20lb dog's back lathered her completely, I gave a few more squirts to make sure all those little pests died. After rubbing the shampoo in for 5 minutes, I found two dead fleas. I continued rubbing the shampoo in for 10 minutes: her towel had 4 dead fleas after a thorough towel drying, and there were 8 dead fleas on the bathroom floor. 14 DEAD AFTER 10 MINUTES! I'm very very pleased. I have enough shampoo to last for months. A+++
SCheez
Better than expected!
I was a little hesitant about buying this at first but then I decided, wth lets try it. We bathed our cat and let it stay on her for about 15 minutes. Oh my god my husband and I where amazed on how it killed all the fleas and how they just fell off of her. We still ran the comb through her to make sure. But it worked great!
ipincessiLOVESherPOODLES
product SKEPTIC but this product WORKS
so i live in a house with 3 dogs..2 of the dogs being mine. when the owner of the other puppy told me that his little rambunctious corgi had a few fleas..i wondered if my toy poodles maybe infested too. i noticed my two little dogs started scratching more then usual, i got concerned. to confirm my concern i saw a little pest flea crawling on one of them. as soon as i saw this i started researching like a mad women to find something that works. i found ADAMS products, im a broke college student so the fact that these had good reviews and CHEAP was a total PLUS. At 10' oclock at night drove to walmart to get this product and 2 other Adams products..(flea & tick home-carpet spray and the spot on control serum). i washed my dogs with this shampoo and a few minutes later..i saw the little buggers coming out! i screamed with delight that it was working. after the bath, i dried and applied the serum..hopefully the serum works!
Rainbowofblessings
Excellent
My cat had an infestation of fleas, I picked up most part of them, bathe him with a regular shampoo, but did not work, after the bath the fleas were still alive and kept biting my cat. I decided the last step for the flea thing would be an anti flea shampoo, I search online and I found this and decided to give it a try. Last night white I was giving him the bath, while the 10 minutes on his coat, I found already dead fleas and also when I rinsed him. Later, when I was drying him with the towel I fond again more dead fleas, but they were dead not just knock down and minutes after ready to keep sucking my cat's blood. I don't often write reviews but this time I decided to do because this is a good product to recommend, just follow the instructions about the abundant lather and let it stay on the hair at least 10 minutes.