12-Volt Rideamals Scout Pony Interactive Ride-On Toy by Kid Trax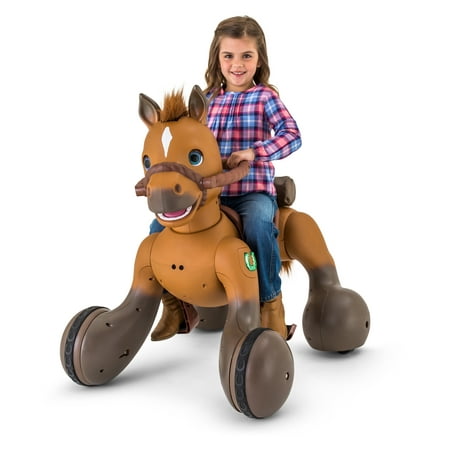 MSRP :

$398





Sale :

$298

Sold & shipped by Walmart
Product Description

Additional Information

Reviews
Product Description
Meet Scout, a Rideamals toy from Kid Trax, a child's new play pal! This adorable pony pal combines battery-powered ride-on toy fun with real interactive play, thanks to fully motorized eyes, ears, head, and wheels. Kids can hear munching noises as they feed Scout a tasty treat, watch the pony's ears move as they brush its mane, take Scout for a walk, and, of course, ride Scout! Children can go for a musical pony ride with two forward speed settings and one reverse speed; Scout can travel at up to four miles an hour—all while songs or pony sounds play in the background. Scout a Rideamals by Kid Trax comes with a grooming brush, carrot, apple and saddlebag. Scout also comes with a rechargeable 12-volt battery and charger and is easy to recharge with the One Step Direct Connect charging system. Rideamals Barn Play Tent and Pony Show Accessory Kit sold separately. With over 100 unique sounds and movements, including a special dance, Scout will create magical memories for your family.
Additional Information
12-Volt Rideamals Scout Pony Interactive Ride-On Toy by Kid Trax:
Over 100 unique sounds and movements ensure that every playtime is different from the last.
Fully motorized eyes, ears, head and wheels make Scout come to life!
Interactive fun for boys and girls: Feed it, brush it, pet it, walk it, ride it or dance with Scout. Over 100 unique sounds and movements.
Includes: Brush, apple, carrot, saddlebag, 12-volt rechargeable battery and wall charger
Power Trax Rubber Traction Strip Tires keep the ride smooth and steady
One Step Direct Connect Charging System makes it easy to keep the fun going
Walk or Ride: Scout can trot (3.5 MPH), gallop (4 MPH) or go backward (3.5 MPH). Sit in the saddle, hold the reins, pick your speed and you're on your way!
Feed or Groom: Kids can hear munching noises as they feed Scout a tasty treat. Scout's ears move when its mane is brushed.
Pet and Hug: Scout will respond with different movements and sounds when you pet its nose and cheeks.
Walk: Pull the reins in front of the head and press the button to get Scout to trot along behind you.
Dance: Press the horseshoe button and Scout will prance with you! Just make sure you're standing in front of Scout to see the awesome moves.

Check out these available Scout Accessories:
Reviews
Whit
She loved it!
I received Scout Rideamal in exchange for reviewing the product. My daughter loved the pony! She had a lot of fun. I do feel like it was somewhat challenging to put together out of the box. Other then that, I wish they made one my size because she looks like she really enjoys it.
30somethingDad
Better Than Your Typical Ride-On
Christmas came a bit early for our household! We brought home a Scout Rideamal a few weeks back for my 4-year old daughter, and it is one of the coolest toys we've ever gotten her. As someone who already owns a few ride-ons, I was hesitant to add another one to our collection. But, Scout is way more than a typical jeep or other ride-on. It eats, dances, and has a ton of other fun quirks/sounds (yes, it farts) that keep my kids and their friends in interested for long stretches of time. As a ride-on, I was pleasantly surprised at how long the battery lasts, and how stable it is when being ridden by a larger child. We recently brought Scout to a bday party in an open school gymnasium, and kids anywhere from 3 - 9 years old were cruising around and laughing and screaming with delight (should have brought earplugs). Scout is definitely meant to be ridden in an open space (basement or sidewalk), as its size won't allow for a kid to turn on a dime in a hallway or living room. It's only been a few weeks, but Scout has been a really fun addition to our household.
Jamziez
Cute and fun
The Rideamals Scout Pony is so much fun! My daughter is 3 and her pony, whom she named Cookie, has become her best friend. She really enjoys taking Cookie for walks and brushing her fur. She also loves to feed Cookie. We did have a small issue with the apple though, if you break it in half, it can get stuck in the horses mouth. I was also uncomfortable with the speed. I feel like to goes very fast for a 3 year old. It may be good for a bigger child, but to me, it's too fast for my daughter. Also, she had to stand really really close to the front of her horse to get it to "dance" with her. So she doesn't dance with her horse often because it's too difficult for her. But other than that, she loves playing with it! It was really simple to put together and the battery lasts a long time, which is a plus for parents. I received this product for free in exchange for my honest opinion.
Lili
Cute and fun
When installed, it was found that there was a cover on the horse's reins. I don't know who to look for !
Mysonlovesit
Wish it went slower
Super cute. Bought this for my 2 1/2 year old son who loves horses. I wish it had a little lower speed setting, the slowest is goes is 3.5mph. That doesn't seem fast in a vehicle type riding toy, but it is on a horse where the child needs to balance. Makes lots of noises and movement for more indoor play. Definitely too fast to ride indoors. Hard to steer.