Men's Cushion FreshIQ Crew Socks 12-Pack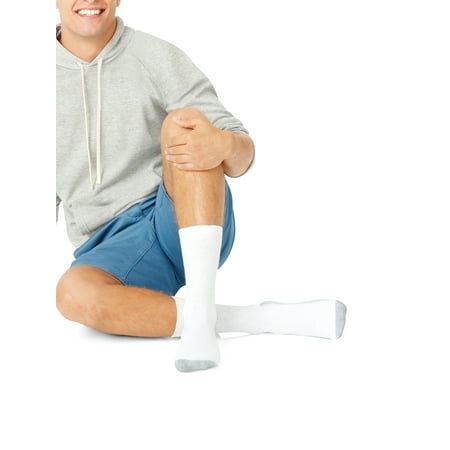 MSRP :

$12.99





Sale :

$11.99

Sold & shipped by Walmart
Product Description

Additional Information

Reviews
Product Description
Keep feet protected and dry with the help of a Hanes Men's 12-Pack of Crew Socks. Made from a cotton blend that features polyester, natural latex rubber and other fibers, the socks will allow your feet to stay cozy and warm all day. These men's crew socks are designed to provide a fit that is both flexible and durable. They feature reinforced heels and toes for enhanced performance and a longer life. They can withstand lots of use whether they are guarding your feet during commutes and errands or while working out. They also have cushioned soles for extra padding and added comfort. The stay-up control helps eliminate sliding and bunching. This Hanes Men's 12-Pack of Crew Socks comes in basic white.
Additional Information
Hanes Men's FreshIQ Comfort Toe Seam Crew Socks Size 6-12 12-Pack
Now with FreshIQ, Advanced Odor Protection Technology
Cushioned foot bottom puts comfort in every step
Reinforced heel and toe offer superior durability
Comfort toe seam, our most comfortable seam ever
Ribbed leg allows natural stretch and shape retention
Fits Mens shoe size 6-12
Available in a convenient 12-pair pack
Manufacturer style: 184/V12B
Cotton/Polyester/Natural latex rubber/Nylon
Machine wash
Backed by Hanes money back Comfort Guarantee
Also available in Big and Tall Sizes
Reviews
TheInspector069
Not One Hundred Percent Cotton Socks
Hanes Corp., You really hit bottom on this one. Cushion socks made up of Cotton/Polyester/Nylon. What manufacturer includes Nylon in socks that that are suppose to breath. Hense, your promotion of the the IQ Fresh. This are syntactic material, it does not breath, in fact they hold in the heat. Same applies for anything made of polyester. Is there a cotton shortage?????? You have to take precautions washing and drying these socks. If not, they will pill, like a polyester shirt that has been exposed to medium heat in the dryer. The care instructions indicate you non-chlorine bleach which will also cause the material to pill. In the first photo attached, you will see the new pair of socks after two washings, and below is a pair of socks that I have had for five to six years. Do you really think these newly designed shocks will last that long?????? I think not. These are cheaply made socks, and yet they are charging the same price as if they were quality socks. I purchased there packages, and two are going back.
timmysgirl1
my husbands work socks
I have bought the Hanes Crew socks for my husband to wear to work in and well to be quiet honest to wear ALL the time. when these arrived my husband who was in desperate need of new socks was getting ready for work started putting them on and he was shocked by how thin they were!! normally they are quiet thick and are very lasting, but with the thickness of these new ones I have a sneaking suspicion that these aren't going to last long at all!! I am so very disappointed with these socks, and NO I WOULD NOT RECCOMMEND THESE TO A FRIEND OR ANYONE ELSE FOR THAT MATTER!!!and that is not normal for me I always try my very best to give a positive comment on everything that I purchase, or at least find one thing or another that is positive about the item!! I do realize that this is not Walmart's fault but I do however hold Hanes solely responsible for this poorly made product!!
timmysgirl1
These used to be the best!!!
I'm not sure what Hanes changed on these socks, but the last pack i purchased at Walmart felt like I was putting on some old washcloths, so uncomfortable and the elastic was almost nonexistent. Needless to say they all ended up in the garbage, and I purchased Hanes "premium" crew socks from a competitors store. The difference was night and day. I will be purchasing these premium socks from now on as long as Hanes doesn't change their recipe.
peet
Not like the originals
I was hoping to replace a set of Hanes gray crew socks that I bought a few years ago. They fit well and had substantial thickness and are among my favorites but finally wearing through. These looked the same on the website but when they arrived, I was disappointed. They are more like tube socks despite having a little heel area. They are large like tube socks and not well fitting. The material is lighter than my previous ones. I'm trying to wash and shrink them and see if they feel thicker after that but at this time I wouldn't buy these again.
CLight0781
Why change a good thing?
I have wear Hanes crew socks for years but the new style is horrible. They are about an inch shorter than they were just a year ago. I am size 10.5 and just fit me. The sole of the sock is now grey and made of the same material as they use to be. The rest of the sock is now thinner and has less elastic in. I just ran them through the laundry and put them on only to already have them falling down. I will not be getting these again.