Men's Ankle Socks 6-Pack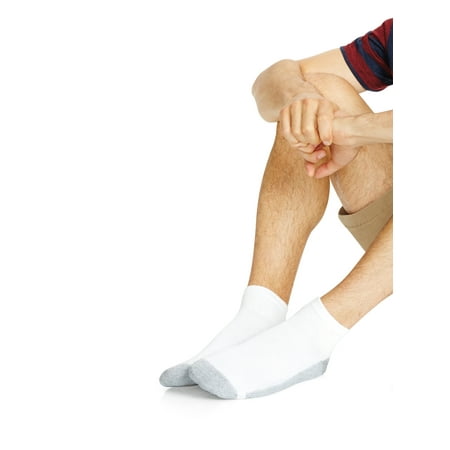 Sale :

$10.18

Sold & shipped by Walmart
Product Description

Additional Information

Reviews
Product Description
Reinforced heel and toe for enhanced durability
Cushioned sole for extra support
Comfortable, stay-up top
Additional Information
Socks, Cushion Ankle, Mens'
Shoe Size: 6-12. Better fit. Extra durable cushioning. Cotton - natural blend. Extra durable reinforced toe for enhanced durability. Cushioned sole for extra comfort. Comfortable with stay-up top.
Reviews
Mother1727
My son loves these
I bought these in extended sizes for my son and he is very happy with them. They are comfortable and don't fall apart after a few uses like other socks that we have bought.
djwest3
Great for teen boy
Extended sizes are nearly impossible in my area. I'm pleased to find them here and at a reasonable price. The socks hold up fine, about what you would expect from any socks. This is my second visit here to buy more.
dPdP
Hanes Men's Big & Tall Cushion Quarter Crew Socks
I'm not really sure about these socks but they are not as tall as I would like. I bought a 6 pack of Hanes ankle socks I believe from another place and they were not long enough even though they were supposedly big and tall. Since they said ankle, I was thinking they came up around my ankles but they didn't. I sent them back and called about these socks and was told that these socks were taller than ankles and should be what I'm looking for but after getting them, they are not. I wear boots alot and I had bought some of these Hanes socks a couple of years ago that I enjoy wearing with my boots. I like for the sock to come right up past the top of the boot a little bit instead of being way down in the boot or wearing socks that knee length and I have to push them down. These socks look like my old ones I have but the new ones are not as long so I don't know if Hanes has changed them at some point or still have not found the right big and tall sock for my boots but it's not worth sending back. Most of them will work if I stretch them out a little bit.
mattfrommichigan
feet exfoliating socks?
I never buy name brand stuff, especially with socks and underwear that always seem to wear out rather quickly. For whatever reason though, I decided to buy name brand for my next socks and underwear purchase and went with Hanes. So far the material has been coarse and irritating for both. I was running late for work today, so I opened my new pack of Hanes socks and put them on. It was like sticking my foot into a burlap sack lined with light grain sandpaper and filled with itching powder. I had no choice though and grimacing, assaulted my other foot with rough hewn cotton. I dont get it. Are you supposed to wash this stuff with a gallon of fabric softener before wearing it? I've never had this problem with any other brand or off brand. Some people might not be bothered by this, but take my advice. Unless your feet are made up of one giant callous, steer clear.
Omnibe
Runs small
I'm not a small man, so I accept I have to buy a larger size. These socks though advertised as larger feel quite small