Purina Busy Chewnola Small/Medium Dog Treats 2 ct Pouch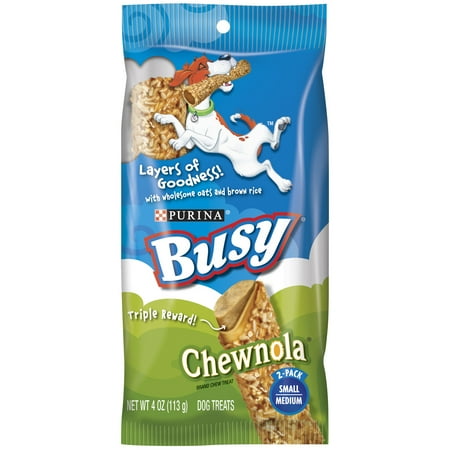 Sale :

$2.66

Sold & shipped by Walmart
Product Description

Additional Information

Reviews
Product Description
Layer after layer of goodness. A chew treat with tasty oats, brown rice and a tasty middle? That's just the start. Busy Chewnola combines three layers of goodness to lick, savor and chew, sending your dog to his own little Busy world.
Additional Information

Purina Busy Chewnola Small/Medium Dog Treats 2 ct Pouch:
The Chew Made with Beefhide, Oats and Brown Rice--Three Layers of Goodness to Feel Good About as Your Dog Gets Lost in the Fun!
Long-Lasting for an Exciting Treat Time to Lick, Savor and Chew
The Perfect Size for Small/Medium Dogs
Feed Only as a Treat to Your Adult Dog. (See back panel for feeding instructions)
Reviews
imaherenow
My dogs love these
I buy these granola chews for my dogs every week. In a month's time all the tartar has come off their teeth and this chew is better then brushing plus they love them much more. No more fighting with them for daily brushing. Excellent product.
hppygrl16
My dogs love these
These are so neat! they have layers and my pups love to go to town on them. I origionally got a free coupon sample of these when they first came out & I have been back for more.
jenilynevette
Dog is addicted!
These are my dogs favorite treats. I noticed one day he was eyeballing my granola bar.. i gave him a little taste and he really loved it. Weeks later I see these in stores! Too perfect! He chowed down like no goody before! And I love them because they aren't soft so he doesn't chew through it in 10 minutes. They last!
WhistlingInTheDark
Dog LOVES these!
I don't know why our local stores stopped stocking these- only place I can get them is online anymore. My dog absolutely goes wild for these! Only problem is, they ARE messy, so I usually give them if I know I'm going to vacuum the next day, or if weather is nice, then outside. She is medium sized with a fairly strong jaw, & these usually keep her busy for about 40 min before she finishes one. These are the only chew that she will keep after until she finishes. Other chews she will work on but get tired of them halfway through & leave. I wish the stores would stock these again - seems silly to order a 3 dollar item & wait a week have to have it shipped to the store....having it shipped to my home would make the treat 3 times the price, so that is not an option! Stores carry the other Purina Busy Bones & Jum-bones- just not the Chewnola anymore- PLEASE start stocking these in store again!
Molly1098
Dog LOVES these!
Totally recommend. Will keep our dog entertained for hours!!! Im gonna buy a case.