Kellogg's Rice Krispies Treats Crispy Marshmallow Squares Snack Bars,40 Ct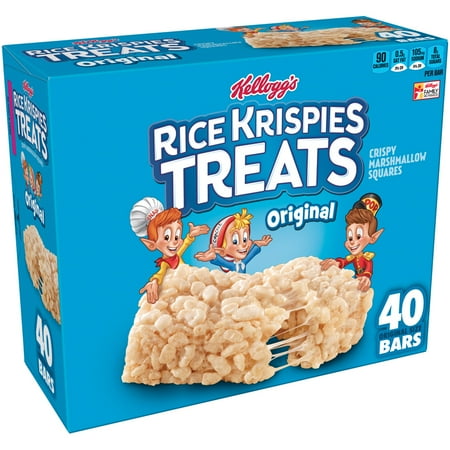 MSRP :

$11.19





Sale :

$8.98

Sold & shipped by Walmart
Product Description

Additional Information

Reviews
Product Description
The Kellog's "The Original" Rice Krispie Treats lets you enjoy the classic, satisfying dessert. They are individually wrapped. Satisfy your sweet tooth with these classic crispy marshmallow squares.
Additional Information
These are low in calories with minimal amounts of sodium and sugar. In addition, this Kellogg's cereal has 0g of trans fat. No high-fructose corn syrup is used in the making of these bars. All of the rice used in this delicious and nutritious cereal is grown in the USA. Whether it is for easy snacks at home or on the run, you can have a nice supply of Kellogg's Rice Krispies Treats ready at any time.

Kellogg's Rice Krispies Treats The Original Crispy Marshmallow Squares:
Crisp-rice-cereal-and-marshmallow squares
Ideal for snacking
No high-fructose corn syrup
Fun for game day
Good snack for a sporting event
Kellogg's Krispies treats make delicious Superbowl munchies
Easy snacking for in the car or on the run
Reviews
PICK1928
VERY HAPPY THAT YOU CAN ORDER THESE ON THE NET
YOU CAN FINALLY ORDER THESE ON THE NET FOR HOME DELIVERY. NOW I CAN ENJOY THEM FOR PARTIES, AS I AM NOT ABLE TO SHOP IN THE STORE AND HAVE TO ORDER VIA THE INTERNET FOR DELIVERY. THANKS
flrhcarr
Company made
You expect them to be the right blend from their recipe, & they are. Light & airy, that melts in your mouth. Just the right amount of marsh mellow & Rice Krispies, not sickly sweet. Small little quick snacks or treats. Perfect for shoving in the lunch bag, or back pack. This is the way to go, if you want them already made for you. You don't have the mess, but certainly none of the fun of making them. They are small, so you can stick a bunch of them every where. In your desk, next to the computer & so on. Don't put them in a bowl on the coffee table, unless you have a few extra boxes as back up, because they will go very fast. Nearly everyone loves these little treats. Good for the fire pit too, as you can split them, stick a piece of chocolate in & make a sandwich out of it. Leave it near the fire, so the chocolate melts (if you like melted chocolate). Time to get another box.
muffy2020
love
it helped me control my hunger in the morning and lunch and snack craving, well for me it did.so these are really worth the money!
RoniAnne
America's Fav Treat :-)
Kellogg's Rice Krispies and marshmallows made into a prepackaged treat... what's not to love? Kids from 3 to 103 love these wonderful little treats. Needless to say when these luscious Rice Krispy Treats arrived, they did not last long. They are sooo good. Being prepackaged they would be great for a child's lunch box, even an adult's lunch. Lets face it adults love these as much as kids do! Each one was very fresh and krispy, plus these snacks are lower in fat than other a few other snacks are. I truly can not find anything bad to say about this product, they're GREAT! Your family will love you forever for keeping these stocked in your pantry! You can feel good knowing that are better for them than an candy bar.
mamamike1
not quite ho-made
Kellogg's original rice krispies treats are just what they say they are. They are just like the ones Mom used to make, "almost"! The flavor is the same (of course), but they are not quite as gooey and wonderfully sticky as when they are made by "Mom", and unless you buy them in bulk quantities, there are not nearly as many, so you have to be careful not to eat them all when they are fresh, and be sure to save some for later. These treats produced by Kelloggs are packaged well, therefore they stay fresh, should you forget where you hid that last one, but you do have to be careful because you will run out of them before you are ready.