Kellogg's Rice Krispies Treats, Crispy Marshmallow Squares, 0.78 oz, 40 Ct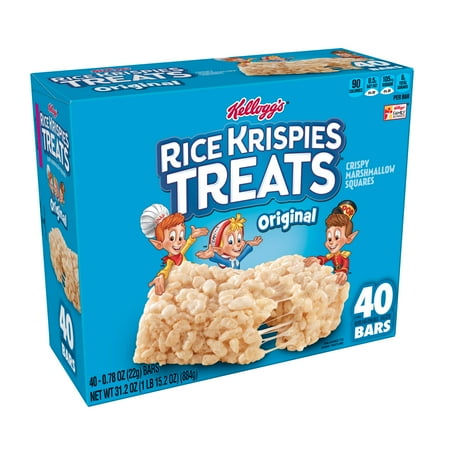 MSRP :

$23.89





Sale :

$8.98

Sold & shipped by Walmart
Product Description

Additional Information

Reviews
Product Description
The Kellog's "The Original" Rice Krispie Treats lets you enjoy the classic, satisfying dessert. They are individually wrapped. Satisfy your sweet tooth with these classic crispy marshmallow squares.
Additional Information
Includes 40, 0.78-ounce single-serve Rice Krispies Treats Crispy Marshmallow Squares Original; Individually wrapped for freshness and great taste

A classic sweet treat for any occasion; Pack a square for school lunches, afternoon snacks, and late-night bites

With puffed, oven-toasted rice cereal and the flavor of soft marshmallows; No high-fructose corn syrup; Ingredients contain milk and soy

A family-favorite, on-the-go snack that's perfect for kids and adults

Conveniently packaged and ready to travel; Pop a square in your kid's backpack and lunchbox; Stow some in your tote bag, car, and desk for anytime snacking

Reviews
flrhcarr
Company made
You expect them to be the right blend from their recipe, & they are. Light & airy, that melts in your mouth. Just the right amount of marsh mellow & Rice Krispies, not sickly sweet. Small little quick snacks or treats. Perfect for shoving in the lunch bag, or back pack. This is the way to go, if you want them already made for you. You don't have the mess, but certainly none of the fun of making them. They are small, so you can stick a bunch of them every where. In your desk, next to the computer & so on. Don't put them in a bowl on the coffee table, unless you have a few extra boxes as back up, because they will go very fast. Nearly everyone loves these little treats. Good for the fire pit too, as you can split them, stick a piece of chocolate in & make a sandwich out of it. Leave it near the fire, so the chocolate melts (if you like melted chocolate). Time to get another box.
RoniAnne
America's Fav Treat :-)
Kellogg's Rice Krispies and marshmallows made into a prepackaged treat... what's not to love? Kids from 3 to 103 love these wonderful little treats. Needless to say when these luscious Rice Krispy Treats arrived, they did not last long. They are sooo good. Being prepackaged they would be great for a child's lunch box, even an adult's lunch. Lets face it adults love these as much as kids do! Each one was very fresh and krispy, plus these snacks are lower in fat than other a few other snacks are. I truly can not find anything bad to say about this product, they're GREAT! Your family will love you forever for keeping these stocked in your pantry! You can feel good knowing that are better for them than an candy bar.
mamamike1
not quite ho-made
Kellogg's original rice krispies treats are just what they say they are. They are just like the ones Mom used to make, "almost"! The flavor is the same (of course), but they are not quite as gooey and wonderfully sticky as when they are made by "Mom", and unless you buy them in bulk quantities, there are not nearly as many, so you have to be careful not to eat them all when they are fresh, and be sure to save some for later. These treats produced by Kelloggs are packaged well, therefore they stay fresh, should you forget where you hid that last one, but you do have to be careful because you will run out of them before you are ready.
MzMonica717
Classic.
What is there to say about Rice Krispies Treat besides the fact that they are an absolutely delicious treat without making a big mess in the end? I love them and my son does too. I love that my son loves them because he eats them up and I don't have to worry about a big mess in the end. Rice Krispies Treats have been out for as long as I can remember and they've always tasted the same which is a plus. Most classic snacks that are around for years and years and the company tweaks the recipe and ruins it. Long story short, this will forever be a favorite on my house and there's not much else to say about it.
Godisgood2us
GOOD TREAT FOR ON THE GO!
These Rice Krispies Treats are the real thing! Lots of marshmallow creme, great taste and just the right size for snacking. Because of the marshmallow creme, they are somewhat sticky so you need to eat them out of the wrapper. In other words peel the wrapper as you go. They are crunchy and have a nice vanilla taste. They reminded me of the old days when we made them from scratch. They are convenient and easily transportable in a bag or your pocket. They have pretty good nutrition too. I really can't think of any downsides but would caution to eat only one at a sitting. They can be addictive!