Panasonic ER224S Men's Cordless Wet/Dry Hair, Beard and Body Electric Trimmer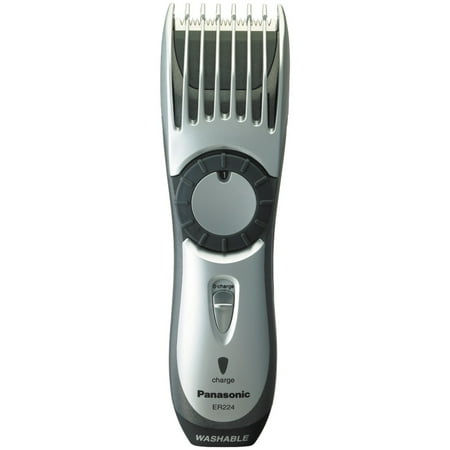 Sale :

$28.07

Sold & shipped by BlackRock Business, LLC
Product Description

Additional Information

Reviews
Product Description
Keep yourself properly groomed quickly and easily with the Panasonic All-in-One Cordless Beard and Hair Trimmer. The model ER224S is a wonderful choice for men who want to maintain a clean look in an simple, efficient way. The blades are precisely cut, made from stainless steel and are completely hypoallergenic. This cordless beard trimmer tackles sideburns and mustaches, and comes with 14 settings in total. The slightly curved design makes it comfortable to hold and maneuver while you're working. This Panasonic cordless hair trimmer is highly portable, making it convenient to take it anywhere you need to go. It's also fully immersible in water, which makes cleaning it a hassle-free experience.
Additional Information
Panasonic ER224S All-in-One Cordless Hair/Beard Trimmer:Cordless hair trimmerQuick adjust dial features 14 length settings (0.04" to 0.79")Cordless beard trimmer has a pop-up detail trimmer that expertly shapes facial hairHypo-allergenic precision-cut, stainless-steel, fast-action bladesPanasonic cordless hair trimmer is easy to clean and is fully immersible in waterCord/cordless operationYou can also use it to trim your kids' hairHelps to keep your facial hair nicely groomed for a clean appearanceUse it on your sideburns, mustache or beardCompact size makes it easy to take with you on trips
Reviews
CadillacMan74
Love it !
I've been cutting me and my kids hair for a total of 17 + years and have used probably about 6 different clippers in those years. I fade mine and my kids hair which means I start very short and slowly get longer to the top . This has such great adjustments for that . I normaly have to take off the guards with past all in one adjustment clippers and free hand the fade in . But with this clipper I don't . The guards are exact from guard 1-12. Plus there is a feature on the guard where it brings the hair up while you cut it so you don't have to keep going over the same spot. Also all my other clippers were pretty loud and intimidating to my kids when they were real young but these you almost can't even hear it !!! Extremely QUIET ! I love it .
kapinco
Can't beat this trimmer for the price!
Positives include: 1. Dial-in thickness guide, no need for multiple attachments. 2. Quiet operation. 3. Good cutting blades. 4. Easy to clean. Only a couple of negative comments: 1. The adjustable guide is delicate and would probably break with little effort. 2. The user manual isn't written well, it leaves out an important trick to remove the delicate guide for cleaning without breaking it. You need to extend the guide fully, then gently lift the top right edge to release the pin that holds the guide. All-in-all, a very nice product if proper care is applied.
mauidave
Great unit for the price
Easy to use and clean. Nice not to have a million attachments. Just dial in the setting and go. One drawback-each time you remove the guard for cleaning and reattach it, you must change to setting back to what you had or it goes to 1, which will result in a real scalp job.
kerouac
Beards yes, hair not so much.
Have owned a few brands. This Panasonic is well-made, wireless and holds a charge for multiple sessions. Can use it in the shower. It's small and light too. I like it a lot and wish the comb attachment was a better design. Unfortunately hair collects inside the snap-on adjustable comb and it quickly clogs up. To clear, the comb assembly must be removed, cleaned and replaced and the setting reset to the proper dial-in number numerous times per session. No choice really. Cut hair accumulates and blocks uncut hair from reaching the cutter blades. I have fine hair. Guys with coarse hair may have a different experience. Operating it without the adjustable comb attachment is fine for beard shaping and trimming. Go against the grain for perfect beard shaping.
BadboyBG
Amazing!
I just got this product and I should say it is such an amazing trimmer! I underestimated it's performance after reading a review and thought putting the dial at #1 wont cut my beard shot, but it did cut so close to the skin and precisely. Its wall mount charger is so cool and I can show off this product to my visitors ! Its Panasonic so I am sure that it will last long!