Panasonic Women's Compact Facial Trimmer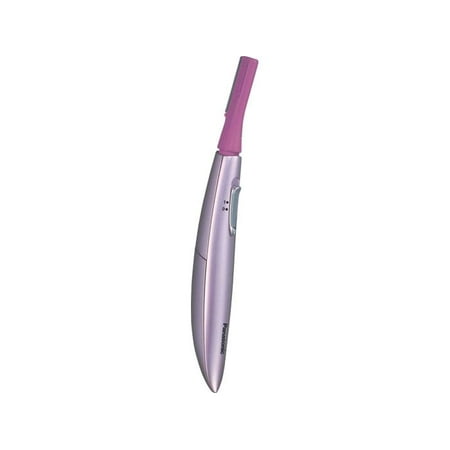 MSRP :

$19.99





Sale :

$11.99

Sold & shipped by Walmart
Product Description

Additional Information

Reviews
Product Description
Quickly remove unwanted hair with this Panasonic ES2113PC Women's Compact Facial Trimmer. It's designed for use on the face, neck and body and can be used as an eyebrow shaper. The trimmer is also suitable for removing upper lip hair, plus nose and ear hair. A pivoting head gently follows the natural contours of your face for superior coverage and comfort. Made with hypoallergenic blades, it's gentle enough for sensitive skin. This Panasonic facial trimmer comes with two comb attachments, so you can easily shape your eyebrows to your desired length and style. It has a compact size that lets you easily take it along in a makeup pouch or purse.
Additional Information
Panasonic ES2113PC Women's Compact Facial Trimmer:Uses a smooth pivoting head to gently follow the natural contours of the skinClosely trims unwanted hair on the face, chin and neckQuickly and comfortably removes unwanted hairCan be used as an eyebrow trimmer and brow shaper or an upper lip hair removerUse as nose and ear hair removerPanasonic facial trimmer offers superior coverageHypoallergenic blades treat your skin with gentle careIncludes 2 eyebrow trimmer comb attachmentsEasily trim and shape eyebrows to your desired length and styleCompact size lets you easily take it along in a makeup pouch or pursePanasonic women's facial trimmer is ideal for travel
Reviews
CrazyVick
No more peach fuzz!
I love this facial groomer! It is even better than the last one. The head pivots making it easier to shave over chin, jaw, and above the lip. The cap on the older model would come off if the groomer was jostled such as in a travel case. The cap on the new groomer snaps on like a pen cap. You will need to buy a small travel pouch for the brow shaver head and the brow combs, otherwise they could get damaged during travel. Waxing was ineffective and tweezing painful, both with the risk of ingrown hairs. This facial groomer makes it easy and painless to get rid of unwanted peach fuzz, but because it is a shaver for fine, downy hairs you must shave regrowth about every other day. Still, this is a great option for those of you who have a face covered in peach fuzz and do not want anyone to know!
BadRobot
I love this product!
The last Panosonic Facial Trimmer (Personal Touch) that I purchased lasted me 6 1/2 years. I was so bummed until I found this one. It's even better. I love that it contours to the curves of your face and the eye brow attatchments are a nice addition. I am so glad I purchased this little beauty tool. I'm sure it will be another 6 1/2 years before I have to buy another. Worth every penny! And kudos to Wal-Mart for shipping it to my house the very next day. I didn't expect it till the following week. This would be a great gift also. I love this thing!
DieHardIdahoan
Worked like it said
I have meds that make hair grow in unwanted places. And as a woman, it is really annoying. More than annoying, down right ridiculous. A steroid had fuzzy hair appearing all over my face. My nose. My eye lids. My eye DUCTS. And then I finally could afford this and it gave me a sense of dignity. It is a blessing to find little things like this to help out on big things.
HappierOne
Best thing I've purchased
I'll have to admit, I was a little apprehensive about "shaving" my face. After using the Panasonic Facial Groomer the first time my only complaint was that I hadn't tried it sooner. What a fantastic product. For me the re-growth or lack of re-growth is better than anticipated. Most reviews I read, said you would have to "shave" every 2-3 days. I have only had to "shave" once a week. I highly recommend this product.
Shannon71179
Does the job
I bought this product specifically to get the hairs off my chin and above the lip. It does a decent job and I like the pivoting jead as well. It is also painless so that is a plus