Singer Heavy Duty 4411 Sewing Machine with 11 Built-in Stitches, Strong Motor & 4 Step Buttonhole, Perfect for Sewing all Types of Fabrics with Ease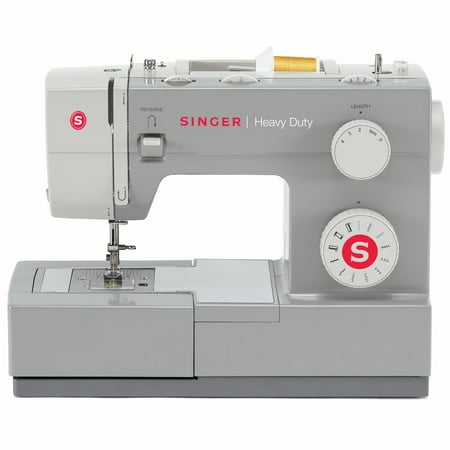 MSRP :

$150





Sale :

$110

Sold & shipped by Walmart
Product Description

Additional Information

Reviews
Product Description
With a heavy-duty metal interior frame, stainless steel bedplate, extra-high sewing speed and powerful motor, the 4411 Heavy Duty can sew through just about anything you throw at it.
Additional Information
Stronger Motor
Top Drop-In Bobbin
1,100 Stitches per Minute
Free Arm
Included Accessories
Heavy Duty Metal Frame

Reviews
Disappointed
Entry in Walmart's Holiday Sewing Contest
The Singer 4411 is a heavy duty sewing machine with a metal frame and stainless steel bed plate for skip free sewing. This is a good machine for people who have to sew for many hours every day. It has a 60% stronger motor than standard sewing machines and has a high speed motor that sews 1100 stitches per minute. It has 11 built-in stitches with adjustable stitch length and width. The pressure foot snaps on, has pressure control, and an extra high foot lifter for sewing thick layers of fabric. The needle is adjustable, and it has a convenient drop-in bobbin and automatic four step buttonhole. I was sewing by hand when my neighbor gave me a used Singer heavy duty sewing machine. This is a good production machine. I sew between 4-16+ hours per day and noticed that this machine does not overheat when used for long periods of time and it doesn't skip and shake when using high speed. It is great for students and experienced sewers who prefer manually adjusting their machines. The down side is all of the conveniences and perks available by using sewing machines with computers are not available.
Pph5755
Used Singer machines for years
This heavy duty machine is a work horse . Love the heavy duty ability of it . Made several pieces since I picked it up .
Zhanna
Great sewing machine
It's really heavy duty sewing machine. Works great!
Julessam
Love this new baby.
I only have had this machine a couple of weeks, and I gave it a test drive. I sew thru 3 heavy swatches of jean material, and it went thru it like buttter. I sew some leather patches , and it never hesitated. I mended some drapery curtains, and it just tooke off and it a couple of seconds I was done. I love this machine, and I hope it will last me a long time. This is the 2nd Singer machine that I have purchased, first one purchased in 1977, and it worked like a charm, when it broke down in 2012, I decided to buy a Brothers sewing machine, what a mistake, it was electronic, and it got stuck, from the first moment I started using it. After many calls to thier service center, I just returned it, it was very frustrating. This machine is a workhorse, and for the price, it is excellent. I have seen this same machine being sold at other stores, and the price has been from $149.00 to $189.00, which in my opinion is worth it. But walmart had the best deal in town, you cannot beat this price of $118.00.
mikkimoondust
Fast as Lightening, Sturdy as steel
I sew a lot of denim with layers. My last sewing machine could not handle the jobs. This little baby goes right through it. I call it My Mean Machine!. I can get projects done in a snap because it is so fast at 1100 stitches per minute. This is an amazing feature. I do not have a designated sewing area, so I have to put it away after each use. The plastic housing makes it lighter and easier to lift. I bought the universal Singer hard shell case to go with it. I am very glad that I did. It is simplistic and user friendly. In my opinion, it has all of the stitches I need. I use straight stitching almost exclusively, but this machine does offer 6 regular stitches, 4 decorative stitches and a 4 step automatic button hole to choose from. There are also adjustments available for stitch length and width. I love the top loading bobbin. It is much more friendly than the front loading kind. It has a metal plate on the sewing deck. It also has a part your can detach to make the deck smaller when sewing round things like purses or hemming pant cuffs. I just love this machine. It is made by a trusted brand name. It delivers what it advertises. You can not beat the caliber of machine you are getting for the price. I truly recommend this machine.