Singer® 23 Stitch Sewing Machine 2263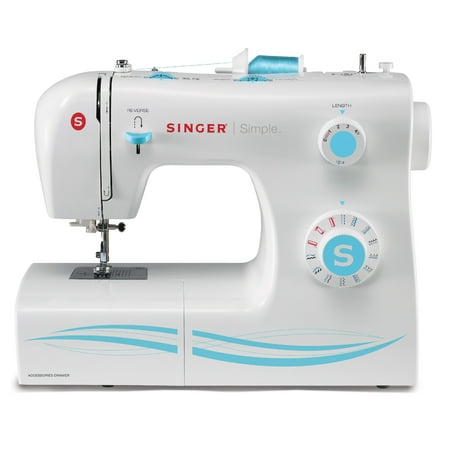 MSRP :

$109.99





Sale :

$104.92

Sold & shipped by Walmart
Product Description

Additional Information

Reviews
Product Description
Learning to sew is fun and easy when you start with the Singer Simple 23-Stitch Sewing Machine 2263. This product is designed specifically for first-timer sewers and offers all the foundational features you need to get off to a positive and productive start. Featuring 23 different kinds of stitching patterns, the Singer Simple sewing machine 2263 is designed to let your creativity shine. It comes with an accessory package that includes friction-free spool holders, transparent bobbins, different needles suited for different kinds of fabric, a dust cover and a link brush cleaner for easy maintenance. This lightweight sewing machine is compact and requires little space for use or storage. It features a slide-off extension table for free-arm sewing. The dials of the Singer Simple 23-Stitch Sewing Machine 2263 are marked for easy and quick identification and use. Automatic 4-step buttonhole and adjustable stitch length and width features are also included.
Additional Information
23 Built-in Stitches (basic, stretch & decorative), four-Step Buttonhole to make buttons simple, built-in needle threader to thread needle with ease, free arm for hard-to-reach areas like trouser hems, and adjustable stitch length/width to customize stitches.
Reviews
ToniTxs
Easy to use, wish it had instructional dvd !
I had a little trouble with the bobbin, thread knotting up, but I think I had the parts where the bobbin goes installed wrong, finally got it figured out, was a breeze to use. Just wish had instructional dvd on how to sew basic stuff, this is my first sewing machine!!
hbaldwin
Perfect for beginners!
I've never used a sewing machine before. The dvd instructions were very helpful on how to get started. While it did jam up (what sewing machine doesn't), it was very easy to fix. Just remove all excess threads from your bobbin area and re-thread as necessary. That cleared up all my jams. Now my infant son has a super cute and unique Halloween costume! Thanks Singer Simple!
criticalshopper513
Perfect for beginners!
this machine sews fine for about 3 inches until ALL OF A SUDDEN the fabric balls up underneath the fabric and the machine completely stops. I've tried pretty much everything and can't figure out how to make it work. i think it's the tension... but i thought this was a machine for BEGINNERS! i think it just wasn't built right because you can tell from looking at it that the parts don't align quite right. this is NOT a machine for beginners... but from reading other reviews, it seems like even expert seamstresses can't fix the problem!
PurpleFlamingo
Think twice before you buy.
I should have read reviews first. I paid $99 at Walmart store, when I see here it is $79. My 45 year old Singer has a major problem, so I purchased this to teach my 13 year old granddaughter how to sew while she was staying with me for a week. Hate the machine, cannot get a decent stitch, puckers no matter what length stitch, or no matter what tension. Bobbin winding is awful, it is not a smooth wound bobbin, thread loops hanging out all over. No zipper foot, although it say it comes with one.
Cham
Fabulous beginner machine!
This was my first sewing machine and I loved it! I had it for a few years before I upgraded and gave it away. I learned a lot on it and really pushed the boundaries. I especially love the ease to use. It's very simple to learn on and I would recommend it to anybody. It might seem like some projects would be hard to do with this, but if you get the right feet attachments it can do most anything a more expensive one can! Attached is a king sized quilt that I made with this machine alone! One of many giant projects I did with this machine.