Singer Universal Fit Sewing Machine Carrying Case, Model 621.01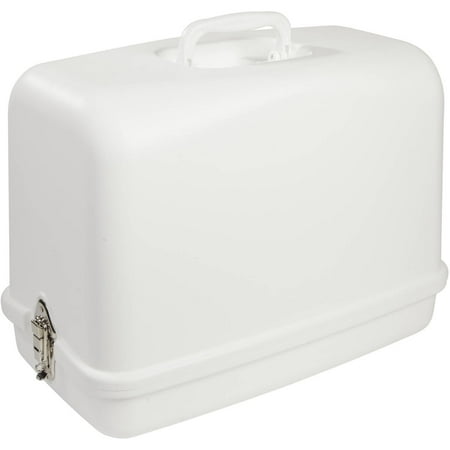 MSRP :

$29.99





Sale :

$16.99

Sold & shipped by Walmart
Product Description

Additional Information

Reviews
Product Description
Your sewing machine has helped you mend countless torn hems and ripped shirts, not to mention the dozens of Halloween and dance recital costumes that you've created over the years, so show it some love by protecting it from dust and hard knocks with this Singer Universal Fit Sewing Machine Carrying Case. Offering convenience and sturdy protection, this useful carrying case accommodates most brands of sewing machines. It features sturdy metal latches that ensure your machine will remain safe and secure, even during travel. The built-in handles of this lightweight universal carrying case offer a comfortable grip for easy carrying. Brought to you by Singer, one of the most trusted names in sewing, this case is a great gift for sewers of all skill levels!
Additional Information
Durable, impact-resistant plastic case for storing most sewing and overlock machines
Offers safe, dust-free storage for your sewing machine
Sturdy, sure-lock metal latches
Lightweight for easy carrying
Dimensions: 18"W x 9.25"D x 12"H
Model No. 621
Also available in select Wal-Mart stores
Reviews
valius324
Perfect Ending
This universal sewing case looks and feels like it was made expressly for my new model 7442 Singer Sewing Machine. After studying how it's made I realized that no matter which model or brand for that matter, you have it will appear to have been made just for your machine. A plastic slip cover came with my machine but this new case is the perfect ending to complete my sewing machine package. It is highly recommended that if you value your sewing machine you will not only value it more but will protect it like it is of value. If you have a machine you need this case.
BigGRog
Could be Better
After ordering this container I found that it was large enough to fit my Brothers unit, BUT, and this it seems is due to the low price, the cover, once it is removed from the bottom sees to have a lot of trouble locating the groove into which it should sit and since it is a 'tongue & groove' type fit there should not be as much trouble putting the top onto the bottom and closing it. It does snap closed (even without the tight fit) (that should be) and since I haven't taken it for a trip I don't know if the bottom will fallout from the snaps. They should have made the connection point a little stiffer (thicker plastic) so that the're would not be as much play in the thin edges. I understand not having the other part of the units sides as thick since only the connection would needed to make the connection. If they had made the connection point as thick as they made the handle they would not have this problem. I guess for under $20 you can't be to choosy.
NocteAquilae
Good for Storing or Carrying Machine Upright
Think of this as a nice looking box with a handle for carrying or storing the machine upright. The machine simply sits in the base. There are no screws or other fasteners to hold it, so if the carrying case is turned to its side, as might happen when putting it int the trunk of an automobile filled with other luggage or onto a narrow shelf, the machine will flop over. Only gravity holds it in place. Regarding fitting it in between shelves, especially, it would have been helpful for me if the handle folded down, as on earlier Singer portable carrying cases. I had to readjust a shelf to fit the machine because of about a 1/2 inch of clearance. I do not know the composition of the molded plastic from which it is made, so cannot comment on its ruggedness. As it happens, I am using this only as a storage case, but I think I would be careful not to knock it about too severely---not that you should anyway because of the machine inside.
Denise
Great sewing machine case.
I was pleasantly surprised with this case. It fits my Singer sewing machine perfectly, including the foot pedal and book so I can recheck on how to thread the machine. It looks clean and sleek.
Brenda
Awesome price
Was purchased as a gift but I have one myself. I love it.