Puffs Plus Lotion Facial Tissues, 10 To Go Packs, 10 Tissues per Pack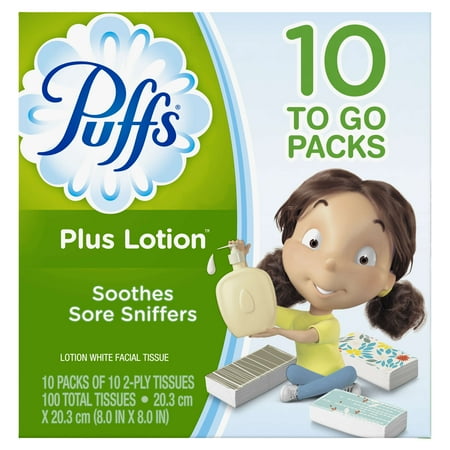 Sale :

$7.9

Sold & shipped by Walmart
Product Description

Additional Information

Reviews
Product Description
Puffs Plus Lotion is our most soothing facial tissue with lotion in a To Go pack. Puffs Plus Lotion is the perfect tissue for when sore or runny noses need some extra softness for any cold, flu, or allergy. Puffs Plus Lotion facial tissues lock in moisture better, to help soothe irritated skin commonly caused from rough or thin tissues. It's no wonder that Puffs Plus Lotion is America's #1 selling Lotion Tissue brand. A nose in need deserves Puffs indeed!
Additional Information
Puffs Plus Lotion Facial Tissues, 10 To Go Packs, 10 Tissues per Pack:
Pack includes 10 To Go Packs (10 Tissues per Pack) of Puffs Plus Lotion Facial Tissues
Travel-size pocket tissues fit in small spaces like pockets and purses to defend runny noses anywhere
America's #1 selling Lotion Tissue
Puffs softest, most cushiony tissue, with a touch of lotion, to help protect your nose
Puffs Plus Lotion helps soothe irritated noses by locking in moisture better than regular tissues
Don't let your runny nose run out of Puffs. Sign up for automatic home delivery and save.
Dermatologist tested to be gentle on sensitive skin
Be ready for cold & flu on-the-go with soft, soothing Puffs Plus Lotion
Reviews
Robyn812229512
The best in town
I absolutely love these. I have never felt something soft like these tissue and if i ever have rub your nose raw u understand how painful it is. I recommend these to the highest. My favorite of them all.
Elizabeth
My favorite
I'm constantly sneezing or sniffly, and sometimes you just need tissues handy for others or spills etc. I can't stand the thin paper-like "basic" to go packs of tissues; they don't do well for spills or wiping your hands and they immediately make my nose feel like I used sandpaper rather than a tissue. My only "complaint" is that the designs on the pack are a bit dated and not my favorite, but that's hardly an issue.
karli_fl_12333235
A good buy if you carry tissues in your purse
I received a sample of these Puffs Plus Lotion facial tissues from Pinchme. I'm a crybaby with allergies, so I always carry a small pack of tissues with me wherever I go. These tissues had a very slight scent to them, which didn't bother my sensitive nose. They were much softer than Swankie Hankies and the generic brand printed tissue packs from Target and Walmart, and a little softer than the Kleenex travel packs. They were also thicker than all the tissues listed above. I like the idea of lotion infused tissues because I often rub my nose and eyes until they're raw and sore, but I can't say I noticed these tissues preventing this issue any more than regular tissues. My favorite aspect of these tissues is the resealable sticker closure. It retained its stickiness until I ran out of tissues, which is a major plus for me because I hate when a package won't reseal and tissues spill out into my purse. [This review was collected as part of a promotion.]
PriceConsciousShopper
Great, but not for $7.90
I love these tissues, but not at $7.90 for 10 to-go packs, which comes out to $0.79/pack. Walmart used to carry this for about $3-$3.10. This product is not worth the price increase. I'm back to Kleenex now.
Cortney812006469
AWESOME
I have bad allergies and these are the best things for my raw little nose. I can use and use and it keeps my nose from being raw and red.