Bounty Paper Towels, Select-A-Size, 12 Super Rolls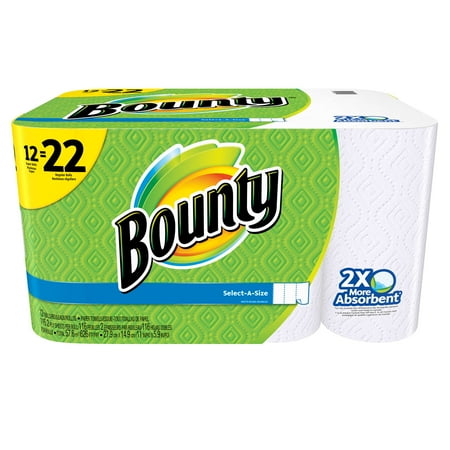 MSRP :

$19.99





Sale :

$17.47

Sold & shipped by Walmart
Product Description

Additional Information

Reviews
Product Description
Ever try one of those 'bargain' paper towels and go through so many sheets that the roll just disappears? With Bounty, the roll doesn't disappear. We build more into each Select-A-Size sheet so you can get more life out of each roll! Bounty paper towels are 2X more absorbent, so you can use less!* And the best part is Bounty SelectA-Size sheets allow you to control just how much you use, depending on the size of the mess! Choose the paper towel you can count on: Bounty, The Quicker Picker Upper.** **Vs. leading ordinary brand. *Vs. the Custom-Size-It brand in the US and the Premium Green Leaf Towel in Canada
Additional Information
Bounty Select-A-Size Paper Towels, White, 12 Super Rolls = 22 Regular Rolls:
Pack contains 12 Super Rolls of Bounty paper towels
Each Super Roll contains 83% more sheets than a Regular Roll
2X More Absorbent so the roll can last longer* *Vs. the Custom-Size-It brand in the US and the Premium Green Leaf Towel in Canada
Choosing your sheet size with Bounty Select-A-Size lets you use less
So thick and absorbent you can see it!
Also available in fun and exciting print designs!
If you love Bounty Paper Towels, try Bounty Quilted Napkins!
Reviews
Kristin
What happened!?
I have been buying Bounty paper towels for years. I have found their strength and absorbency to be far superior to any other paper towel. However, my most recent purchase of Bounty a shock. The towels have the UPC code 03700078152, if that is any help. They are not the "quicker-picker-upper" towels. I need more towels to clean with due to their reduced absorbency and they tear and fall apart. They are thinner! I use a lot of paper towels and this package will not last as long as I expect from Bounty. I sincerely hope this is not an example of a change in your manufacturing process as it would be a serious degradation of your brand. I can buy bargain paper towels that do as well as these. Please, don't disappoint your customers who buy Bounty because of its value.
debinana
disappointment
I have used Bounty paper towels, exclusively for 35 years, and usually love them I recently purchased a package of select-a-size, 12 rolls, and NONE of the perforations went all the way through. I have had ripped up messes of paper towling for weeks now. This has been really frustrating! Wondering where the quality control was on this package
Addie
5154912169
Only paper towel I will use. Love them and use lots for everything.I use them for clean up, napkins.
Shortie
Wasted Plastic
I don't understand why, with all the concern about our environment, you individually wrap each roll of bounty in plastic. I believe it's totally Unnecessary when a package of 15 is already wrapped in plastic. I think this is the colossal waste of plastic. Just my opinion. I will say that bounty is the only paper trail that I regularly use. I especially like the selecr-a-size option.
318wendy201
Wendy
Best paper towel ever! It's absorbing and wipes up spills quickly and easily!!