Bounty Paper Towels, Select-A-Size, 12 Super Rolls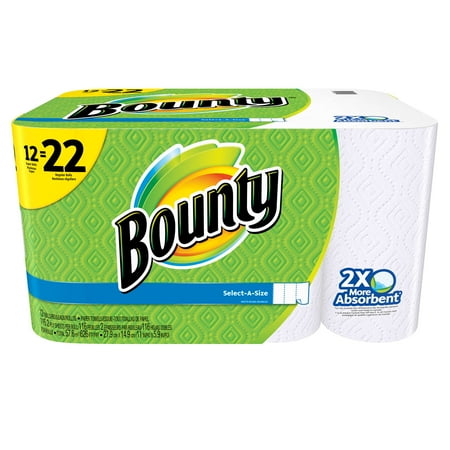 MSRP :

$19.99





Sale :

$17.47

Sold & shipped by Walmart
Product Description

Additional Information

Reviews
Product Description
Ever try one of those 'bargain' paper towels and go through so many sheets that the roll just disappears? With Bounty, the roll doesn't disappear. We build more into each Select-A-Size sheet so you can get more life out of each roll! Bounty paper towels are 2X more absorbent, so you can use less!* And the best part is Bounty SelectA-Size sheets allow you to control just how much you use, depending on the size of the mess! Choose the paper towel you can count on: Bounty, The Quicker Picker Upper.** **Vs. leading ordinary brand. *Vs. the Custom-Size-It brand in the US and the Premium Green Leaf Towel in Canada
Additional Information
Bounty Select-A-Size Paper Towels, White, 12 Super Rolls = 22 Regular Rolls: Pack contains 12 Super Rolls of Bounty paper towelsEach Super Roll contains 83% more sheets than a Regular Roll2X More Absorbent so the roll can last longer* *Vs. the Custom-Size-It brand in the US and the Premium Green Leaf Towel in CanadaChoosing your sheet size with Bounty Select-A-Size lets you use lessSo thick and absorbent you can see it!Also available in fun and exciting print designs!If you love Bounty Paper Towels, try Bounty Quilted Napkins!
Reviews
Paticakes
Urgency on the highway.
This is embarrassing but, I have to commend the makers of Bounty Quicker Picker Upper paper towels: On a road trip in early April of 2018 I experienced a crisis while in bumper-to-bumper traffic on a well-traveled highway. Having taken a "water pill" that morning and, being treated for a UTI, had the sudden urge to use a bathroom. With no way to exit the highway and semi trucks front and back of our car, and traffic at a standstill, I had to resort to the use of a plastic bag and a fistful of Bounty paper towels which absorbed the entire output without a drop of leakage. Thank you Bounty for your excellent product. You saved the day and, I am forever grateful for your product and, to Proctor And Gamble Company. I am sure the semi driver behind us has his tale to tell of this incident as well. I just smiled a smile of relief. :) P.S. All this took place in the front seat of the vehicle :(
Polly464
One little sheet cleaned my whole fridge!
I end up needing to clean my vegetable drawers out every few months. My husband is an avid juicer so we buy a lot of veggies. Unfortunately, sometimes things get shoved in the back or buried and they leave a mess. Just the sheer number of tiny leaves that fall into the drawer end up making a mess. I end up pulling everything out and cleaning up the mess and it always only takes 1 single select-a-size sheet to wipe out the drawers and the bottom of the fridge. I rinse it out countless times and it gets the whole job done! Thanks for the valuable product! P.S. I took a photo of it this time.
Diego
Select a size sucks!
I want the old square paper towels, not the select a size for two reasons: First, much of the time when I pull out the towel it tears at the first junction and gives me a short towel. Second, when I do manage to get a square towel, it tears in the middle while I'm using it. Almost no square towels are available in any brand. Please bring back a selection of the old square paper towels.
2ManyChanges
I Love The Huge Select-A Size Rolls, But...
In the past few years you have gradually changed your paper towels for the worse. I have an old Huge Select-A-Size roll I found from when I moved four years ago. The roll size was much bigger, and the paper towels sheets stronger and softer. Recently you took off 20 sheets per roll on the Huge Select-A-Size towels. I still prefer Bounty to other brands, and still love the select-a size option. But I am dismayed and angry at the changes you have made. They are not ignored by consumers such as myself who use A LOT of paper towels, and have been a faithful Bounty customer. I may change to other brands if you continue to lower your quality standards.
Terri812182880
Amazing....
Bounty's always my go-to to for paper towels. I have also used them to clean with it's made so very strong I'd say it's the best paper towels out there. Worth the few extra dollars for top notch!