Bounty Paper Towels, Select-A-Size, 12 Super Rolls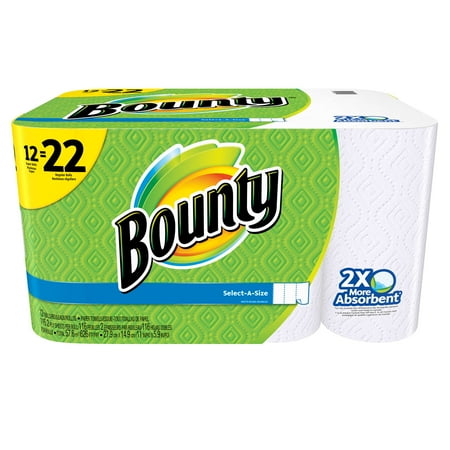 MSRP :

$19.99





Sale :

$17.47

Sold & shipped by Walmart
Product Description

Additional Information

Reviews
Product Description
Ever try one of those 'bargain' paper towels and go through so many sheets that the roll just disappears? With Bounty, the roll doesn't disappear. We build more into each Select-A-Size sheet so you can get more life out of each roll! Bounty paper towels are 2X more absorbent, so you can use less!* And the best part is Bounty SelectA-Size sheets allow you to control just how much you use, depending on the size of the mess! Choose the paper towel you can count on: Bounty, The Quicker Picker Upper.** **Vs. leading ordinary brand. *Vs. the Custom-Size-It brand in the US and the Premium Green Leaf Towel in Canada
Additional Information
Bounty Select-A-Size Paper Towels, White, 12 Super Rolls = 22 Regular Rolls: Pack contains 12 Super Rolls of Bounty paper towelsEach Super Roll contains 83% more sheets than a Regular Roll2X More Absorbent so the roll can last longer* *Vs. the Custom-Size-It brand in the US and the Premium Green Leaf Towel in CanadaChoosing your sheet size with Bounty Select-A-Size lets you use lessSo thick and absorbent you can see it!Also available in fun and exciting print designs!If you love Bounty Paper Towels, try Bounty Quilted Napkins!
Reviews
Paticakes
Urgency on the highway.
This is embarrassing but, I have to commend the makers of Bounty Quicker Picker Upper paper towels: On a road trip in early April of 2018 I experienced a crisis while in bumper-to-bumper traffic on a well-traveled highway. Having taken a "water pill" that morning and, being treated for a UTI, had the sudden urge to use a bathroom. With no way to exit the highway and semi trucks front and back of our car, and traffic at a standstill, I had to resort to the use of a plastic bag and a fistful of Bounty paper towels which absorbed the entire output without a drop of leakage. Thank you Bounty for your excellent product. You saved the day and, I am forever grateful for your product and, to Proctor And Gamble Company. I am sure the semi driver behind us has his tale to tell of this incident as well. I just smiled a smile of relief. :) P.S. All this took place in the front seat of the vehicle :(
Jan123
To much glue.
I love bounty towels, but lately there is too much glue to seal roll. It wastes towels. I use them a lot to clean my eye glasses.
Kathy125
Select a size is the Best
Bounty is the best paper towel and select a size is a money saver.
pam-shepherd1602025459
BEST MADE
I COULD NOT MAKE IT WITHOUT BOUNTY PAPER TOWELS. BEST THING EVER MADE. THE OTHER BRANDS CAN NOT COME CLOSE TO WHAT BOUNTY CAN DO.. I LOVE MY BOUNTY.
WILLIAM390434632
Bounty is the greatest.
I have been using bounty for decades and it has never failed me. Anytime that I grab for a sheet regardless the size I am confident that it will rise to whatever task that I have need to do. I will admit that I have in times of financial stress resorted to using cheaper products only to find that they ended up costing more. I am sixty.-three years old and have been married for forty-two, reared two children and have used Bounty to survive the spills and messes for most of those years. I feel that I am more than qualified after all of this to say that "Bounty IS THE GREATEST!".