Tide PODS Original Scent HE Turbo Laundry Detergent Pacs, 81 Count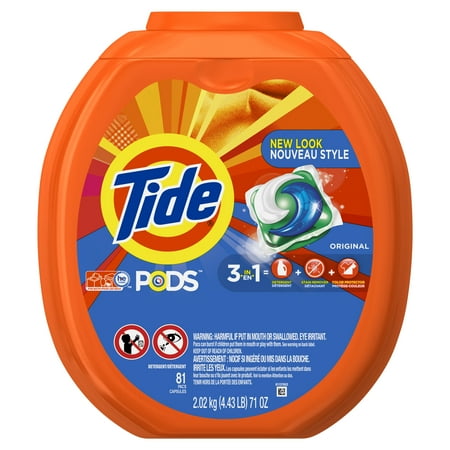 Sale :

$19.97

Sold & shipped by Walmart
Product Description

Additional Information

Reviews
Product Description
Tide Pods Laundry Detergent is a detergent, stain remover and brightener all in one that dissolves in hot or cold water to keep clothes looking their best. Each pod has multiple inner chambers to keep the ingredients separate until the pod is used. These Tide stain remover laundry detergent pods are easy to use and don't require any measuring or handling of large containers. All the ingredients are ready to go in one small package designed for a single load of wash. This product is made to work in hot or cold water and can be used on colorful or white clothing. Tide laundry detergent pods dissolve completely, leaving no stains or residues, and they can be used in standard or high efficiency washing machines. Tide pods 81 count is enough to clean 81 loads of laundry.
Additional Information
Tide PODS is formulated with HE Turbo technology for 6X the cleaning power* in half the time. Unlike many other HE detergents that can slow washers down because of too many suds, Tide HE Turbo contains quick collapsing Smart SudsTM and targets tough stains. So you can get amazing results without the extra rinse cycles to remove the suds.
*Stain removal of 1 Tide PODS pac in Quick cycle vs 6 doses of the next leading liquid HE-compatible detergent in Normal cycle
Each Tide PODS is a 3-in-1 breakthrough technology with detergent, stain remover and color protector, giving you more bang for your buck
Tide PODS are small but powerful. They pack 6X cleaning power* in half the time (*Stain removal of 1 Tide PODS pac in Quick cycle
vs 6 doses of the next leading liquid HE-compatible detergent in Normal cycle)
The special film that enables the 3-in-1 breakthrough technology dissolves in both hot & cold water. Tide PODS are formulated with quick collapsing Smart SudsTM, targets tough stains and works in both HE and standard washing machines
Tide PODS clean better by helping remove dirt left behind by the bargain detergent* (*Based on 4 solid cycles with leading liquid bargain laundry detergent followed by 1 cycle with 1 dose of leading liquid bargain detergent vs 1 cycle with Tide PODS)
Use 1 pac for small/medium loads, 2 pacs for large loads, or 3 pacs for extra-large loads
Its Original scent is infused with floral and fruity notes to help keep your family's clothes smelling as great as they look
Works with HE and standard washing machines
Keep out of reach of children
Reviews
Pumpkinbaby1974
Not a fan
So sorry. I don't know why but I have never been much of a can of Tide. To me Tide use to be the BMW of detergents. I don't know if they have changed ingredients over the years or what, but buying the liquid or whatnot is not as full as it use to be say 20 years ago. As for the pods? Well, I love the Gain pods and for 12 years I couldn't use Tide or Gain because of My daughter. These came out and I figure I would at least try them. It wouldn't hurt to see if she has grown out of it. I bought the Tide amd Gain pods a few months back and she done really well except for the issue of pods dissolving. I had our plumber come out and test the water to be sure the temp was correct. I do NOT over load our machine but it takes 2 washing in order for the Tide pods to completely dissolve and get rid of the residue. The Gain ones work fine and I love the smell that lingers but the Tide smells almost like it has to much chemical this is the original but the one with Downey isn't so bad. As of now I have 2 packs of pods and 3 liquid that I have to give away because I am just not pleased with this product. [This review was collected as part of a promotion.]
nik10
One of the best laundry pods I've used yet!
These smell fantastic and are so convenient compared to the liquid detergent. I am very happy with the results. The scent lasts a really long time and the clothes come out clean every time. Nice work Tide.
Jess7
Tide
Love your product whit 2 kids get the stain off and the sént is great
susie413
Tide
I like the convenience of the pods, but I certainly don't like the expense.
CJF8
One convenience I like!
I use both liquid Tide and Tide pods. I have to use my apartment laundry rooms or commercial laundromats so pods make it easier to carry laundry. I have COPD so I appreciate a lightened load with the pods instead of a heavy bottle of detergent. I use the liquid Tide mostly for hand washing. I love them both. They get the job done well!