Tide PODS Liquid Detergent Pacs, Original, 81 count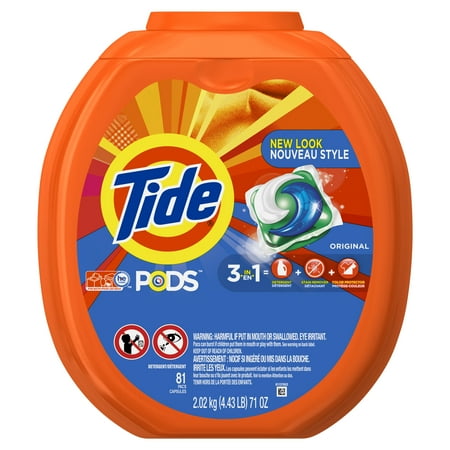 Sale :

$19.97

Sold & shipped by Walmart
Product Description

Additional Information

Reviews
Product Description
Tide Pods Laundry Detergent is a detergent, stain remover and brightener all in one that dissolves in hot or cold water to keep clothes looking their best. Each pod has multiple inner chambers to keep the ingredients separate until the pod is used. These Tide stain remover laundry detergent pods are easy to use and don't require any measuring or handling of large containers. All the ingredients are ready to go in one small package designed for a single load of wash. This product is made to work in hot or cold water and can be used on colorful or white clothing. Tide laundry detergent pods dissolve completely, leaving no stains or residues, and they can be used in standard or high efficiency washing machines. Tide pods 81 count is enough to clean 81 loads of laundry.
Additional Information
Tide PODS Liquid Detergent Pacs, Original, 81 count:
Tide PODS consist of up to 90% active ingredients, so you can be sure that you're paying for clean not for water
10x the cleaning power* (*Stain Removal of 1 dose vs. 10X doses of the leading liquid bargain brand)
Reveal our brightest clean yet for brighter brights and whiter whites
3 in 1 technology: detergent, stain remover, color protector
Dissolves in both hot & cold water. Keep out of reach of children
Its Original Scent is infused with floral and fruity notes to leave your clothes smelling great
Keep out of reach of children
Reviews
Becky602995001
Tide Pods
I used to use Tide all the time. Years ago, to save money, I started buying whatever was on sale and convinced myself that our clothes came out just as clean. I had to use stain removers and wash boosters sometimes, but hey I was saving money. Recently, I had a coupon and Tide was on sale. I picked up a bag of pods. My first time using any pods also. That first load of laundry (a white load), came out amazing. Everything was so bright and clean. I I hadn't added any boosters or stain removers. I actually just stood there and stared at the clothes. I'm back with Tide and never leaving. It may cost more than the cheaper brands, but I don't have to add additional laundry supplies and my clothes look amazing and still small clean a week later.
Roxane600223418
Use hot or very warm water
I first bought Tide pods for my daughter to use while living in a dorm at college. She complained that the pods sometimes didn't completely dissolve when she washed her clothing. It turns out that for the pods to dissolve they need to be immersed in hot or very warm water. Also, the pods must be placed in the bottom of the washer tub. If you follow this advice, your clothes should end up clean with no residue. We've never experienced the purple hue some folks have had happen. I use liquid Tide on a routine basis and save the pods for special circumstances.
Florenda812686894
Very effective
Its my first time to use the TIDE pods here in US i was really amaze to come out the result of our clothes its very smooth,very clean and i am very satisfied. I was just amaze because in our place in Philippines we dont have like this pods the TIDE brand was very famous in our place and everyday we use Tide either bar soap or powder detergent but i was just fascinated this kinds of Tide brand. [This review was collected as part of a promotion.]
Diane479283378
disappointment
While it is certainly convenient to use Tide pods, I found that they did not dissolve completely and I would have to run the clothes through another rinse cycle. I then began trying to dissolve the pod in the water before loading, but even with that, there would be the occasional soap residue upon the clothes. I will therefore go back to either the powder or liquid form of Tide. [This review was collected as part of a promotion.]
Springmeadows9
Tide pods
Great product, i think it works great and smells amazing!