Swiffer Sweeper Dry + Wet Sweeping Kit (1 Sweeper, 7 Dry Cloths, 3 Wet Cloths)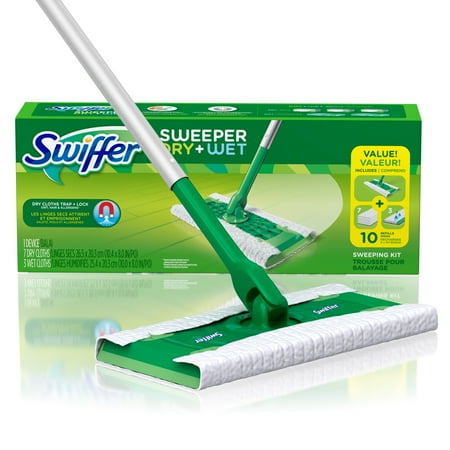 MSRP :

$12.8





Sale :

$11.97

Sold & shipped by Walmart
Product Description

Additional Information

Reviews
Product Description
Keep your home clean with this Swiffer Sweeper Starter Kit. With a one-two cleaning punch, it is designed to sweep and mop your floors. The 11-piece Swiffer cleaning kit contains thick, dry cloths that conform to the surface of your floors and grout lines, trapping and locking dirt. The wet mopping cloths dissolve dirt and grime for good, trapping it in its core and locking it away. The 360-degrees swivel head adjusts easily to clean hard-to-reach areas. This wet and dry mop kit includes a Sweeper and 10 cloths. This item is not recommended to use on unfinished, oiled or waxed wooden boards, non-sealed tiles or carpeted floors.
Additional Information
Swiffer Sweeper Dry + Wet Sweeping Kit (1 Sweeper, 7 Dry Cloths, 3 Wet Cloths):
Dry cloths have 3X Cleaning Action on Dirt, Dust & Hair
Textured wet mopping cloths dissolve dirt and grime and lock it away
When you run out, save your Sweeper and buy more wet and dry cloth refills
Starter kit includes 1 Sweeper, 14 dry sweeping cloths, 6 wet mop cleaning solution cloths
Safe on all finished floors, do not use on unfinished, oiled or waxed wooden boards, non-sealed tiles or carpeted floors because they may be water sensitive.
Satisfaction Guaranteed or Your Money Back Via Prepaid CardVisit http://wwwswiffercom/our-commitment-to-clean/money-back-guarantee
Reviews
Meinnewmexio
Good Idea ~ Dumb execution
I bought a Swiffer extra wide sweeper/mop, I was expecting the pads to be the same size of the sweeper/mob base it was not. The pads are only 10" long and the sweeper is 1 1/2 times as large so the pads don't fit correctly, you need to use 2 pads hence you 1/2 pad goes unused. Guess they're trying to rip off the consumer by getting them to use 2 pads instead of 1 correct sized one.
Vish
Unhappy with swiffer wet jet waste of money
I had bought the swiffer sweeper dry and wet set about 2 months ago. Im not veey happy with it. The wipes thata come with it are horrible for hard wood floors and if you have kids. I feel a traditional mol works better. Its very light and fancy and works well other no gereasy flooring. Very unhappy with this buy.
Adorablekitty
So fast and easy!
The Swiffer Sweeper Dry + Wet is such a relief in cleaning. I have a 3 yr old and a 9 year old who can be the dirtiest little monsters. It can be a pain to clean up after them, especially after dinner, so this was literally sent from heaven. My floors have never looked cleaner. My children were actually fighting over who was going to use the Swiffer first and now they actually like to clean up after themselves. I can not complain one bit. The dry part of the Swiffer was great! It picked up small pieces of dirt and hair that my regular old broom seems to always miss. It's definitely a hair magnet, it even picks up my cats hair with so much ease! The wet sheets are even better. It reminded me of baby wipes at first, but the moment I used it on my floor, I was pleasantly surprised. It cleaned up the stickiest gunk off my floors, and I didn't even have to scrub. It also smelled really great and it dried pretty fast. It's a win for my family and we'll be buying the refills pretty soon! :) [This review was collected as part of a promotion.]
Jenna C
Great value
Best deal -- comes with everything to get started
kdepuy
So convenient, works great
Living in a small apartment, space is key for me. To keep a mop and bucket in my small coat closet would take up way too much valuable real estate. I can store the swiffer standing against the corner of my closet and it takes up no space at all, and the refills fit under my sink with the rest of my cleaning supplies. Pro #1. I also have a dog. Dogs shed, and track in mud and leaves, etc. To pull out my vacuum cleaner every time this happens is a pain. With the swiffer, I can just pull it out, and pop on the appropriate cloth (wet for sticky yucks, dry for hair and dirt) and I can clean up the mess in seconds. Pro #2. Lastly, the wet cloths work just as well as traditional liquid floor cleaner with less fuss. The scrubber strip helps me clean smaller crevices and grout, etc. The quality of the sheets is great, and I absolutely recommend the swiffer brand over the generics any day, having tried them both. Pro #3. I'll happily continue to use my Swiffer brand duster and cloths for a very long time! [This review was collected as part of a promotion.]