Swiffer WetJet Hardwood Floor Spray Mop Starter Kit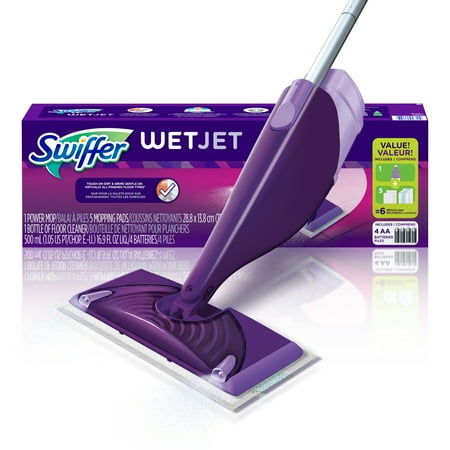 MSRP :

$27.26





Sale :

$22.97

Sold & shipped by Walmart
Product Description

Additional Information

Reviews
Product Description
Swiffer WetJet gives you a great clean on virtually any floor in your home. With a unique dual-nozzle sprayer, this all-in-one mopping system breaks up and dissolves tough messes for a powerful clean. Its cleaning solution loosens dirt and lifts it off the floor, pulling dirt and grime into the WetJet pad and locking it away for good.
Additional Information
Swiffer WetJet Hardwood Floor Spray Mop Starter Kit:
ABSORB + LOCK STRIP helps trap dirt & grime deep in pad so it doesn't get pushed around.
This hardwood floor mop is safe on all finished wood floors* *do not use on unfinished, oiled or waxed wooden boards, non-sealed tiles or carpeted floors because they may be water sensitive.
Designed to give you a great clean and act as a hardwood floor cleaner, laminate floor cleaner, and tile cleaner.
Satisfaction Guaranteed or Your Money Back Via Prepaid Card. Visit http://www.swiffer.com/our-commitment-to-clean/money-back-guarantee
Starter kit includes 1 power floor spray mop, 3 extra power pad refills, 2 original mopping pad refills, (1) 500ML bottle of cleaning solution, 4 batteries
TIP: For Best Results use with Swiffer WetJet Original Mopping Pad Refills & Swiffer WetJet Multi-Surface Floor Cleaner
Reviews
EmmaC
Broken Handle.. Really guys?
I had my first Swiffer Wetjet for 6 years until it finally gave out. I used it on a massive kitchen floor once or twice a day, for 6 years. So when it finally quit working I didn't think twice about grabbing another one. IT LASTED 2 DAYS. 2 days. I took it back and got another one figuring that the first one might have gotten damaged or was made on a Monday or Friday, but nope, the second one lasted 3 uses. 3. I took that one back. I started thinking that they had gotten a faulty shipment in, so I drove about 45 miles to get another one. IT LASTED 3 WEEKS. I took it back and called it quits. They used to have a really good product. I wouldn't buy another Swiffer product if they had the monopoly and none other was available. However they don't have the monopoly and Bissell makes some excellent products. Check them out.
edswife
Swiffers work okay
I have had a dry Swiffer mop that you just put dry pads on and use the solution to squirt out the fluid. Within 2 weeks the handle broke off. I figured I would use that until I found another Swiffer mop. I figured I was being rough with it or something. Next I purchased this WetJet Swiffer. Within a week the handle broke off in the same place. Now the wires are exposed but I can still use it and still do. Believe it or not, it still sprays out the fluid just fine-it's just uncomfortable on my hand. I tried to duct tape it on, but that didn't work. Still using it though. I think I'll use this one and when it dies out on me, I'll buy something else. Swiffer, please come up with a more durable handle. I've looked at other reviews and see that I'm not the only one with the handle breaking problem!
Pleasedaspunch
I am pretty pleased with this product
I have used this product for a few months now and mop the floor pretty often. So far ,so good. I have even bought one for my college kid to use in his dorm suite. However, I do have one complaint. The replacement bottles are much heavier and makes handling the appliance hard to handle. That may be he reason that some other customers have complaints about the handle breaking.
Shortystoy
8328826327
I LOVE my wet jet. It is good for convience and simple. But the problem I have is after I mop I have remap with straight water. The floor cleaner that goes in the mop makes the floor sticky.
Michael
So far so good
So far, so good. This is our 3rd SwifgervWet Jet.