Tide Simply Clean and Fresh Refreshing Breeze Liquid Laundry Detergent 89 Loads, 138 Fl Oz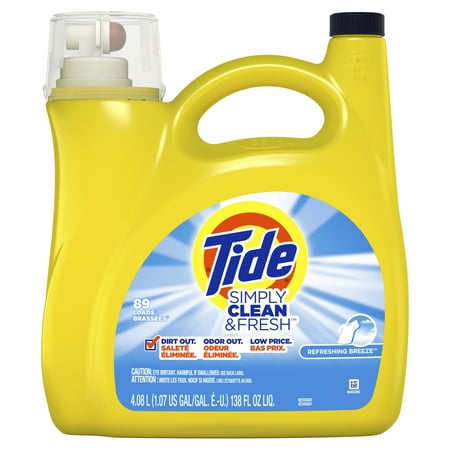 Sale :

$8.94

Sold & shipped by Walmart
Product Description

Additional Information

Reviews
Product Description
Experience the right clean at just the right price with Tide Simply Clean and Fresh, Refreshing Breeze. It has 2X the Baking Soda Power (1) to target tough odors deep in the fibers of your clothes. You only need one dose per load and there's no pretreating necessary. Refreshing Breeze is infused with floral, fruity and woody notes for a fresh, clean scent in every load. As part of the Tide family, you can expect a consistent, quality clean from Tide Simply Clean and Fresh. Tough on odors and easy on your wallet, it gives you the results you're looking for. 1. Stain removal of 1 dose vs. 2 doses of leading detergent with baking soda in a standard top loading machine
Additional Information
Tide Simply Clean and Fresh Refreshing Breeze Liquid Laundry Detergent 89 Loads, 138 Fl Oz:
A simple, affordable clean you can depend on
Cleans fabrics in just 1 wash with 2x the baking soda power (stain removal of 1 dose vs. 2 doses of leading detergent with baking soda in a standard top loading machine)
Formulated to clean deep into the fibers of your clothes, helping to remove tough odors
Refreshing Breeze scent with floral, fruity and woody notes
Compatible with HE and standard washing machines
From the trusted brand that brought you Tide Original and the Tide Plus Collection
Reviews
Kigkat
Free and Clear
My mom used Tide growing up so when I was looking for some laundry detergent for cloth diapers I was surprised to see how many chemicals and irritants are in the regular Tide. Needless to say, I jumped at the chance to try Tide's free and clear! I wanted to see how it stacked up against other more natural detergents. I have had some "natural" detergents leave my running clothes stinky and so I was glad to see that this Tide did not do that! My clothes came out clean but without fragrance. Some of my family members can be sensitive to certain ingredients and fragrances but no one has had an issue with us using Tide free and clear! I haven't been able to try it on my cloth diapers since I don't currently have any children in them but will be curious what other reviewers say. I would love to see a concentrated version of this since I love a smaller bottle with a smaller environmental impact. All in all, though, I'm happy with this version of Tide! [This review was collected as part of a promotion.]
Sweetpeasnacks
Pleasantly Surprised
I have had a sensitivity to scent in detergent since I was a kid. I would break out in hives just smelling it, but there was never an alternative. In the last few years companies have finally come out with sensitive products, but I have found that they leave your clothes smelling a bit off or they just don't seem to work as well as the original. So I was a bit skeptical to try the Tide Simply Free & Sensitive detergent. I decided to to a test load of laundry with towels. Upon opening the bottle, you get a slight chemical smell. I was a little taken back by that. But I was pleasantly surprised when the cycle finished and I took the towels out of the washer. The chemical smell was not present and I was left with scent free, clean towels. I also didn't have a reaction upon using the towels after my shower. I decided to wash a second load to test for stain fighting power. I tried by using my sons baseball uniform. Once again pleasantly surprised, the unruly baseball stains were no more. The Tide Simply Free & Sensitive is my new go to detergent. It Simply works! [This review was collected as part of a promotion.]
Sweetpeasnacks
Amazing laundry soap
I think this is one of the best soaps we have ever used. I have a daughter who is allergic to mold which includes all the mold spores in the air. Her skin gets so bad she is on a very strict skin regimen. This includes 3 different oral medications, 2 topical ointments, and bleach baths. This includes no dyes or fragrances to anything and everything that touches her body. Well Tide Simply Free has done the job. She has not itched since we started using this. Her rashes are better than before. I don't have one complaint about this product. I also don't care how much it costs to buy. Anything to give my child a happy itch free body is all that matters. [This review was collected as part of a promotion.]
Sweetpeasnacks
Tide Simply Free and Sensitive
I was very disappointed in the product. It left my towels smelling musty. Maybe with no scent it just didn't mask the musty but to me that means they're not totally clean. I had to rewash my towels. I have used the rest of my bottle to wash throw blankets that don't get super dirty. The look of my clothes were clean but I would not use this again as I am worried my laundry is not as clean as I'd like it to be. I don't want to be out and wonder if it's my clothing that is a bit stinky! I do normally like more natural, dye free/scent free products but for my laundry it's not a fit! [This review was collected as part of a promotion.]
JLALPR
Awesome detergent!!
I LOVE Tide simply free & sensitive liquid detergent! My kids and I are allergic to scented detergents and eve some detergents that claim to be dye and scent free. It is great knowing I can count on tide free and sensitive detergent to be able to wash out clothes without worrying! I will definitely recommend this to everyone! [This review was collected as part of a promotion.]