Tide Simply Clean & Fresh Liquid Laundry Detergent, Daybreak Fresh, 89 Loads 138 fl oz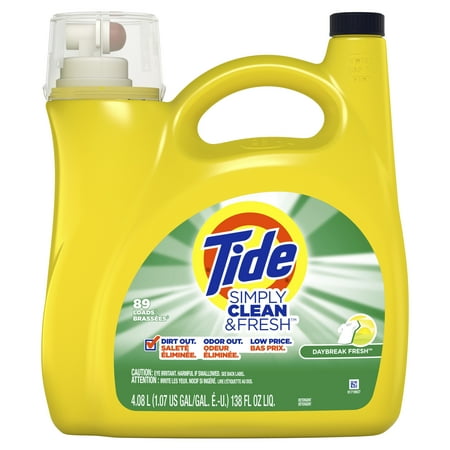 MSRP :

$8.97





Sale :

$8.94

Sold & shipped by Walmart
Product Description

Additional Information

Reviews
Product Description
Experience the right clean at just the right price with Tide Simply Clean and Fresh, Daybreak Fresh. It has 2X the Baking Soda Power (1) to target tough odors deep in the fibers of your clothes. You only need one dose per load and there's no pretreating necessary. 1. Stain removal of 1 dose vs. 2 doses of leading detergent with baking soda in a standard top loading machine
Additional Information
Tide Simply Clean & Fresh Liquid Laundry Detergent, Daybreak Fresh, 89 Loads 138 fl oz:
Tough on odors, easy on your wallet
2x the power of baking soda laundry detergent*
Cleans fabrics in just 1 wash with no pre-treating required
With a more concentrated formula, you get more cleaning agents and less water in every drop. *vs. previous formula
Works in laundry loads for both HE and non-HE washing machines
Reviews
Cleanmama
Works great, doesn't take much!
I have been using this detergent for a couple of weeks in my front load, HE washer. Previously, I was using original Tide liquid. I had been having to rewash some things because the smells weren't coming out-- hubby's gym clothes, for example. With this cheaper version of Tide, not only are the clothes coming out fresh the first time, but when I use the same amount of detergent (line 3 on the cap), that I was using with regular tide, it was creating quite a bit of suds in my machine. I actually grabbed the bottle to check and see if it was HE compatible. So I have been using much less, like line 1 with a full load and still have suds and fresh smelling, clean clothes. A little goes a long way! My only concern is the suds, I thought suds were bad in a front loader, because they can cause damage to the machine by letting water get where it shouldn't be. The label does say HE on the back... Anyone else noticing this?
suebee
Half the price of regular Tide
I've been using this for awhile. It does a great job, and everything smells great. i just bought the 138 oz bottle for 9$ at Walmart, and the original orange Tide ( no downy, no febreeze ) was 18$ for the same size. I decided to look into why this one is so much cheaper. It's so Tide can compete with the cheaper brands and capture "low end" customers who buy the cheaper detergents. Well I may be a low end customer who doesn't have the money to spend 18$ for 138 oz of detergent, but I'm smart enough to figure out I shouldn't buy the original orange again, when Tide itself makes a great alternative at half the price :)
Elk2005
Doesn't clean clothes
At first I thought maybe it was my washing machine but it wasn't. This detergent did not get my clothes clean at all. So very disappointed in this Tide product.
Thales
Bleach and Tide
Should I use any bleach with this product to wash white clothes? I once used a sodium bicarbonate based bleach with Tide and clothes smelled awful. What kind of bleach you recommend?
LunarMomma
Love the Daybreak scent!
I haven't seen many reviews on here for cloth diapers. Where I am from we have hard water and I love this stuff for every kind of laundry not just cloth diapers. My cloth diaper routine though is a wet pail of 1/2 cup of vinegar diluted though for inserts and bio kleen the poopy diaper shells. This is perfect for the main wash though! Or any wash! Just add a bit of baking soda to amp it up if you're not satisfied to save even more cash on ANY type of load. The daybreak scent is addictive. I hope this has helped any curious cloth diapering mommas out there as well! <3