Tide Simply Clean and Fresh, Daybreak Fresh, Liquid Laundry Detergent, 89 Loads, 138 fl oz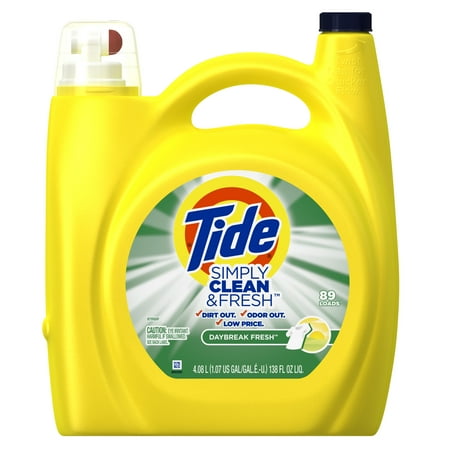 MSRP :

$8.97





Sale :

$8.94

Sold & shipped by Walmart
Product Description

Additional Information

Reviews
Product Description
Experience the right clean at just the right price with Tide Simply Clean and Fresh, Daybreak Fresh. It has 2X the Baking Soda Power (1) to target tough odors deep in the fibers of your clothes. You only need one dose per load and there's no pretreating necessary. 1. Stain removal of 1 dose vs. 2 doses of leading detergent with baking soda in a standard top loading machine
Additional Information
Tide Simply Clean and Fresh, Daybreak Fresh, Liquid Laundry Detergent, 89 Loads, 138 fl oz:
A simple, affordable clean you can depend on
Cleans fabrics in just 1 wash with 2X the baking soda power (stain removal of 1 dose vs. 2 doses of leading detergent with baking soda in a standard top loading machine)
Formulated to clean deep into the fibers of your clothes, helping to remove tough odors
Daybreak Fresh scent with citrus, herbal and floral notes
Compatible with HE and standard washing machines
From the trusted brand that brought you Tide Original and the Tide Plus Collection
Reviews
Sonia G
I would like to buy this product again and again
Great value for the size , excellent product , fresh fragrance [This review was collected as part of a promotion.]
Cleanmama
Works great, doesn't take much!
I have been using this detergent for a couple of weeks in my front load, HE washer. Previously, I was using original Tide liquid. I had been having to rewash some things because the smells weren't coming out-- hubby's gym clothes, for example. With this cheaper version of Tide, not only are the clothes coming out fresh the first time, but when I use the same amount of detergent (line 3 on the cap), that I was using with regular tide, it was creating quite a bit of suds in my machine. I actually grabbed the bottle to check and see if it was HE compatible. So I have been using much less, like line 1 with a full load and still have suds and fresh smelling, clean clothes. A little goes a long way! My only concern is the suds, I thought suds were bad in a front loader, because they can cause damage to the machine by letting water get where it shouldn't be. The label does say HE on the back... Anyone else noticing this?
KATIE1
Refreshing
the smell was refreshing, and it cleaned the clothes. It was great to use tide, it brought out the best in the clothes!
suebee
Half the price of regular Tide
I've been using this for awhile. It does a great job, and everything smells great. i just bought the 138 oz bottle for 9$ at Walmart, and the original orange Tide ( no downy, no febreeze ) was 18$ for the same size. I decided to look into why this one is so much cheaper. It's so Tide can compete with the cheaper brands and capture "low end" customers who buy the cheaper detergents. Well I may be a low end customer who doesn't have the money to spend 18$ for 138 oz of detergent, but I'm smart enough to figure out I shouldn't buy the original orange again, when Tide itself makes a great alternative at half the price :)
LovngSnow
Do you really think it's cheaper? Do the math!
I LOVE LOVE LOVE Simply Clean & Fresh Tide. Love it. Especially the scent. But for all of you saying it's cheaper than regular Tide, at least here on walmart.com you can get Tide2x for a lower price. At $17.98 for 150 ounces, it's $.119 per ounce. The Tide Simply Clean and Fresh 138 oz at $8.97 is $.065 per ounce. But you use half of the Tide 2X per wash--so that ounce goes twice as far. The $.119 really becomes $.059 which makes it even CHEAPER than the Tide Simply Clean and Fresh. And less plastic in the trash/recycle piles, and less trips to the store. BUT THE SMELL!!! I wish the Tide 2X smelled as good as the Simply Clean, that's all I can say.