Downy Infusions Ultra Liquid Fabric Conditioner, Sweet Dreams, 48 Loads, 41 fl oz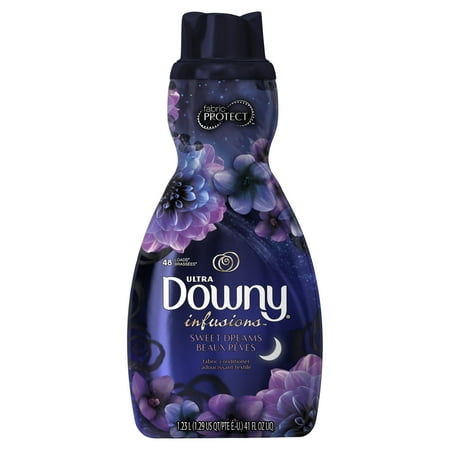 MSRP :

$4.99





Sale :

$3.97

Sold & shipped by Walmart
Product Description

Additional Information

Reviews
Product Description
Enjoy a better night's sleep with Ultra Downy Infusions Sweet Dream Liquid Fabric Softener. It is filled with fragrances that are designed to help you relax and promote a restful sleep. Smell the luscious scent of sweet lavender with gourmand vanilla and a few cedar undertones that are designed to help you unwind after a busy day. Just add some of this Ultra Downy fabric softener to your laundry to experience the wonder of the relaxing smell. The layers of soothing scents are ideal for all of your nighttime fabrics. Use this softener with your pajamas, your robe, sheets and other laundry to enhance your evening routine. Each bottle contains enough to wash up to 48 loads. Just add it to your wash and enjoy the results with soft and sweet-smelling clothing. Use it with the rest of the Sweet Dreams Collection for all of your nighttime laundry.
Additional Information
Downy Infusions Ultra Liquid Fabric Conditioner, Sweet Dreams, 48 Loads, 41 fl oz:
Touch-activated scent leaves long-lasting freshness
Infuses with a dreamily calming scent of vanilla and jasmine
Conditions clothes to help prevent stretching, fading, and fuzz
Keeps clothes looking newer, longer
Compatible with high-efficiency washing machines
Pair with Downy Dryer Sheets for even more static protection and scent
Reviews
Aliciamichellexxo
Your new favorite fabric softener!
I have never really used Downy as a regular fabric softener but this product has completely changed my mind. I live in a big house so we do laundry every single day multiple times a day. The 5 boys (my brothers ) all play sports football, basketball. Soccer the ones where you get the most sweaty so we usually use about two caps of whatever fabric softener to get that stinky smell out! We only had to use one cap! One cap!!! That's major!!! The smell of this Downy has to be my favorite out of all the ones they have ever made! And I will say probably the only one that the scent lingers for days I'm not sure about weeks but days is good enough for me!! I didnt have to dry twice to get a softer feel or add a dryer sheet so all around your saving! Saving money and time using this product!! The biggest thing I will say if if you dont like a floral vanilla scent then this isnt for you because the scent is strong not super subtle but that's why it's one of my favorites!! [This review was collected as part of a promotion.]
Aliciamichellexxo
Helping nurses smell fresh and clean.
One of the downfalls of being a nurse is that we work with a lot of things that the general public think are gross. Another downfall is finding a way to clean our scrubs so that we can be assured that they are clean. With my normal laundry routine my clothes come out clean but never have a clean smell until Downey. One of the things that I loved about this fabric softener is how good my scrubs smell and that they smell like that for a long time. I wash all my scrubs at the same time and even after a week of being washed in the Downey they smell like they had just been freshly washed. my scrubs are soft.....my tired skin thanks you for that. I am always getting compliments on the way that my clothes smell and even had to take a picture of the bottle cause so many of my friend and coworkers were asking me what i used to get my scrubs to smell that way. Huge thanks Downy. [This review was collected as part of a promotion.]
Cjw504
A scent that withstands time
I haven't used fabric softener in a couple years. No real reason, just haven't felt the need to. Tried downy infusions, sweet dreams for my last ten clothes washings. The scent of vanilla and jasmine is wonderful once you pull your clothes out of the dryer. The scent also lasts pretty long. Washed a dress with it about 3 weeks ago, just went to stiff it, and guess what, still smells delicious. The scent is a little weaker but definitely still there. Fabric softener is of course meant to softener your clothes and prevent them from stretching and fading. I only used it over a couple week span so honestly it's hard to tell if it did any of those things. I feel like I would have to use it over a couple months span and wash the same pieces of clothes over and over to see a difference. But overall I really like the scent and I would buy another bottle. [This review was collected as part of a promotion.]
gadgetfriek
The best scent yet.
I usually don't like anything lavender, but the first time I took a whiff of this stuff I was hooked. It's a sweet lavender scent, but not too feminine or flowery. I think this is one a whole family could agree on. I bought the entire collection for bedding and towels.
deniset524
Love this product!
I have not used a liquid fabric softener in a long time, but was looking forward to trying the Downey product because it was called a Fabric Conditioner. The first thing that I noticed was the smell - it was a soft, lovely scent. Nothing that would cause a man to pass on it, but just enough to make your senses smile. I put a load of laundry in my front loading machine, added the Downey in the softener area, and started the wash. Once the clothes were washed, dried and folded, my husband came in and we decided to go out to dinner. I had not told my husband about the new Downey product and decided to wait and see if he noticed anything. (I had noticed when I moved the clothes from the washer to the dryer that they were much softer but did not feel like they had extra product in them or anything). My husband put on his shirt, and I could tell right away that he sensed that something was different. He was running his hands on the shirt, along the collar, and finally stood in front of the mirror. He then asked if I had bought him a new shirt. I then told him about the Downy Infusions Sweet Dreams Fabric Conditioner. My husband and I are both hooked on this product and will never use dryer sheets again. [This review was collected as part of a promotion.]