Pampers Swaddlers Newborn Diapers Size 0 128 count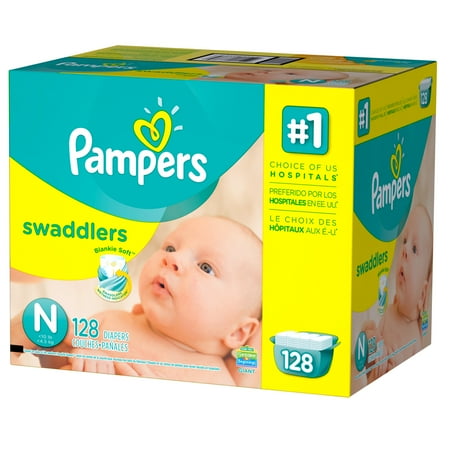 Sale :

$39.01

Sold & shipped by Walmart
Product Description

Additional Information

Reviews
Product Description
Wrap your baby in Pampers Swaddlers diapers, our most trusted comfort and protection and the #1 Choice of US Hospitals.* Our Blankie Soft diaper with a unique Absorb Away Liner pulls wetness and mess away from baby's skin to help keep your baby comfortable. It also has a color-changing wetness indicator that tells you when your baby might need a change. Finally, we make sure your baby's delicate belly is protected with the contoured umbilical notch.** *Based on sales of the newborn hospital diaper. **Available in sizes NB-2.
Additional Information
Pampers Swaddlers Newborn Diapers Size 0 128 count:
Pampers Blankie Soft comfort and protection
Pampers Swaddlers diapers are the #1 Choice of US Hospitals (based on sales of the newborn hospital diaper)
Swaddlers wetness indicator tells you when your baby might need a change
Our unique Absorb Away Liner pulls wetness and mess away from your baby's skin
Extra Absorb Channels to help distribute wetness evenly for up to 12 hours of protection
Contoured umbilical cord notch for a comfortable fit around newborn's delicate belly (available in sizes NB-2)
Reviews
Shelly
Great
The best. I used them for all my kids. Now baby #4 too
Lacey
I swear by Pampers Swaddlers
As a parents of twins and as a healthcare worker that works in a Pediatric Clinic, I have to suggest that Pampers Swaddlers are the perfect diaper for little ones! When I initially brought my twins home, I was given many different brands of diapers from diaper showers and gifts from friends. They seemed to work ok but often my babies were uncomfortable, the fit wasn't correct for their size or the diapers just didn't absorb. I started to solely use Pampers Swaddlers and I found SUCH a difference in the overall times that I changed the twins due to the absorbancy and how they fit more snug and seemed more comfortable. They also did not cause any breakouts or diaper rash so that was a super win! Working in Pediatrics, we tend to suggest this brand to many new parents who ask our opinion to the best diaper they can purchase for their children. As a parent and Medical Assistant, I personally can attest that these diapers were hands down the best for my children and are a great buy!
pbanuelos2
Best diaper out there!
This is my favorite diaper ever! Not only do I love the smell of baby but I love the wetness indicator, it makes things so much easier. I never have blow outs these fit so perfect around my baby and let me say that i'm guilty of leaving my baby with his diaper at night for long and it never leaks! It is so absorbent.
pbanuelos2
Our favorite diapers
These are what the hospital started us on and we love them. At our baby shower we were given many other brands, but we love these the best. They seem to absorb the best. They are not the best for dryness, but overall they far exceed the others, so we stick with these.
pbanuelos2
Softness you can count on
As a mom of 3 I have seen every explosion, blow out, wet leaky diaper that a mom can, but I have beat the odds by buying Pampers for my babies and it keeps everything locked in until I unleash it.