Tide Powder Laundry Detergent, Original, 102 Loads, 143 Oz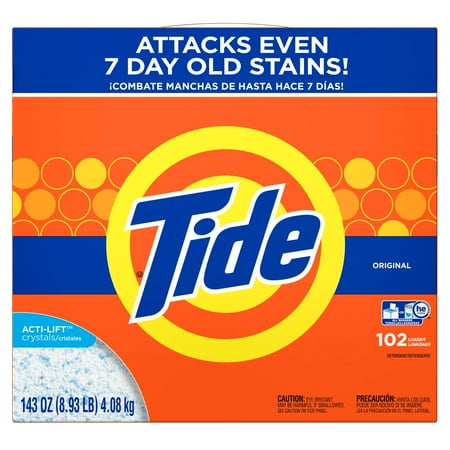 Sale :

$18.96

Sold & shipped by Walmart
Product Description

Additional Information

Reviews
Product Description
HE stands for High Efficiency, the next generation of washers that save water and energy. There are two types of HE washers, front and top loading. Tide HE is formulated to work in both. Since HE washers work differently, they require a specially designed detergent like Tide HE.
Additional Information
Tide Powder Laundry Detergent, Original, 102 Loads 143 oz:
1 scoop of Tide = 6 scoops of detergent with Oxi
Attacks Even 7 Day-Old Stains
Acti-Lift Crystals
Specially designed for regular and high efficiency machines
Measure with scoop. For medium loads, fill to bar 1. For large loads, fill to bar 3. For he full loads, fill to bar 5. Start washer, add detergent, then add clothes.
Reviews
auntdeb5
Best Cleaning detergent I've ever used
I bought a new He machine a couple years ago and Tide He was the recommended detergent. I'm glad I bought it. The product gets my clothes "Clean" even in cold water. It doesn't leave a funky smell like some liquids do. There are only two in our household, with occasional visitors. My machine is a 4.7 and the 143oz box will last me for 4-5 months. I use the recommended amounts for different size loads. Sometimes I do pre-treat stains that I believe are too tough (like mechanic grease, or blood). I do use bleach as well in towels or items that you normally would add bleach to for sanitizing, however...bleach is not necessary to keep the whites white...Tide does an excellent job. Considering it last me 5 months...I'd say it is real value for the price. I've also used this product to clean my permanent Air filter in my furnace. WE are tobacco users, and tide cuts the film. I can't say enough good about this product.
Mondak
Tide does the job
Tide's always been the best product. If there's anything better and cheaper, let me know.
Auja
Tide does the job
I like this better than liquid detergent because it gets my clothes so clean and they still smell clean without putting dryer sheets in the dryer. The only con about using powder detergent is that if you use too much than what is needed it stays on your clothes and you have to rewash them to get all the powder residue off. (A little really does go a long way)
Dad3
The only brand my family uses
Tide is the only laundry soap my family uses and the extra large container is enough to last my family at least a month of laundering.
honda61
LOVE TIDE
I always use Tide; it gets my grandchildren's clothes clean!!!