Pampers Baby Wipes, Sensitive, 9X Refill (Tub Not Included), 576 Count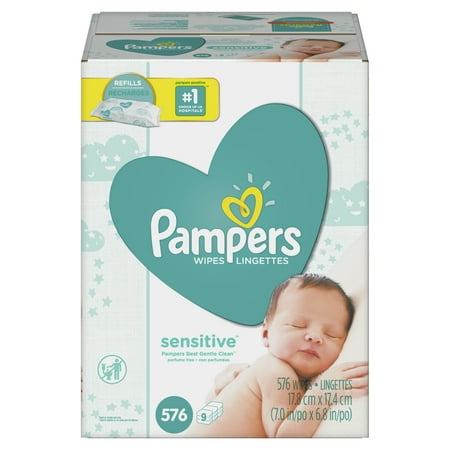 MSRP :

$25.44





Sale :

$14.59

Sold & shipped by Walmart
Product Description

Additional Information

Reviews
Product Description
Changing your baby will be one of the most easiest moments of the day with Pampers Sensitive Baby Wipes Refill Packs. With its unique softgrip texture, your baby will enjoy less wiping for more gentle cleaning. These wipes are clinically proven to be mild, dermatologist tested, hypoallergenic and perfume free. This item helps make changing time even better. Pampers Sensitive baby wipes refill, 64 sheets, 9 count, help restore baby's natural skin balance while gently cleaning at the same time. They can also be used on the face and hands. Use Pampers wipes refills every day.
Additional Information
Pampers Baby Wipes Sensitive 9X Pop-Top Packs 504 Count:
#1 Choice of U.S. Hospitals* (*based on hospital sales data)
pH balancing formula helps protect sensitive skin
Free of alcohol, perfume, parabens, phenoxyethanol, and dyes
20% thicker for a soft and comfortable clean** (**vs. Pampers Complete Clean)
Dermatologist-tested and hypoallergenic
Reviews
Princess22
Love these wipes !
When my son was at the hospital when he was born the hospital used these wipes on him and I love them I only use sensitive wipes on him I don't know if he has sensitive skin because I don't but his father dose so just in case I always use the sensitive wipes on him I always thought about using the sented wipes just to try them out but there is always that (what if ) don't want to get the sented ones and here his skin might be sensitive to it and causes a rash or something to me it wouldn't be worth it just to have a sented wipe. I always buy wipes in the biggest box that I can find cause it's cheaper that way and don't have to worry about running out of wipes anytime soon 1 box of these wipes last me like 5 months that's because I only use them on his booty sometimes I use them to wipe other things bit I mainly just use them for his booty that's why they last so long . Another thing I love about these wipes is the pop top wipes are so cute I love they're designs on them the cute little animals I love that it's just a bonus tho I wish that they made the wipes refill container with the same cute designs as they do the pop tops cause the refill container we keep and reuse but the pop tops we run out and throw them away after and I hate having to throw the cute packaging away (sounds wierd) . But one thing to menchin check the box because the refill boxes and the pop top boxes comes in a similar box so u have to look at the box to see that your getting the right thing . I gotten the refill container one time and then got a box thinking it was the refill when it was the pop tops but it was all good cause they will still get used just know next time to look . Also if anyone is looking for a cheaper generic that resembles these wipes I tried the target up and up sensitive wipes and they were just the same as these I love these wipes I will continue using these until my son don't need them no more .
Affordable
The only wipes we use!!!!
Our baby has very sensitive skin. We tried Huggies One
Queenmom52
Good for allergic babies
My grandson is allergic to certain materials and detergents. He is also has sensitive skin. These wipes are the only wipes that don't break him out and are soft to his skin! Love them
Rina
Dont Resist
You cant go wrong with these. I would never use a different brand other than pampers. My babies bottom is unbothered by these wipes keeping it healthy and clean.
jennifermichelle
Dont Resist
I like these wipes much better than huggies. Smooth wipe