Swiffer WetJet Heavy Duty Mopping Pad Refill, 20 Count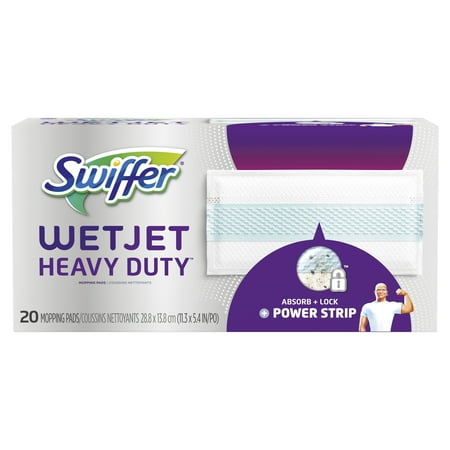 MSRP :

$11.99





Sale :

$11.97

Sold & shipped by Walmart
Product Description

Additional Information

Reviews
Product Description
Swiffer WetJet super-absorbent Pads trap and lock away dirt in its core, cleaning and absorbing messes. When you're done, just remove the pad and throw it, and all that dirt, away forever.* *Do not use Swiffer WetJet on unfinished, oiled or waxed wooden boards, non-sealed tiles or carpeted floors as they may be water sensitive.
Additional Information
Swiffer WetJet Heavy Duty Mopping Pad Refill, 20 Count
Swiffer WetJet Heavy Duty mopping pad's SCRUBBING STRIP Tackles Tough Dirt & Grime
With the scrubbing power of Magic Eraser
For best end results on your floor, use with Swiffer WetJet solutions. There's a perfect solution for any cleaning need
Safe on all finished floors**do not use on unfinished, oiled or waxed wooden boards, non-sealed tiles or carpeted floors because they may be water sensitive.
When you're done, just throw that pad, and all its dirt, away
Tough spot scrubbing strip removes even greasy dirt and dried-on messes
Traps and locks dirt so it doesn't get pushed around
Available in various counts
Reviews
stefrz
Love the smell but wish there were more natural options!
The power refill is the bottle of solution (floor cleaner) that attaches to the Swiffer rod so that you can press the spray button to release the solution to spray onto the floor where you are cleaning. I love the concept but for the last 10 years of owning my Swiffer, I wish that a more natural solution would be offered! Why the need for an over-powering floral scent? I wish there were essential oil options such as sweet orange, eucalyptus, lemongrass or rosemary (as examples). My go-to floor cleaner is a spray bottle half filled with water and the other filled with white vinegar. It does the job! So needless to say, once my free bottle runs out that I received from BzzAgent, I will not be replacing the power refill bottle. I just use my own spray bottle and carry it around as I clean my floor and spray where needed. Come on Swiffer - I know I am not the only one wanting more natural options! Especially those of us with small children whose little hands are always on our floors! [This review was collected as part of a promotion.]
TKofSC
swiffer wetjet/mrclean
Use original wet-jet pads! To me these MrClean strips get in the way of actual surface contact with floor. The strip doesn't clean any better that I could see. The original pads have more of the pad touching and picks up way more dust. Some how the little extra strip across the pad on the MrClean one doesn't really attract dust and is suppose to act as the scrubber but really just gives you least cotton pad touching surface to clean with. For price and function I'm sticking with original pads which has more fiber surface to pick up dust.
lauralt528
Swiffer Wet Jet Review
I think that this is an amazing product. It's so easy to use and really cleans the floor. I find myself using this on more regular basis than I do my regular mop. I still use the regular mop occasionally to "deep clean" the floor, but the stiffer is great for maintenance. Setting it up was relatively easy, the only part that was a little annoying was putting the soap in. It just took a little wiggling, but I got it. The swiffer runs on batteries, but so far hasn't slowed down yet, so I assume it doesn't devour batteries. The pads are disposable, which is good because you throw the yuck away and always start with a fresh, clean pad. Sometimes I do wish they were washable because I think I'm going to buy lots of refills! I strongly recommend this. It glides across the floor, and is really light, but doesn't feel cheap. I love knowing I can use the same mop in my kitchen and my bathroom - because the pads are disposable. Highly recommend it!! [This review was collected as part of a promotion.]
LindseyBerland
Got my swiffer wet jet!
I ripped open that BzzAgent box so fast! I was so excited to try it since 75% of my floors are travertine tiles! My husband put it right together, which was so easy, simple and fast, and I got right to work. I swept up my kitchen and dining room floor and whipped out the Wet Jet with the extra power pads. Getting started was a bit tough as I wasn't using enough of the 'wet'. Once I got a hang of how much I needed it use, it cleaned up my hot mess dining room floor! And that was quite a job for the wet jet to stand up to my 4 little kids mess! It took it all right up, with only having to go over a few stubborn spots more than a few times. The pad was absolutely disgusting once I was done with the kitchen and dining room. I have been a regular 'mopper' and didn't realize that there was an easier more time saving way to get the floors done. I'm so excited to keep using this!!! Big score for a busy mom of 4, always looking to save time with housework!!!! [This review was collected as part of a promotion.]
DDG
Awesome product
I don't know why I waited so long to buy Swiffer products, they all work well and are disposable!