Always Ultra Thin, Size 1, Regular Pads, Unscented 22 Count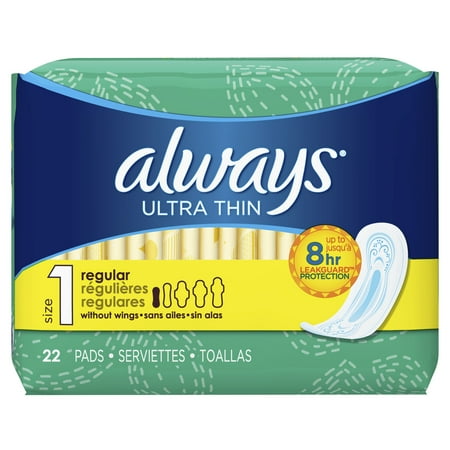 MSRP :

$6.36





Sale :

$6.41

Sold & shipped by Pharmapacks
Product Description

Additional Information

Reviews
Product Description
Always Ultra Thin Regular Pads without Wings offer up to 8 hours of Leakguard Protection and move with you for great protection against leaks. The LeakGuard Core pulls fluid deep into the core and away from the edges for clean, dry protection.
Additional Information
Always Ultra Thin, Size 1, Regular Pads, Unscented 44 Count:
Are you sure you're getting the right fit? The wrong fit can lead to leaks. Step up in size to help stop leaks
Now Always MY FIT helps you get the best protection by tailoring your pad to fit your flow AND panty size. Use the sizing chart in the images to find your fit
LeakGuard Core absorbs in seconds for up to 8 hours of protection
Always Ultra Thin, Size 1, Regular Pads have a flexible design to protect comfortably and move with you
Soft cover absorbs quickly and gives you a long-lasting clean-and-dry feeling
Stock up on feminine pads now and save time later
Reviews
Joanne
Works okay, but very uncomfortable
I use these as pantyliners on my heavy days, in case of leaks, so I wanted something thin. They work okay for that (IF I get the pad in the exact perfect spot on my underwear...otherwise, as others have said, I end up with dirty underwear but 3/4 of the pad perfectly clean). I agree with the reviewer who said they feel and sound like I'm wearing a diaper. I can hear it crinkling between my legs as I walk. At home, nobody cares, but in public it can be embarrassing. I also have gotten hair stuck in the glue because the top of the pad does stay stuck to my underwear (and yes, it hurts like mad when you have to rip it off). The biggest thing I don't like about these, though, is how hot these are to wear. I don't know what these are made out of, but they don't breathe at all, and they make my crotch sweat. 4 hours in one and I have to change it, whether it needs to be or not, simply because it's just so uncomfortable.
Ali78
Unbelievable comfort and protection!
These are the best pads I have found out there! If you are a slender size and can't stand the bulk of other pads and find that wings tend to cause bunching, give these a try. They are super absorbent and flexible, and I love that they are unscented. I honestly barely know I am wearing them!
TgHeatherLynn
Great Pads
Love these pads because they don't have wings they stay in place and don't bunch up and they are very comfortable.I highly recommend these pads.
Joakes55
Absorbency is great, packaging isn't so great.
Why is the packaging around the pad so hard to open lately? I used to be able to just open it quickly, set it aside to reuse it to throw away my used pad. Now, I have to open it slowly so I don't rip the pad. Also, the wings don't stay around my underwear. They don't stick at all. And the front bunches. The only good thing about Always Pads is the absorbency. I like how fast they absorb the wetness so I don't feel anything.
CBossier
Always, we are breaking up!
So I enjoy (ha!) moderate periods. I have used Always for about 23 years. Went with the ultra thin with wings because who wants a phonebook between their legs? Anyways, I am on a plane returning from overseas having just changed my pad 4 hours ago if that. We stop somewhere along the way and I go to take care of business only to find I have bled through my jeans. The third front and back of this pad are dry as a bone. Fast forward a month, infinity pad at work... same deal. Month after that, the radiant pads, TWICE in a row. Switch to a competitor brand, no problems for like 5 months. Anyways, I run out of that brand and figure my period is light enough today for an Always pad. Guess who is washing blood out of their pants again today with half a pad pristine... Tossing the rest of these sorry excuses for pads! I had originally wanted to address the slow absorbency with the company but as I could not find a contact us link I'm airing my complaints here.