Oral-B Glide Pro-Health Original Dental Floss, 50 M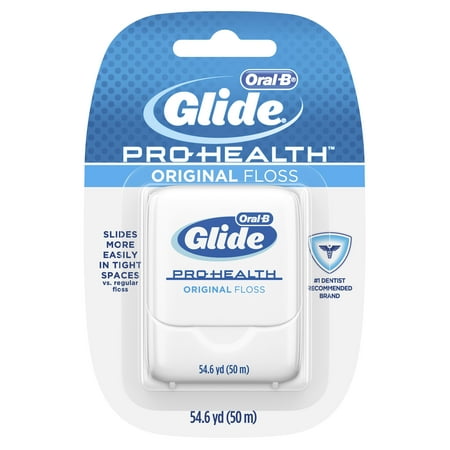 Sale :

$4.08

Sold & shipped by Pharmapacks
Product Description

Additional Information

Reviews
Product Description
Oral-B Glide Pro-Health Mint Floss helps remove plaque between teeth and just below the gum line. The silky-smooth, shred-resistant texture slides more easily in tight spaces vs. regular floss. Satisfaction Guaranteed, or your money back. For guarantee, call 1-877-769-8791 within 60 days of purchase with UPC and receipt.
Additional Information
Oral-B Glide Pro-Health Original Dental Floss, 50 M, Pack of 2:
Effectively removes tough plaque in hard-to-reach areas and just below the gum line
Smooth texture slides more easily in tight spaces vs. regular floss
Gently stimluates gums and helps prevent gingivitis as part of a complete dental plan
Unflavored
#1 Dentist Recommended Brand
Reviews
FlossMasterFlex
Noticing a DECLINE in QUALITY for this product
Let me add my voice to the chorus of people complaining about the recent DECLINE IN QUALITY for this product. Either my teeth suddenly - after 50 years - just got a whole lot SHARPER, or somebody has changed the formula for GLIDE Pro-Health Dental Floss. NEVER have I had it break so often, with such frequency. Flossing has become something I avoid now; believe it or not, I used to enjoy it. To the person working for P&G whose job it is to respond to these comments: sweetie, we know it's not your fault. We know you're going to say something that will completely discount what I just wrote, but at what point does somebody in management ask, "What the HECK is happening with GLIDE? Why are all these people saying it's gotten weaker?" I guess it's just a bad batch. That we ALL got. I guess it was not a conscious decision to skimp on quality in the hopes of increasing profit margin. Hmmmmmmm. Congratulations, you have sent me RUNNING into the arms of Johnson & Johnson. Adios Glide, Hello Reach!
LLLDNYC
POOR PACKAGE CLOSING DESIGN
I ❤️ Oral-B Glide Pro-Health Comfort Plus Floss -- it's the best product out of all I've tried, and I've tried many. However, it has the worse packaging of them all because the case doesn't stay closed. I travel lot and find it very annoying that I need to put the floss in a plastic bag to avoid contamination or catching in other items. Please improve the package closing mechanism!
PCMH
Glide Floss
I was disappointed that the product I received was not the same as the product pictured. The picture shows one cylindrical container of about 109 yards of floss. I received bubble packs of two small square containers of about 55 yards each. Same total amount of product, but not packaged like I wanted and thought I had bought.
Everynameisusedup
Not quite what I expected
Picture and product are different in 2 big ways. The product as pictured says Crest Glide and comes in one round cylinder of 100 m floss. The product that arrived says Oral-B Glide and comes in 2 rectangular packs of 50 m each. Probably same item just reflecting a change of ownership and packaging. I can buy the 50 m packs anywhere; I wanted the 100m cylinder. not very satisfiued.
Danny88
Just like any other floss now!
I actually had one older glide floss in a grey case and the newer floss in a blue case and there is a noticeable difference. The new version is much thinner and breaks easily and does not clean between my teeth well. I have to use Dentek picks to help get food out. I also use a water pick to help clean my teeth. This floss does not even work for me anymore. Very disappointed. Please bring back the old product!