Mr. Clean Magic Eraser Original, Cleaning Pads with Durafoam, 8 count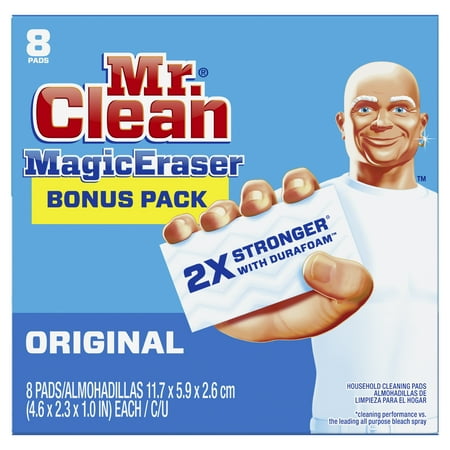 Sale :

$10.6

Sold & shipped by Walmart
Product Description

Additional Information

Reviews
Product Description
Mr. Clean Magic Eraser Original erases marks on walls, floors and more. To discover the cleaning possibilities, simply take a swipe. Micro-scrubbers reach into the surface grooves, lifting away built up dirt and grime. The Mr. Clean Magic Eraser Original is so powerful that each swipe removes more grime than the leading all-purpose bleach spray cleaner. Works with water alone!
Additional Information
Mr. Clean Magic Eraser Original, Cleaning Pads with Durafoam, 8 count:
Mr. Clean Magic Eraser Original scrubber is 2X Stronger* with DURAFOAM *Cleaning performance vs. the leading all-purpose bleach spray
This cleaning scrubber is tough on dirt, all around the house! Surface cleaner, wall cleaner, bathtub cleaner, oven door cleaner, erases marks on light switches, doors & much more!
The Mr. Clean Magic Eraser provides a powerful clean with water alone.
No Harsh chemicals added.
Magic Erasers are also available in Extra Durable, Kitchen, and Original forms
Reviews
dydymt
Not durable, falls apart
Not as durable as I expected for the price. I think a scotch-brite with some cleaner work better
Qpongrl
Black marks BEGONE
This product is AWESOME for the fact that I have NEVER found anything that can clean up a BLACK MARKER except for Mr. Clean Magic Eraser. I had brand new white desks and counters at work and was frantic when I accidentally marked on my desk. Customers made pen marks on the sign in counter. I went searching for something that could remove the marks and came across these erasers. I bought a pack even though my mind said, "Never work". I almost fainted when the first black mark easily came off and with no scrubbing at that. The 'not so often' is because I purchased some washable crayons for the bathtub for my grand daughter. I wrote Granny loves ......... with a pretty little sun and flowers. My grand daughter is now 8 and says it's sweet but she is a big girl now. My grandson wonders why I didn't put his name up there too... I have scrubbed and scrubbed and NOTHING takes this off my tub; not even Mr. Clean Magic Eraser.
Beckie
Magic is Right!
It's amazing what these can do! They make cleaning a lot more effective. They are the best when it comes to messes, you know that gross layer of whatever that was. Also, that layer of soap scum in the bathtub, it will wipe right out with Mr Clean magic erasers. Truly a great product. I refuse to clean without them.
Mountain Kitchen Witch800158514
All-purpose great cleaning tool
I discovered that this product will clean almost any water-proof surface, including paint and formica, ceramic and stone. Try it with a little baking soda and water and stains come off any hard surface!
craftyrita811286982
Mr Clean Magic Erasure
Works good in tubs and sinks. Also plastic storage containers and molding.