Crest Pro-Health Multi-Protection Alcohol Free Mouthwash, Clean Mint, 33.8 fl oz (1 L)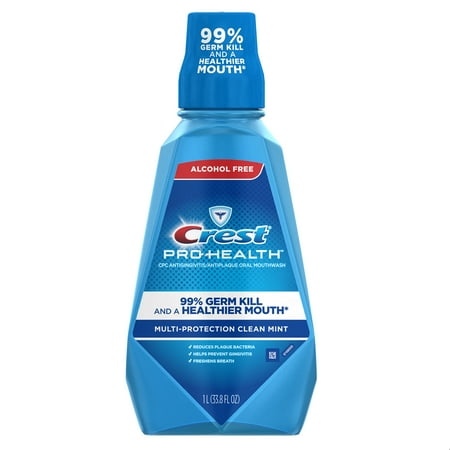 MSRP :

$10.83





Sale :

$4.97

Sold & shipped by Walmart
Product Description

Additional Information

Reviews
Product Description
You can make a difference in your oral health starting today. Advance to a Healthier Mouth from Day 1* with Crest Pro-Health Multi-Protection Mouthwash which starts fighting plaque from day 1. It's possible to kill germs deep in your mouth without the burn of alcohol. Crest Pro-Health Multi-Protection Clean Mint Mouthwash Kills 99% of Germs without the harsh burn of alcohol. It provides 24 hour protection against plaque and gingivitis when used twice per day. *with continued use vs. brushing alone with ordinary toothpaste.
Additional Information
Crest Pro-Health Multi-Protection Alcohol Free Mouthwash, Clean Mint, 33.8 fl oz (1 L):99% Germ kill and a healthier mouth Gingivitis reduction vs. brushing with regular toothpasteKills millions of germs that cause plaque, gingivitis and bad breath without the burn of alcohol24 hour protection with 2x daily use** ** Fights plaque & gingivitisRinsing everyday helps prevent gingivitisHelps you get better dental check-ups** **Fights plaque & gingivitisNo alcohol burn
Reviews
empressjad
Fresh breath, minty flavor, and super easy!
Wow...I LOVE this stuff! I've tried lots of different mouthwashes (who hasn't?), and haven't really been happy with any of them. Some are too medicinal tasting, and BURN! Some are nice and minty, but have a bad aftertaste. Others don't seem to last very long at all. This is really different! It has a fresh mint taste, not candy-like, doesn't burn my mouth, but still gives that feeling like it's working. My friends and I have an agreement that if any of us have "less than fresh" breath, we'll that person know...that's how I know that some mouthwashes I've tried don't have a lasting effect! I even like the color...I poured it into a small glass carafe and keep it on a bathroom shelf, where it's convenient and easy to grab and use...(and it looks pretty!) The fact that it's from Crest is great. I've used Crest toothpaste for years, and really trust that brand!! I have hopes that it will make a difference in my dental checkups. I have one scheduled on the 2nd of December, so we'll see!
shopgirl3544
Great product
I like this mouth wash. It makes my breath fresh. It makes my mouth feel clean. I was looking for non alcohol. It does not burn. Very smooth taste.
frenchy3792
Week 1 of trying Pro-Health mouthwash: No change
It has officially been 1 week since I began using the Crest Pro-Health mouthwash. I don't really like the fact that it's supposed to be a twice a day mouthwash because I usually only use mouthwash at night, but I have been using this mouthwash twice a day along with brushing and flossing my teeth. Honestly, so far, I haven't noticed any difference at all. My teeth still look the same and my mouth still feels the same. "Clean Mint flavor?" That's an exaggeration. I hate the taste. Absolutely hate it. It kind of reminds me of black liquorice some times which is pretty unpleasant. I'd rather have a mouthwash with a minty aftertaste because not only does it taste better but I correlate the minty freshness with healthy teeth. I appreciate the attempt at alcohol-free but I would much rather have the alcohol if that meant I could have that fresh breath feel. So far, I am not impressed. Though this mouthwash isn't my first choice, I'll keep using this mouthwash for as long as it'll last.
Frustrated
Cool mouthwash
No alcohol means no burning inside your mouth and it leaves your breath minty fresh.
Snowshredder2424
A great concept; a poor execution.
Since receiving the Crest rinse, I have not noticed a significant change in my teeth color or tartar build-up, although I have been using Listerine for around 5 years now and can say the same about their products as well. Though I didn't notice any physical differences, I will admit that my mouth felt extremely clean after use and that it was nice not to have to fight through the burn of alcohol (this mouthwash was alcohol-free). If normal mouthwash makes your eyes water, fear not; Crest Pro-Health is here! Unfortunately, I noticed one major aspect that I didn't like about the product - It left a string-like residue in my sink! When I spit it out, (whether the water was running or not) the product clumped together in bright blue strings and firmly stuck to my sink. These little fiber-looking-things didn't come off when I blasted them with water - no. They had to be scrubbed off. This is a huge deal to me because i don't know anyone who has the time every morning and evening to clean their sink. [This review was collected as part of a promotion.]