Swiffer Dusters Heavy Duty Extendable Handle Starter Kit (1 Handle, 3 Dusters)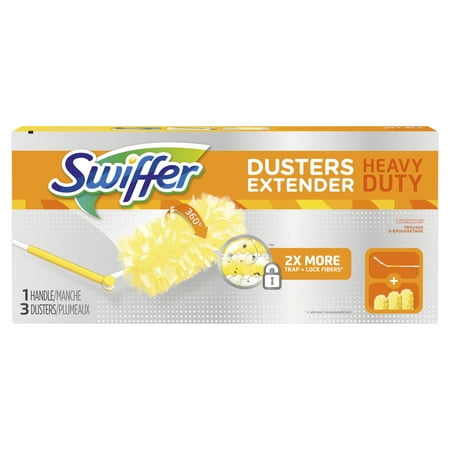 MSRP :

$18.43





Sale :

$7.99

Sold & shipped by Walmart
Product Description

Additional Information

Reviews
Product Description
Swiffer Heavy Duty Dusters TRAP + LOCK up to 3x more* dust & allergens.** 360 degrees of specially coated fibers grab onto dust & don't let go. They are uniquely designed to Trap + Lock dust from every direction. *vs. feather duster, **common inanimate allergens from cat and dog dander & dust mite matter
Additional Information
Swiffer Dusters Heavy Duty Extendable Handle Starter Kit (1 Handle, 3 Dusters):Swiffer Pet Heavy Duty Dusters TRAP + LOCK up to 3x more* dust & allergens.** *vs. feather duster, **common inanimate allergens from cat and dog dander & dust mite matterSpecially coated fibers grab onto dust & don't let goUniquely designed to Trap + Lock dust from every direction.Use with Swiffer Dusters short handle, Swiffer Dusters extendable handle, and Swiffer Super Extender HandleGreat for dusting electronics, furniture, knick-knacks in your home or office, blinds, ceiling fans, and even your car interior
Reviews
Seniorstyle
One of My Most Valued Cleaning Tools
I had a cleaning service for the past ten years and when this expandable Swiffer came on the market it became one of my most valued cleaning tools. It does everything thing that the commercials tell you it will do. It's great for dusting pictures, the top of fan blades, the top of refrigerators, cornices, crown molding, bottoms of furniture bases, baseboards, and I could go on and on about how I use it. It saves on pulling out a ladder and also bending down. You can also safely dust a television screen and pedestal without worrying about scratching them. I was disappointed that our local WalMart store didn't carry the expandable one. If you decide to try this product make sure that you buy the expandable Swiffer. It's very well wortg the couple extra dollars. Refills are easy to locate anywhere and depending on the length of time between dustings you really don't have to change them that frequently. I would highly recommend this product.
Karen
Total Necessity!
Assembly is as easy as 1, 2, 3. 1. Snap each part into placa 2. Shake Duster to fluff 3. Attach duster through holes I like that the end part that holds the duster is adjustable. This way I was able to clean the blades both top and bottom on the ceiling fan. The duster rolls the dust and yes some of the dust does roll onto the floor, however it is all balled up so I really don't mind a little after sweep. The fact that the dust clings together and most of it stays on the duster top is amazing. This truly is a good product because it eliminates inhaling dust when cleaning. It's easy to use, doesn't cost much and no more washing out dusting rags! Great product. I received this product on time and it was delivered right to my door.
GIZ2008
HANDICAPPERS DREAM
THIS THING IS PERFECT FOR ANYONE, BUT ESPECIALLY SOMEONE WITH A HANDICAP. I'M IN A WHEELCHAIR AND CAN DUST 80 PERCENT OF MY HOUSE WITHOUT HELP. REFILLS ARE TOO EXPENSIVE BUT NOT OUTRAGIOUS.
Patc2008
Great product
I like this duster to reach high places. It makes dusting a lot easier and quicker. I would definately recommend this Swiffer Duster.
kjboborjm
Swifer Dusters Extender Starter kit
Love it, I not only can dust my fan blades, but can reach cob webs. It extends out,but folds up for storage. It stays at the angle you want it to be