Swiffer 360 Dusters Extender Dusting Kit (1 Handle, 3 Dusters)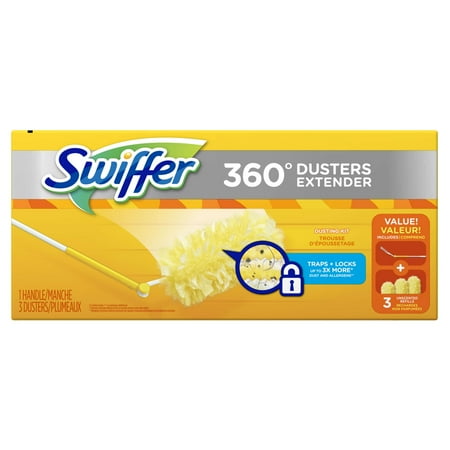 MSRP :

$18.43





Sale :

$7.97

Sold & shipped by Walmart
Product Description

Additional Information

Reviews
Product Description
Easily clean ceiling fans, wood furniture, cabinet corners, baseboards, crown molding and much more with the Swiffer 360 Dusters Extender Starter Kit. Its included handle pivots, extends and locks into four different positions. This Swiffer 360 starter kit also comes with three unscented dusters that have an all-around design with more fibers than the original model. You can use it to clean virtually any dry surface. This kit also traps and locks up to three times more dust and allergens.

Additional Information
Swiffer 360 Dusters Extender Dusting Kit (1 Handle, 3 Dusters):
Specially coated fibers grab onto dust & don't let go
Uniquely designed to Trap + Lock dust from every direction.
Use with Swiffer Dusters short handle or Swiffer Dusters extendable handle
Great for dusting electronics, furniture, knick-knacks in your home or office, blinds, ceiling fans, and even your car interior
Great for dusting electronics, furniture, knick-knacks in your home or office, blinds, ceiling fans, and even your car interior
Reviews
Lenny
Swiffer Love
Hi, I live in an industrial-style loft (18 ft. ceilings) with my two cats. I have sheer panels that I use on my 12 ft. high windows as window treatments. Unfortunately, the cats are frequently sitting in the windows watching the world go by and depositing their sheddings. The ONLY way that I could possibly reach most of these panels is with the Swiffer Duster Extender (plus a ladder!). It's truly a life saver and I feel better knowing it is easy-to-use, safe and non-threatening to the cats. THANK YOU SWIFFER! [This review was collected as part of a promotion.]
Seniorstyle
One of My Most Valued Cleaning Tools
I had a cleaning service for the past ten years and when this expandable Swiffer came on the market it became one of my most valued cleaning tools. It does everything thing that the commercials tell you it will do. It's great for dusting pictures, the top of fan blades, the top of refrigerators, cornices, crown molding, bottoms of furniture bases, baseboards, and I could go on and on about how I use it. It saves on pulling out a ladder and also bending down. You can also safely dust a television screen and pedestal without worrying about scratching them. I was disappointed that our local WalMart store didn't carry the expandable one. If you decide to try this product make sure that you buy the expandable Swiffer. It's very well wortg the couple extra dollars. Refills are easy to locate anywhere and depending on the length of time between dustings you really don't have to change them that frequently. I would highly recommend this product.
Karen
Total Necessity!
Assembly is as easy as 1, 2, 3. 1. Snap each part into placa 2. Shake Duster to fluff 3. Attach duster through holes I like that the end part that holds the duster is adjustable. This way I was able to clean the blades both top and bottom on the ceiling fan. The duster rolls the dust and yes some of the dust does roll onto the floor, however it is all balled up so I really don't mind a little after sweep. The fact that the dust clings together and most of it stays on the duster top is amazing. This truly is a good product because it eliminates inhaling dust when cleaning. It's easy to use, doesn't cost much and no more washing out dusting rags! Great product. I received this product on time and it was delivered right to my door.
hbridge
Works good!
I'm giving this product 5 stars because for the price, it does a good job. I've only used one of the dusters so far, for three dusty rooms, and it picks up the dust, no problem.
mitchedo
Gotta love Swiffer!
I love everything Swiffer! This is actually a duplicate for my office.