Puffs Plus Lotion White Facial Tissues 6-124 ct Boxes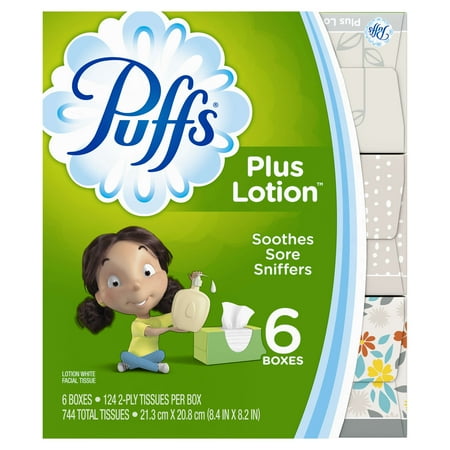 MSRP :

$92.1





Sale :

$8.47

Sold & shipped by Walmart
Product Description

Additional Information

Reviews
Product Description
Softness to soothe sore noses! Only Puffs White Facial Tissues Plus Lotion are Air-Fluffed for a soft touch after winter sneezes or seasonal allergy sniffles. And Puffs Plus Lotion tissues have added lotion to soothe your face's delicate skin, so it feels good even when you're not feeling your best. In fact, it's Puff's most soothing facial tissue, so you can face every day with Puffs softness. All with soft, Air-Fluffed pillows for cushiony thickness. Choose America's #1 Lotion Tissue (based on Nielsen volume share, July '10-November '13), the only national tissue brand to be dermatologist tested, and put your best face forward.
Additional Information
Puffs Plus Lotion Facial Tissues:
Pack includes 6 Family Boxes (124 Tissues per Box) of Puffs Plus Lotion Facial Tissues
America's #1 selling Lotion Tissue
Puffs softest, most cushiony tissue, with a touch of lotion, to help protect your nose
Puffs Plus Lotion helps soothe irritated noses by locking in moisture better than regular tissues
Don't let your runny nose run out of Puffs. Sign up for automatic home delivery and save.
Dermatologist tested to be gentle on sensitive skin
Don't irritate your nose during cold & flu; be ready with soothing Puffs Plus Lotion
Our family size box is requested most by classrooms so it's perfect for back-to-school
Reviews
SportsFan
Not like the original product.....
The idea of lotion tissues is still great, which is why I gave 2 stars. Over the past several years, I have noticed a drastic decrease in the quality of these tissues. When the product first came out, they were wonderful! Such a relief for someone who goes through many boxes during a bad cold, which is a couple of times a year. Sore, red nose was typical but not so much with the amazing tissues with lotion! There has been a noticeable decrease in the lotion and the effectiveness of these tissues. I have continued to purchase the Puffs Plus with Lotion but it's gotten so bad, I do not think it's worth purchasing any longer. There is not a big difference now. I would happily pay more to keep the quality of a product rather than a company take away from the quality to save money. It would be great if the company would reevaluate their product and take it back to the original formula!!!
Kwardl
Product not the same quality anymore
Product quality has changed. Does not have same amount of lotion or does not have any. I used to buy this because it was the only tissue that prevented dryness and now that is not the case. You can tell right when you touch it. Same feel as reg tissues when they used to feel more dense.
GoOU
Puffs Plus Lotion The Very Best For Sensitive Skin
I can not live without Puffs Plus w/Lotion. I use them everyday and they never irritate my skin. I recently had to buy the Kleenex brand because Puffs was not available and caused me to get sores on my nose. Puffs never cause irritation. Thank you Proctor & Gamble!
Hunter
Puffs Plus Lotion The Very Best For Sensitive Skin
The item was as ordered and was shipped in a timely manner.
KamJo
Puffs Plus Lotion The Very Best For Sensitive Skin
When you have a cold or flu, constantly blowing your nose, normal tissue makes your nose raw, but Puffs Plus makes it all better. It immediately soothes the raw skin on the first usage, and from then on it's smooth sailing. I refuse to by anything other than Puffs Plus tissues.