Puffs Plus Lotion Facial Tissues, 6 Family Boxes, 124 Tissues per Box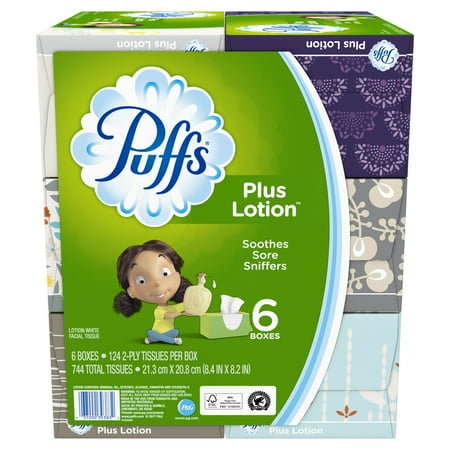 MSRP :

$92.1





Sale :

$8.47

Sold & shipped by Walmart
Product Description

Additional Information

Reviews
Product Description
Softness to soothe sore noses! Only Puffs White Facial Tissues Plus Lotion are Air-Fluffed for a soft touch after winter sneezes or seasonal allergy sniffles. And Puffs Plus Lotion tissues have added lotion to soothe your face's delicate skin, so it feels good even when you're not feeling your best. In fact, it's Puff's most soothing facial tissue, so you can face every day with Puffs softness. All with soft, Air-Fluffed pillows for cushiony thickness. Choose America's #1 Lotion Tissue (based on Nielsen volume share, July '10-November '13), the only national tissue brand to be dermatologist tested, and put your best face forward.
Additional Information
Puffs Plus Lotion Facial Tissues, 6 Family Boxes, 124 Tissues per Box
#1 selling Lotion Tissue
Puffs softest, most cushiony tissue, with a touch of lotion, to help protect your nose
Puffs Plus Lotion helps soothe irritated noses by locking in moisture better than regular tissues
Don't let your runny nose run out of Puffs. Sign up for automatic home delivery and save.
Dermatologist tested to be gentle on sensitive skin
Don't irritate your nose during cold & flu; be ready with soothing Puffs Plus Lotion
Our family size box is requested most by classrooms so it's perfect for back-to-school
Reviews
SassyNana61
What happened to my Puffs????????
I have used Puffs Plus since they came out with them. But they changed! They aren't as soft as they used to be and that makes me sad and angry. I don't understand why they changed them!?!? I have a very sensitive nose that is the result of constantly wiping and blowing my nose. I would rather pay a few cents more and get back the old Puffs!!! Please!!!
KleenexAreLookingBetter
USED to be my favorite
I have used Puffs Plus with Lotion exclusively for over 15 years. They were thicker, softer and more lotion-ey then any other brand. Even though they were the most expensive option it was worth it to not suffer with a sore nose. I am so disappointed to see the quality change. I understand to save money companies need to occasionally lower the quantity they provide in a package. The quality shouldn't suffer though! The quality is what makes people loyal to your product! I don't agree that your changes made this product "more flexible and softer". The tissues in my boxes are rough, aren't cut right (they stick together at the ends), feel thinner, don't protect my families noses and BREAK apart! Not ideal when blowing your nose, or wiping certain areas of the body. I experimented and bought a competitors brand the other day and found that they were better and so much less expensive! Why should I stick with Puffs? I'm staying away from Puffs brand until they bring the old style tissues back.
GrandmaGinny
Downsizing
I agree with the lady who complained about your downsizing. I still had some boxes left from the last time I shopped, and just got a new box out and I wash shocked and could not believe how much smaller you have made the tissues. I got my daughter using PUFFS and that's what she buys now too, and I took a box next door and showed her how you have downgraded the tissue. I would rather pay more for them, than to have them made smaller and thinner. You didn't even ask customers their opinion, you just went ahead and did this to a wonderful product. I have always loved PUFFS, and last year I was sick with a bad sinus infection for 3 weeks, and I went thru 4 boxes of your bigger PUFFS. I would have to use 8 boxes if I were to be that sick again. They are definitely not as thick as they were, which is why I used to buy them and they are too small. They do not hold up in use like the old ones. PLEASE, go back to the bigger thicker tissues. I do not want to change brands, but I may have to.
ZombieLoca
ZombieLoca
I like that it's soft and durable. No red nose here because of the lotion in it. Great for colds!!
Lillianswriter
1-Ply or 2-Ply
I have used Puffs Plus Lotion for years and loved them. I fact if a store didn't have Puffs I would go from store to store to find them. Lately I have to say that my love for these tissues has lessened. In the last 2-3 months the tissues in my Puffs Plus Lotion boxes are difficult to get out of the cube boxes and multiple ones come out 1-ply instead of 2-ply connected on one outer side. They tear and fall about. They are useless. I would say somewhere between ¼ and 1/3 of the tissues are not 2-ply as advertised on each box. It hasn't been just one box……..but many! What's up with this?