Puffs Plus Lotion Facial Tissues, 6 Family Boxes, 124 Tissues per Box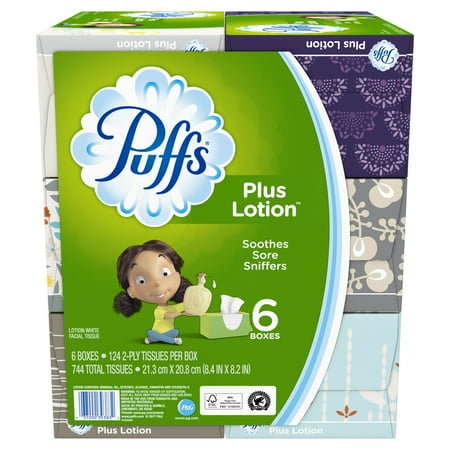 MSRP :

$92.1





Sale :

$8.47

Sold & shipped by Walmart
Product Description

Additional Information

Reviews
Product Description
Puffs Plus Lotion is our most soothing facial tissue with lotion in a family size box. Puffs Plus Lotion is the perfect tissue for when sore or runny noses need some extra softness for any cold, flu, or allergy. Puffs Plus Lotion facial tissues lock in moisture better, to help soothe irritated skin commonly caused from rough or thin tissues. It's no wonder that Puffs Plus Lotion is America's #1 selling Lotion Tissue brand. A nose in need deserves Puffs indeed!
Additional Information
Puffs Plus Lotion Facial Tissues, 6 Family Boxes, 124 Tissues per Box: Pack includes 6 Family Boxes (124 Tissues per Box) of Puffs Plus Lotion Facial Tissues America's #1 selling Lotion Tissue Puffs softest, most cushiony tissue, with a touch of lotion, to help protect your nose Puffs Plus Lotion helps soothe irritated noses by locking in moisture better than regular tissues Don't let your runny nose run out of Puffs. Sign up for automatic home delivery and save Dermatologist tested to be gentle on sensitive skin Don't irritate your nose during cold & flu; be ready with soothing Puffs Plus Lotion Our family size box is requested most by classrooms so it's perfect for back-to-school
Reviews
Unknown Customer
Tissues are not connected together
The tissues themselves are fine. No complaints BUT they do not work when used with a tissue box cover. I don't like the looks of typical tissue boxes so I use tissue box covers. I bought these never imagining that they would be just piled one on top of the other. I am now in the process of giving them away!! I wasted my money by buying this product. You need to either change your packaging or warn people on the outside of the box. This was the first and last time I will buy these. In general I love PG products, this is the exception. [This review was collected as part of a promotion.]
RubyB
pop up tissues aren't connected
I would have preferred to contact P&G but there's no easy way to do that so I'll write a negative review hoping someone will contact me. The last 3 boxes of Puffs Plus Lotion pop up tissues only allow pop ups for the first 6-10 tissues. After that, you have to dig around to find the start of the next batch. This happens 2-4 times with every box. I have purchased these tissues since they were first introduced and would hate to have to find another brand. Please fix the machine that interfolds the tissues. BTW, just kidding on the birthdate. I don't post my birthdate anywhere. You should simply give groups of age ranges for the sake of security.
Mark82005
Puff No Lotion
Puffs with Lotion. Used to be the only good part of having a cold, but that's all changed now, isn't it. You used to be able to actually FEEL the Lotion in Puffs wi Lotion, but no more. They're simply dry tissues and do NOTHING to soothe a sore nose.
JillyM65
Great for colds
I'm a firm believer in the Puffs product line, especially the Puffs Plus Lotion and the Puffs with Vicks.VapoRub infused. However, I'm not a fan of the lintiness of the tissues from the last two boxes of Puffs Plus Lotion. I look like I've washed a tissue and have it left on my clothes. Why is this happening?
bratkid
Great tissue for your nose
Soft tissue does not leave your nose red and sore! Every morning I wake up with runny nose syndrome, I could not be any happier to have Puffs with lotion to clear my head. Down side occurring recently, tissues aren't popping up as they should, leaving me to dig in the box to get them going again, sometimes twice within the same box. Very discouraging when the time to blow is now.