Always Maxi, Size 4, Overnight Pads Without Wings, Unscented, 28 Count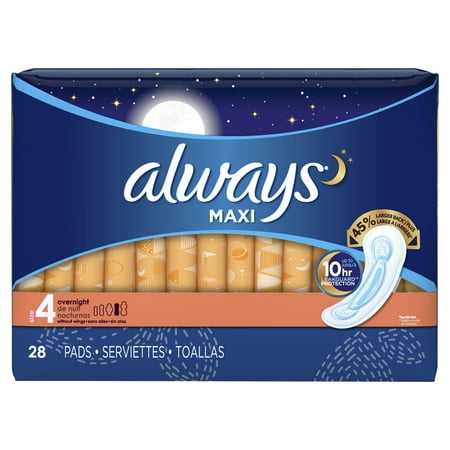 MSRP :

$13.41





Sale :

$5.47

Sold & shipped by Walmart
Product Description

Additional Information

Reviews
Product Description
Are you getting the right protection from your pad? Using the wrong pad size can lead to leaks. Step up in size to help stop leaks. Now you can find your fit with Always MY FIT, a tailored sizing system to help you find the best protection based on both your flow AND panty size. Use the sizing chart in the images to find your fit for day and night. For overnight protection, Always Maxi Size 4 Overnight Pads provide a 45% larger back* to help stop leaks at night, plus a LeakGuard Core that absorbs in seconds and gives you up to 10 hours of protection. *Vs. Always Maxi Regular With Wings.
Additional Information
Always Maxi, Size 4, Overnight Pads Without Wings, Unscented, 28 Count: Are you sure you're getting the right fit? The wrong fit can lead to leaks. Step up in size to be leak-free Now Always MY FIT helps you get the best protection by tailoring your pad to fit your flow AND panty size. Use the sizing chart in the images to find your fit 45% larger back provides better coverage for superior overnight protection* (*Vs. Always Maxi Regular with Wings) LeakGuard Core absorbs in seconds for up to 10 hours of protection Always Maxi, Size 4, Overnight Pads have a flexible design for nighttime protection Stock up on feminine pads now and save time later
Reviews
Lisa202
Terrible!
I have used these for years, but the newest pack doesn't even absorb. The liquid stays on the top of the pad and makes an absolute mess. I don't know what changes you made to them, but they are terrible.
Riri
Pretty Good
I've tried a few cheaper brands of pads growing up, but I've been a faithful user of these pads for about 2.5 years. Simply because I didn't want to take a risk on others when these worked fine for the most part. I wear these regularly day and night because I have a very heavy flow. There are some nights where I don't leak AT ALL, and some nights where I wake up to wetness or see spotting on my panties. These pads CANNOT HANDLE a rush of blood which happens to me all the time and I feel the leakage. Probably because the pad is so thick and it cannot absorb it all so quickly, it spills out the sides. It makes me very insecure when I'm out somewhere if I'm not near a restroom. Just a few days ago I was at work at my desk for a few hours and when I got up, blood rushed out and it leaked over the sides into my pant leg. LUCKLILY I WAS WEARING BLACK JEANS AND WAS NOT VISIBLE.! I give this pad 3 stars because it does hold a lot if you have a consistent flow. It will not suffice if you tend to gush.
Giggles697
Why was this product changed?
I have used these pads for years because I loved how long, thick and comfortable they were. For a few months now I noticed the pad has changed. It is thinner which causes it to bunch up towards the center. And even the adhesive on the wings seems less sticky which causes the pad to move around. Please change them back to the way they were. They just fine the way they were, why the change?
Becky47
I like Always brand but not this particular pad
I found this pad to be every uncomfortable and the shaping is off. I usually use the 5, ultra thin but needed some extra protection. Thought the 4, overnight would work, but it didn't. For me its quilted in the wrong places and that made it uncomfortable.
Mamat5kdz
Lifesaver!!!!
I use them for various issues. They have saved me on countless occasions. I do wish the back stuck better to avoid rolling but otherwise they ate the best of this size and style!!!