Puffs Ultra Soft Facial Tissues, 6 Family Boxes, 124 Tissues per Cube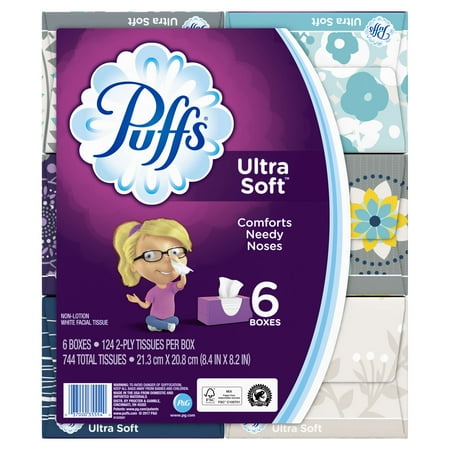 Sale :

$8.49

Sold & shipped by Walmart
Product Description

Additional Information

Reviews
Product Description
From eye-makeup mishaps to teary-eyed goodbyes, your face has a lot to face. Luckily, you can always put your best face forward when you have Puffs Ultra Soft & Strong Non-Lotion White Facial Tissues on hand. You know you can trust Puffs facial tissues to be gentle on your face's delicate skin because they're the only national facial tissues that are dermatologist tested. And they're Air-Fluffed soft with Puffs' best strength designed to stand up to early-morning makeup application, mid-day touchups, late-night face blotting--whatever your face faces during the day.
Additional Information
Puffs Ultra Soft Facial Tissues, 6 Family Boxes, 124 Tissues per Cube:
Pack includes 6 Family Boxes (124 Tissues per Box) of Puffs Ultra Soft Facial Tissues
Soft, strong and fragrance-free tissues that contain no lotion
Each tissue has Puffs cushiony softness
Soft and 2x Stronger when wet vs. the leading national regular brand
Don't let your runny nose run out of Puffs. Sign up for automatic home delivery and save
Dermatologist tested to be gentle on skin
Don't irritate your nose during allergies; be ready with soothing Puffs Ultra Soft
Our family size box comes in assorted, stylish designs that accent any room's decor
Reviews
bmmiller
UPC : 037000355540 - Puffs Ultra Soft Facial Tissues, 6 Family Boxes, 124 Tissues per Cube - PickPanda.com
I wanted cubes not boxes! The description states 124 tissues per cube. The picture shows cubes in the package not boxes! will use them but will not buy them anymore on line.
Stacie
chintzy cheap tissues
Not that soft, and very thin. Must use at least 2 tissues to blow your nose. If you have to blow a 2nd time, that's 4 tissues.
Danise
Dustless
I love your tissues. They are so much better than the other brands. Your tissues don't have the tissue dust. I have trouble using other brands because of the dust. It makes me cough.
GaryT
Puffs are superior to Kleenex, but....
Puffs are superior to Kleenex in every way but one. When you pull a tissue from a Kleenex box, the next one pops up so you can get it easily. Puffs don't pop up and you find yourself digging through the small hole in the top of the box trying to grab the next tissue. Very frustrating, especially if your hands are wet or messy.
PuffDavey
Not Enough Greatness
Okay, here's why I'm writing. I bought your Puffs with Vicks and was pleasantly surprised. I'd seen the ads. on TV, but had paid it no real attention. However, the advertising worked because when I needed tissues for a cold, I chose Puffs. My first encounter was truly heaven. So much so that I encouraged at least two co-workers, without colds, to try. They had the same experience. So far, so good. Now to the Title of my review: Not Enough Greatness - Why? Because the wonderful vicks/tissue combination scent didn't last long enough and there are not enough tissues in the box. (FYI - I purchased a 60 - 2 PLy Tissue Box. In these tough economic times, the way to keep your clientel is to give a little extra. The little extra is always received as "I care about you". How can you solve the problem? More Scent, More Tissue. I know you can fit more tissues into that box. I just know it. Now that I've vented, thank you for making the product. I hope you take my suggestions and improve