Febreze FABRIC Refresher, Extra Strength Refill, 1 Count, 67.62 oz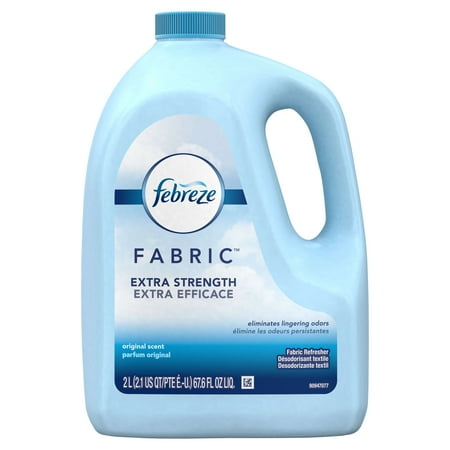 Sale :

$7.92

Sold & shipped by Walmart
Product Description

Additional Information

Reviews
Product Description
When it comes to your home, you should never settle for less than fresh. Febreze Fabric Refresher is the first step to total freshness in every room. The fine mist eliminates odors that can linger in fabrics and air, leaving behind nothing but a light, pleasing scent. With Febreze Fabric Refresher, uplifting freshness is a simple spray away.
Additional Information
Febreze FABRIC Refresher, Extra Strength Refill:
Doesn't just mask, cleans away odors with OdorClear Technology
Febreze FABRIC (formerly Febreze Fabric Refresher) cleans away odors embedded in fabrics and other soft surfaces, leaving a light, fresh scent
Perfect for hard-to-wash fabrics such as clothing, upholstery, carpets, and window treatments (DO NOT use on leather, suede, silk, or fabrics that may water spot)
Extra Strength replaces odors with the sparkling smell of a freshly cleaned home
Reviews
luvmenow70
UPC : 037000333111 - Febreze FABRIC Refresher, Extra Strength Refill, 1 Count, 67.62 oz - PickPanda.com
This fragrance smells so good. And it definitely makes your house smell good
CountryGirl2012
Best deodorizer
We use Febreeze spray as a room deodorizer, in the washing machine to deodorize and reduce static cling, and to spray on drapes and other fabrics that need freshening up. It is so hard to find it in the gallon size refill now, so we ordered two bottles. Love this product!
WieC
Suitable for chemically sensitive! Yay!!!!!
I have very bad chemical sensitivities and most sprays result in severe respiratory distress followed by bronchitis or pneumonia. Febreeze Free is a product I can actually use safely and with no ill effects afterwards. I LOVE IT!!!!! I've found nothing else like it. My only problem is that I have great difficulty finding it in stores and the other febreeze bottles offered do cause me problems. Going to try to order some directly or get someone to carry them for me. Can't recommend it enough!
BabyBrwneyez
Beautiful Product
I have this along with the spray bottle. The scent is awesome, the product is far from lightly scented, the scent is pretty strong( in a good way). But not bad at all. I like the smell of clean. The product does what it is supposed to do!! -Walmart associate
AdoptAPet
Febreze Fabric Refresher Refill
I've been using this product in the smaller spray bottles for years, and it only makes sense to buy the large refill bottle and save money. I have an older cat who loves to be on all of the upholstered furniture, and this Fabric Refresher keeps everything smelling fresh again. It's also great for spraying area rugs in between cleanings. I do recommend this product to my family and friends.