Febreze FABRIC Refresher, Extra Strength Refill, 1 Count, 67.62 oz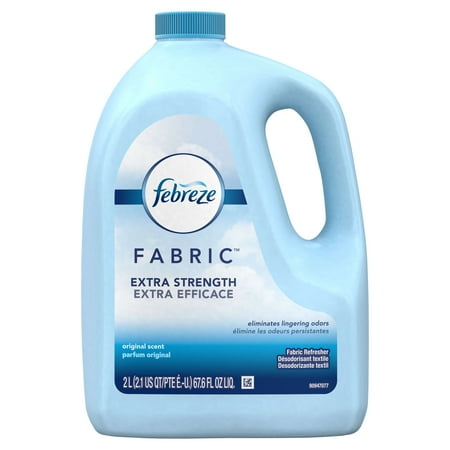 Sale :

$7.92

Sold & shipped by Walmart
Product Description

Additional Information

Reviews
Product Description
When it comes to your home, you should never settle for less than fresh. Febreze Fabric Refresher is the first step to total freshness in every room. The fine mist eliminates odors that can linger in fabrics and air, leaving behind nothing but a light, pleasing scent. With Febreze Fabric Refresher, uplifting freshness is a simple spray away.
Additional Information
Febreze FABRIC Refresher, Extra Strength Refill:
Doesn't just mask, cleans away odors with OdorClear Technology
Febreze FABRIC (formerly Febreze Fabric Refresher) cleans away odors embedded in fabrics and other soft surfaces, leaving a light, fresh scent
Perfect for hard-to-wash fabrics such as clothing, upholstery, carpets, and window treatments (DO NOT use on leather, suede, silk, or fabrics that may water spot)
Extra Strength replaces odors with the sparkling smell of a freshly cleaned home
Reviews
Unknown Customer
This product worked beyond my expectations
I purchased Febreze pet odor eliminator because my older dog was napping on my living room sectional. I have a family child care and did not want any unwanted odors. I used the Febreze on my living room sectional as soon as I got home from the store. I sprayed the sectional and let it dry. The doggy smell disappeared and it smelled fresh. The amazing thing is that I have tried other products on the sectional and my dog will not go near it for days. He did go and take a nap on the sectional as soon as I let him back in the room. Now I am happy I have found a product that works and he is happy that I still let him nap in his favorite spot. [This review was collected as part of a promotion.]
Unknown Customer
Four dogs and a cat can leave odor on everything they touch and don't touch!
Taking care of my two large dogs, my daughter's two large dogs and my son's cat can make for a very smelly house. I never want guests to be over run by pet smells when visiting my house. And even worse when we can smell those odors living there you know they have to be strong. I move from room to room using the Pet Odor Eliminator on couches, pillows, bedspreads you name it. Quickly those pet odors are eliminated leaving my house refreshed for the day. Can't live without it! Now if I could only keep the animals out of the trash! [This review was collected as part of a promotion.]
Unknown Customer
Love the scent!
The scent is very nice and its not too overpowering. I love using it on all the fabrics in my home. The only two upsets about the product is the scent does not stay long, and its spray top color looks almost exactly like Lavender Vanilla and Comfort, so be careful what you grab! Otherwise, this is my favorite scent of all the Fabric Refreshers. [This review was collected as part of a promotion.]
Unknown Customer
i love lavender its relaxing
this product is fresh it makes me feel like i just did laundry lavender is b-u-tiful and femenine i love it! great job to the idea and makers [This review was collected as part of a promotion.]
AmyP
Definitely works
I have used this on old couches and most notably, on a travel crib that had been used a few times in a tent trailer that had a strong musty smell. Two years later, the musty smell was still there despite airing it outside and washing the washable parts. I tried Febreeze Free and the smell is completely gone and no scent was added! I bought three bottles because I'm concerned it will be discontinued; I couldn't find it in stores, just online.