Crest Baking Soda & Peroxide Whitening with Tartar Protection Toothpaste, Fresh Mint, 6.4 oz., Pack of 2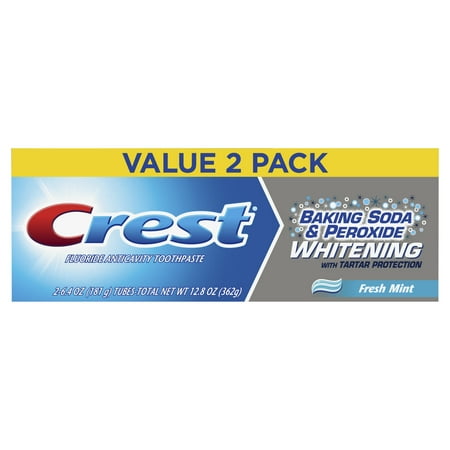 MSRP :

$4.99





Sale :

$3.72

Sold & shipped by Walmart
Product Description

Additional Information

Reviews
Product Description
Freshen your whole mouth with Crest. Crest Baking Soda & Peroxide Whitening Toothpaste helps your mouth to feel healthy and clean. Using hydrogen peroxide for teeth whitening will remove surface stains and bring out the natural whiteness of your teeth. Plus, it effectively protects against tartar build-up and cavities to help prevent tooth decay.
Additional Information
Crest Baking Soda & Peroxide Whitening with Tartar Protection Toothpaste, Fresh Mint, 6.4 oz., Pack of 2:New freshness technologyA toothpaste formula using baking soda for teethFights tartar build-up and cavitiesSafe teeth whitening and is gentle on tooth enamelRemoves surface stains from your teeth to reveal natural whitenessFreshens your whole mouth without a salty aftertasteCleans your mouth and freshens breath
Reviews
SoldForLife
Stains - gone!
My husband has extremely sensitive teeth and switched to a brand that would help him. I switched with him just because it was easier to use the same brand. Over the period of a year or so, I noticed dark brown stains developing slowly along the seams of my teeth. They wouldn't brush out, but they would polish out with a cleaning at the dental office. I was puzzled because I've never had stains before. I changed my diet, made sure to brush my teeth after coffee - nothing seemed to help - stains always started reappearing around 5 months from my last cleaning. Then I switched back to my favorite toothpaste - this one! I've only been using it about a month, but the stains have virtually disappeared without a professional cleaning. Baking Soda & Peroxide Whitening was already my favorite toothpaste because it was the perfect blend of gel and paste that doesn't make me gag, but now I'm a fan for life.
Gary
Stains - gone!
In large print you show 6.4 oz......on the box it say 4.6oz.....It says 6 EA in large print and then it shows 3 EA is what you are actually ordering??!! This is a rip off!!
AnnaM
Best toothpaste
After searching for a replacement for a beloved toothpaste brand that was discontinued 20 years ago, I finally found it's superior - Crest Baking Soda and Peroxide Whitening. My mouth feels CLEAN and my teeth are as bright as a fresh cleaning from my dental hygienist. I only ask that you please don't discontinue this product.
DawnS
We BOTH like it!
It seems there are so many different kinds of toothpaste now. I can handle any toothpaste as long as it isn't wintergreen flavor and doesn't have baking soda in it (don't like the salty taste). I normally want a toothpaste that tastes good to me, freshens my breath, has fluoride to kill germs and prevent cavities, and whitens my teeth. My husband is a baking soda toothpaste guy... Therefore, we each had our own toothpastes. I picked this up for him, but decided to use it when I ran out of my own toothpaste. The texture is fine (not grainy), the taste is great (not salty), the peroxide does its foamy whitening thing (but not too foamy), and the baking soda does a great job of scrubbing the teeth making my teeth feel cleaner. I am sold on it and we now share the same toothpaste.
MotoGranny
Good stuff!
My mom brushed her teeth with peroxide and baking soda all her life and so have I. Good stuff.