Crest Complete Multi-Benefit Extra Whitening Tartar Protection Clean Mint Flavor Toothpaste (Choose Size)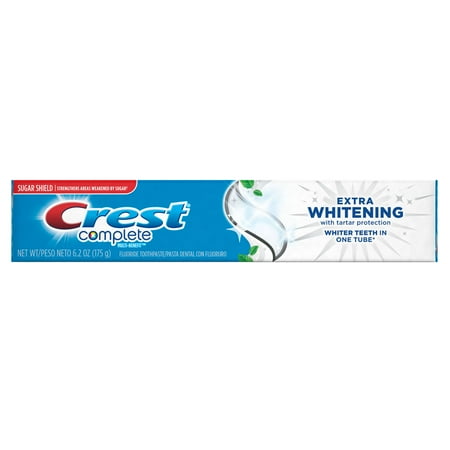 MSRP :

$6.55





Sale :

$6.55

Sold & shipped by Pharmapacks
Product Description

Additional Information

Reviews
Product Description
Protect cavities and visible tartar build-up with the clinically proven tartar blockers and Fluoristat in Crest Complete Multi-Benefit Extra Teeth Whitening with Tartar Protection Toothpaste. Help restore your naturally whiter teeth by gently polishing away surface stains for a healthy, beautiful smile.
Additional Information
Crest Complete Multi-Benefit Extra Whitening Toothpaste, Clean Mint, 6.2 ounce:
Crest Complete Multi-Benefit Extra Whitening toothpaste makes teeth whiter in one tube by gently removing surface stains
Helps the natural whiteness of your teeth come through
Strengthens areas weakened by sugar with Sugar Shield Protects from sugar's cavity causing effects
Fights cavities and visible tartar build-up
Leaves teeth feeling slick and smooth and breath refreshed
Reviews
TeaBea
Not bad
The product is good for this price, nice flavor.
Cadzilla88
Great idea, poorly made
I love the concept of the Neat Squeeze dispenser, however this is the second one in the last five that fails to work properly. Product code (L)20052709S113 EXP DE13. There is a little valve at the bottom that should let air in but close when squeezed. The valve does not close properly, causing the air to leak out and not dispensing the toothpaste properly. You have to squeeze the tube very hard to get any of the toothpaste out once the tube has beed used a few times. The toothpaste is great as always. I have used crest since I was a kid and am now 52, but this dispenser, though a great concept, work well when made right, but is horrible if that valve isn't working which seems to be too often. Once is understandable, but twice? Never buy it Again
MissApril
24 hour protection
I've used crest for years,many people would tell me, my teeth were white that what did I use...About six months ago I had changed toothpaste because my boyfriend didn't feel like it was cleaning his teeth. So I tried his, about 4 months later I realized that by the next day my teeth had a lot of tartar build up in the morning, I felt disgusted like if i had never brushed my teeth. So I immediately switched back, and haven't had any build up problems by the next time i brushed, which meant it was doing its job. Never will i change again ;)
Redeemer64
Good for paste, not for taste
Our family trusts Crest products. After years of using the version with Scope, I saw a special price on Extra Whitening with Tartar Protection. From the first usage, however, an unusual taste has made me a bit hesitant to brush my teeth. It's hard to identify; the best way I can describe it is a hint of fruit, perhaps melon. Other than that, it is a quality Crest toothpaste: my teeth are clean and perhaps a bit brighter. My son says he likes it, but I will return to the Scope flavor once I finish this 8.0 oz. tube...months from now.
Joe923
Neat squeeze tube, not so neat
I agree with other comments about the neat squeeze tube. I was hoping when I purchased it that it would be an improvement since I thought the 4 oz self-standing container was an improvement. I have to keep the neat squeeze standing upside down on the counter so I am assured there will be paste available when its time to brush. the procedure then is to push 10 times harder than on a standard tube to get paste onto the brush. Its a very inconvenient container. The toothpaste itself has been as good as the competition.